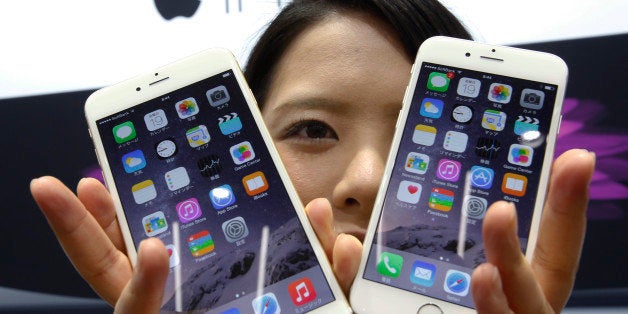 Apple got millions of you to buy a more expensive iPhone.
The average price of an iPhone during the three months that ended in December was $687.30, up from $602.92 last quarter, and $636.90 over the same period last year. But that didn't stop people from rushing to get one: Apple sold a record 74.5 million iPhones during the last three months of 2014, a 46 percent increase over the same period last year.
There are a couple of reasons why we're paying more for iPhones now. One is that the iPhone 6 Plus, the 5.5-inch "phablet," really is a more expensive phone -- it starts at $299 on-contract and $749 off-contract. That's a full $100 more than Apple's base flagship model usually sells for.
The average price includes all available models of iPhones sold, so it makes sense that as more expensive iPhone 6 Pluses, which came out in September, fill the shelves, the average price skews upward.
Apple traditionally releases three versions of iPhones with varying storage capabilities. The phones start at $199 on contract, and each incremental increase in storage is $100 more. For example, the configurations for the iPhone 5 and 5S, released in 2012 and 2013, respectively, were 16 gigabyte, 32 GB and 64 GB.
But for the iPhone 6, Apple changed it up. The company kept three storage levels, but eliminated the 32-GB option, replacing it with a 64-GB version. So you can get both the iPhone 6 and 6 plus in 16 GB, 64 GB or 128 GB.
But the problem is that 16 GB is way too small for many people. Prominent Apple observer John Gruber wrote that it "seems downright punitive given how big panoramic photos and slo-mo HD videos are." Thus, many end up paying $100 more for the 64-GB mid-level version.
And that not only brings Apple more revenue, but more profit, too.
That decision wasn't the best for consumers, but it sure is good for Apple and investors.
Related
Popular in the Community