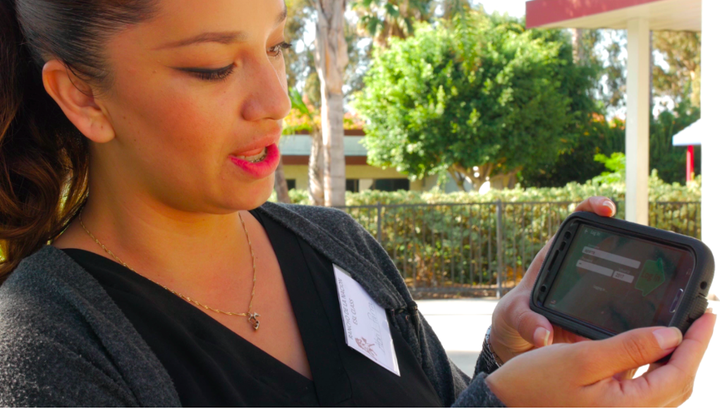 By Guest Author Stephen Noonoo
Abril Parra recently notched a proud parenting moment in her belt. Her young son, a struggling reader, had come to her for help practicing his reading. The only problem? The passage was in English, and Parra, a native of Spain, had never had strong English skills. To learn the language of her adopted homeland, she has been taking adult ed classes at night, through a program offered by her local school district, Sweetwater Union High School District in Chula Vista, California.
During the class, Parra's teacher turned her onto Learning Upgrade, a mobile app for her smartphone, which lets her study English whenever she's waiting around or has a spare moment. Those few minutes at a time have added up, and finally allowed Parra the chance to read alongside her son.
"Just the other night, for example, we were reading a passage and going along together," Parra recently recalled in English, tracing her finger in the air as if following the words. Since the app models pronunciation, Parra knew that both she and her son were making progress. "It's amazing for my kid to see me doing this," she marveled. "He asks me all the time, 'Mommy, are you done with your homework?'"
Parra is just one of thousands of adult learners taking English language classes at Sweetwater, which serves around 25,000 students across four campuses and 13 off-site locations. Students typically come to the low-cost classes for 12–16 hours a week—often in addition to their busy work schedules and family obligations. "Many of our students are parents themselves," explained Mary Murphy, who oversees the ESL program at Sweetwater Union. "It makes for some neat interactions with their kids, but they're often very busy."
Since students aren't required to attend class, many learners end up missing lessons for one reason or another. In response, Sweetwater has increasingly turned to digital tools, such as mobile apps, to keep learners engaged with material and studying, even when they can't be physically present.
One tool, Edmodo, acts almost like a Facebook for learning, letting students participate in discussions, turn in assignments and catch up on events. And then there's the language software itself from companies like Rosetta Stone and Burlington English.
The latter mixes music and colorful graphics with English-language study materials. While there's a desktop software component, most Sweetwater English language students like Abril Parra know it from its smartphone app, which has become a breakout hit.
"We're in a low socioeconomic area," Murphy said of the adult ed program. "Many of our students don't have internet access, or if they do children are using the computer at home to do their homework and the adults don't have the opportunity." The convenience of using a smartphone to study is immediately apparent, but Murphy says that's not the only reason students have taken to it.
"Because you can study chunks of material in the app 10 minutes at a time, it's very convenient for our learners," Murphy said. "They can still continue their learning at 1 a.m. or 4 a.m. on their way to work."
A Confidence Booster
Lisa Wilson-Scharmann teaches a full range of English language learners at Sweetwater, and she has been using the app with her classes for about a half a year. At first, she said, the major issue was that not every student in the class had a smartphone. Scharmann was undeterred, and began using the app's activities in class as a warmup before the day's lesson began. Before long, she said every student had a smartphone and had downloaded the app, too. "They made it happen somehow," she said. "They all wanted to have access to it. They were that excited about it."
Since the app lets students take on as much learning as they want, some learners are soaring as their studying increases. Those new skills often lead to confidence boosts, which can be lacking in adult learners of a foreign language.
Just take Maria Gutiérrez, for example. Gutiérrez, one of Wilson-Scharmann's students, is an immigrant whose native language is Spanish. She has been taking adult education classes at night along with her husband and family, and studying on her phone whenever she can. While she struggled at first, one recent experience sent her confidence soaring.
"When I go to my doctor's appointment she asks me, 'Do you need to have a translator now?' Gutiérrez recalled. "I say, 'No, I can understand.' She smiled at me, and said, 'Oh wow!'"
The self-assurance that comes with mastering a new language is trickling down to families throughout the district, thanks to the Sweetwater program and its emphasis on anytime-anywhere learning. "The parents are using Learning Upgrade or Rosetta Stone and their children are curious and want to see what they're doing," Murphy said. "Often it ends up to be somewhat of a family event, and that's a win-win for everyone. Children are seeing their parents are studying and that makes studying for them more important. That's a neat thing."
Stephen Noonoo is a father, freelance writer, editor and ed tech consultant. Follow him on Twitter: @stephenoonoo
Related
Popular in the Community