Around 10:30 on the night of July 11, I received a text message from a fellow community member. I did not read it until almost a half hour later as I was talking with my Mom and sisters who had just driven back to my Grandma's house from Farmington. They passed the well site about fifteen minutes before the explosion (I did not think about what might have happened to them, until all the chaos ended). My family could have been directly impacted by the explosion, like the other families. Thankfully we are all okay.
But our community is not okay. The fire, which burned so hot that firefighters could not approach it, smoldered for three days. It is an ugly reminder that WPX Energy, the company fracking near our homes, has little regard for the land, the people who live there or for the impacts of its drilling operations on the planet.
That night, as my Mom and little sister were leaving the house, I checked my phone. I read the message. It was forwarded message saying there was an explosion at mile marker 114 and a large fire was raging. Alarmed, I ran out the door to wave my Mom's car down, but as I did she was reversing at a high speed. While they were driving down the road, my little sister Keely spotted the smoke and flames; she then told my Mom, who shifted into reverse and drove back to the house.
I met them by the car and we looked to the west. We could start to see an orange glow, and as we stood there watching we heard loud pops coming from the fire. These pops continued one after the other. We realized that these were gas storage tanks exploding. My mom then told my sister, Cree, and me to get my Grandma and baby nephew and put them in the car NOW. We all scrambled into the car and drove to my parent's house to tell my Dad.
As we watched the smoke continue to build and the orange glow increase in light, we quickly talked about our options. Should we stay at the house? Should we park by the highway and wait? There was no immediate answer because we had never been through anything like this before. My Mother tried calling 911, but the line continued to ring. We never got a call back.
My dad, sister, and I decided to get in the truck and drive toward the flames to figure out exactly where the fire was. We thought it was by Turtle Mountain, a nearby local landmark, and that everyone in our area was in immediate danger. We attempted to alert our neighbors by honking the horn at their gate, while we drove by. It's a good thing the fire was not so close, because we might have failed to get people out of their homes in time.
Cree began to worry about a friend who lived in the area of mile marker 114. She hit redial over and over again as we parked and got out of the car. I began to take pictures and videos because this hectic scene was so surreal. How did this happen? I then decided to stream it live on Facebook. A few friends asked questions, which I tried to answer while my feed was live.
The fire began to get bigger and more intense. Black smoke started to stretch across the night sky towards the east. The fire was roaring and it was roaring loud. Fire trucks continued to show up, as well as police and oil field workers. All we could do was watch. Watch it be fed by oil stored at the site and by oxygen.
After about an hour, we drove home. This was such a horrible, spontaneous mess that shook the entire community. Families are still dealing with the aftermath of the "accident." Many residents are still upset. I don't blame them. One of the things everyone has talked about is the lack of an evacuation plan. How does an area with numerous well sites have no evacuation plan available for the families who live immediately next door? Outrageous is what it is.
Right now, what the community wants answers about the fire and how safety will finally be addressed. We have been dealing with countless safety issues in the area since the oil and gas drilling picked up. I hear many stories of people who have had some form of contact with oil field workers and drivers—and not the positive kind. Our safety, our lives, are at risk. How is that not important?
It's one reason that I am on my way to Philadelphia with the Protect Our Public Lands Tour with other Indigenous activists and storytellers. We are visiting communities on the frontlines of oil and gas drilling, like mine, from California to Philadelphia, where we will participate in the March for a Clean Energy Revolution on Sunday on the eve of the Democratic National Convention. Yes, my family and my neighbors and our rural community are important. And I will bring their voice to Philadelphia.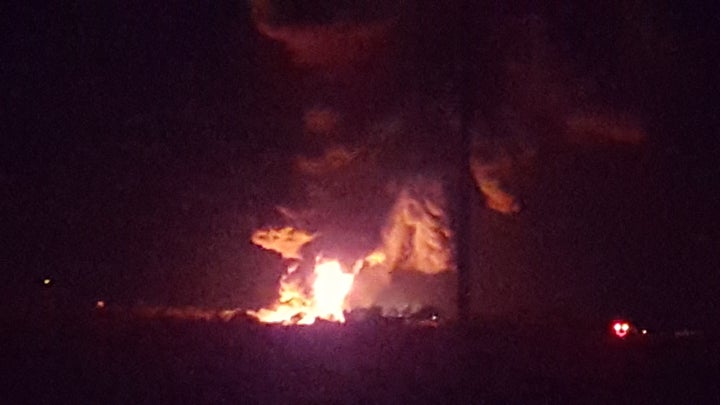 Support HuffPost
The Stakes Have Never Been Higher
Related
Popular in the Community