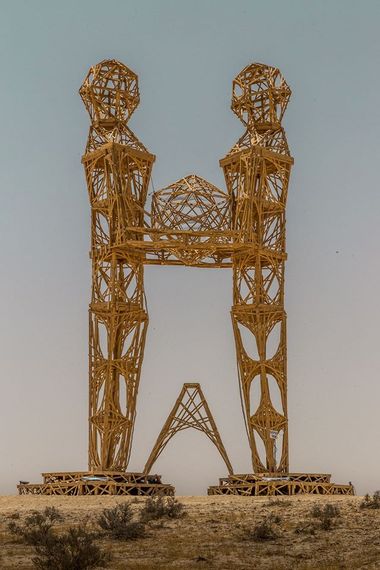 The American media has a funny way of depicting the world. Between the constant inundation of celebrity gossip, political snafus and the news network's versions of current events, a well-filtered picture of the world unconsciously begins to form in your mind. Though I prided myself in avoiding frivolous and biased news in favor of more fact-based information, it was not until I was offered a press assignment in Israel that I realized how much of the media which I had so consciously attempted to avoid, had still seeped into my mind.
Two weeks before I landed in Ben-Gurion airport in Tel Aviv, I was offered by Israel's Ministry of Tourism an opportunity to embark on a press trip throughout this historical land by embedding myself within the country's counterculture. Covering music festivals is my forte, so though the trip would be centered around Midburn, Israel's regional Burning Man, I would also mingle with local artists, musicians, and activists. In hindsight, doubt should have been far from my mind, but at the time, there sat doubt, a big, heavy boulder obstructing my view of a beautiful prospect.
As honored as I was to be offered such an exciting opportunity, all of the media rigmarole that had sat quietly in my subconscious began to awaken. Thoughts of Gaza, refugees, Syria, terrorism, walls, hatred, occupation, stabbings and religious zealots began to flicker through my mind like a stock ticker. I wasn't even thinking of Israel, I was thinking of the Middle East as a whole. It was then I realized how little I knew about modern Israel other than what was presented to me through American media. Never did I ever think that a Burning Man community existed there and it was at that moment I realized I had to take this trip. I wanted to change my own opinion of the Middle East and hopefully the opinions of others in the process.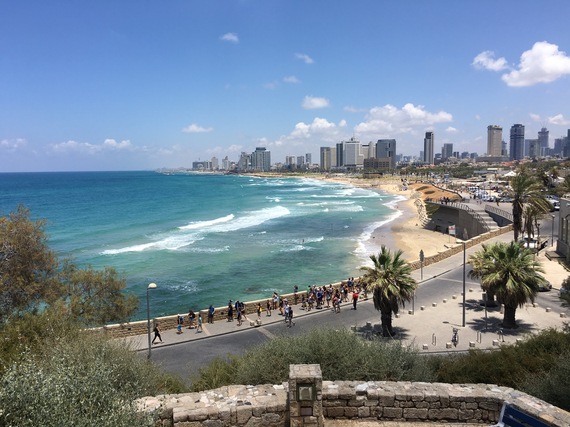 Upon arrival, I met with a quadrilingual and vibrant guide named Ali Arad as well as two other Los Angeles-based journalists. As we were whisked off to our first event, the cyan waters of the Mediterranean dashed across the windows and the immaculate sidewalks were decorated with busy people. First stop was the Yafo Creative in Jaffa, an artist-centric hostel adorned with colorful tiles and a palpable energy that hung in the air like glitter spilled from a skyscraper. Founder and CEO, Amnon Ron, introduced us to a tight-knit circle of musicians who took turns telling us their stories and sharing their music while we sipped on cardamom spiced coffee. Tzlil Danin, Liron Meshulam, Yotam Mahler, Shye Ben Tzur, Noam Helfer and Rotem Bar-Or were among those who lent their minds to the discussion.
There was a kindness of heart and a richness of soul that each one of these musicians possessed. Though we all came from varying backgrounds, there was a oneness that was felt; a shared love of music and a similar way in which we experience life. My Israel story had just begun and it had already captivated my heart.
Though my mind was alight with inspiration, like many stories, this one is not without peril. Just a few hours after an enlightening encounter, my first dinner in Tel Aviv was interrupted by an act of violence. As we drank beer and ate our meals, talking about writing and getting to know each other, the sounds of muffled screams began to emanate from outside. Like a flash flood, hordes of people ran by the window with expressions of fear and urgency. The restaurant workers sprung into action, locking the door as those of us seated near the window frantically moved to the back of the restaurant, leaving puddles of spilled beer and condiments in our wake. To paint an even stranger picture, "Sweet Home Alabama" by Lynyrd Skynyrd was blaring out of the speakers.
We caught a glimpse of a gunman flash by before he was apprehended by the police. Still unaware of what exactly had happened, the servers at the restaurant assured us that we were safe and brought us several plates of dessert as we apprehensively sat back down. The street was blinking with red and blue lights as uniformed men and women carrying various types of weaponry sauntered by. Within a half hour, news had hit the U.S. and my phone began to bubble with worried text messages from friends and of course, from my mother.
Two Palestinian men opened fire at the Sarona Market in central Tel Aviv, a popular area for shopping and dining close to Israel's defense ministry, killing four and wounding six, according to BBC News. As the story unfurled whilst we were in the midst of it, our hosts claimed that this was unusual for Tel Aviv though not unusual for Israel. Looking around the restaurant, patrons continued on with their evening, seemingly unfazed. Occurring shortly after the UCLA shooting and shortly before the Orlando shooting, I realized that violence is a part of American life as well, and though the motives are often different, the hatred is the same.
All one can do in such a scenario is feel, accept and move forward. While violence has always existed, the media's pervasiveness is now bringing it into our homes and pockets, constantly reminding us of the horrors of the world as they happen in real time. There is a delicate balance between awareness and empathy: it is important to know but not be overcome. Allowing the fear of violence to oppress us is the goal of terrorism. This one act did not sully the kindness and inspiration that I felt, nor did it speak for Israel (or Palestine) as a whole. Instead, I gained a deeper understanding of the brevity of life and how to be more present for every second of it.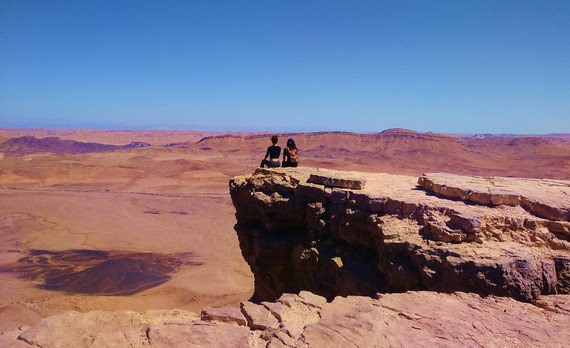 Photo by Oriol Rodríguez Gomis
The bustling life of Tel Aviv was soon replaced by the serenity of the Negev Desert, an arid region that covers most of southern Israel. Two new journalists joined our crew, one from Barcelona and one from Korea. Vast expanses of golden soil stretched to vanishing points as carved canyons sloped its borders. Situated in the center of the desert is Mitzpe Ramon, a unique area populated with desert-lovers, artists, camels and ibex. In one unassuming corner of the town sits an artist's haven. Simple warehouses on the outside and bohemian caverns on the inside. Artist lofts, acro-yoga courses, artisan carpentry, organic vegan cafes, and more, lured visitors from all over the world into their walls.

From the aural culture of Jaffa to the visual culture of Mitzpe Ramon, we wandered into the studio of artist Itzu Rimmer, who displayed the many evolutions of his art. Inspired by the energy and color palettes of the Negev, he shared with us his process, history and appreciation for the land that has acted as his muse. Israel is as much a part of him as it is a part of his art.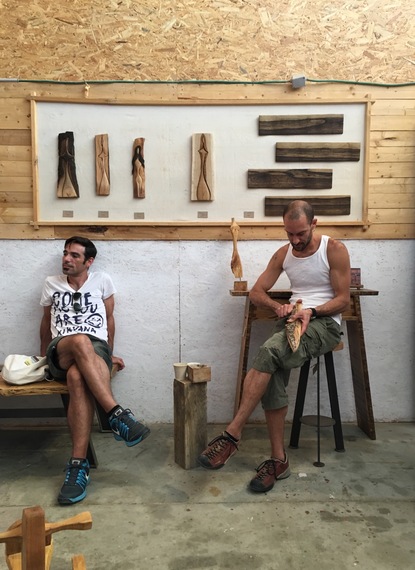 Our guide, Ali, led us through a grid of enigmatic warehouses until the smell of wood began to perfume the air. Tom Attias invited us into his and Arnon Korber's fine woodworking studio where we sat on beautifully carved seats as he whittled and educated us about his craft. In addition to hand-making unique pieces of furniture, Attias and Korber also create works of art with carving and burning. His love for wood comes from the idea that he is molding a living thing. The bench upon which I sat was once a seed that grew into an oxygen-emanating organism and was eventually reshaped by a human hand. Few materials can evoke that kind of connection.
As our desert odyssey moved forward through winding roads, wooden spires and conical tipis began to pierce the horizon. Midburn approached. The smell of Palo Santo mingled with the fine dust picked up by the van and I quickly forgot where I was. Upon first sighting, I realized that even 7,605 miles away, I was home.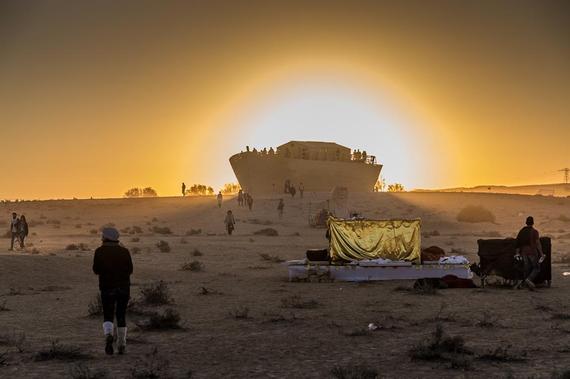 The second largest regional Burning Man in the world, Midburn quickly grew into an enchanting realm, despite only being in its third year. The towering effigy displayed a man and a woman facing each other, sharing the sacrificial burn together. This year's theme was "Abracadabra," an ancient word that in Hebrew translates to "it came to pass as it was spoken." Israel is a country of the Word, and as they spoke and dreamt of having their own Burning Man, so it came to be.
While both events have a similar sensory palette, one of the main differences between Midburn and Burning Man were the art cars. Midburn's first art car was built for this year's event but when they did not receive the necessary permission, the roving pirate ship became a stationary pirate ship. Because of Israeli law, art cars are not permitted, however, the Midburn organizers are steadfast in their efforts to change that law.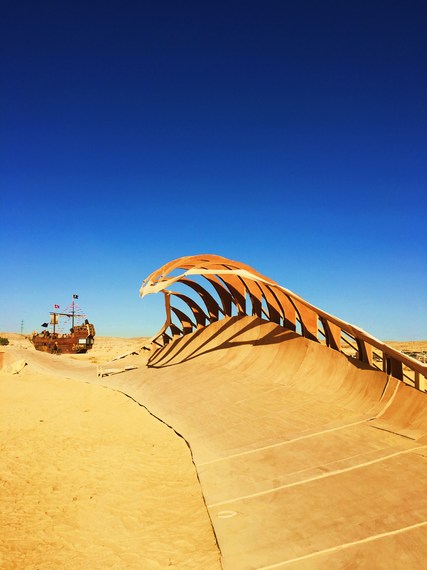 The Pirate Ship and Skateboard Wave
The people and aesthetics of the event were very diverse yet everything felt oddly familiar. All shades of skin were decorated by paint, glitter, leather, lace, tulle, or nothing at all; smiles, laughs, and lysergic-laden dates floated by ethereally. Though there were moments when I forgot where I was, I would hear a DJ speak in Hebrew, a distant guard cocking his AK-47, or the steady pulse of psy-trance, and suddenly remember that I was in Israel.
Midburn was a unique Middle Eastern microcosm that allowed all the wild, freaky, and free attendees from all over the region to shake their sacral chakras on the dancefloor without judgment. As is the intention of most countercultural gatherings, this event provides an opportunity for proud outcasts to feel at home. I felt as if I was among my strange family rather than familiar strangers.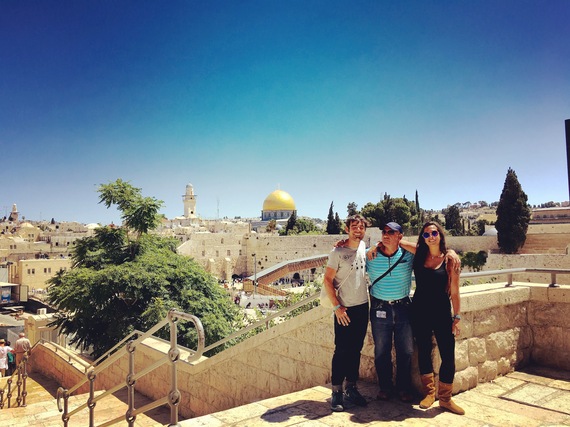 Finishing the tour in the holy city of Jerusalem was a remarkable, albeit humbling, end to a tumultuous trip. The juxtaposition of the budding nightlife and ancient religious traditions was a stark, yet alluring, contrast. Despite my harrowing first night in Tel Aviv, which in comparison seemed so distant from the rest of my experience, the people of Israel and Palestine were kind and welcoming to visitors as well as each other.
Between the Israeli law that all men and women must serve in the military and the tension of the Palestinians under occupation, many of the people have a profound appreciation for life. From plunging down a dusty rabbit hole in the Negev to floating on the Dead Sea, the painting of Israel that had formed in my mind was now a masterpiece. No nation is perfect and even the most flawed places in the world can be works of art if you see them with the right mindset.
Check out this video playlist featuring music videos by various artists mentioned in this article.
Special thanks to the Israel Ministry of Tourism and Ali Arad for all of your generosity, kindness and hospitality. I am forever grateful!
Calling all HuffPost superfans!
Sign up for membership to become a founding member and help shape HuffPost's next chapter