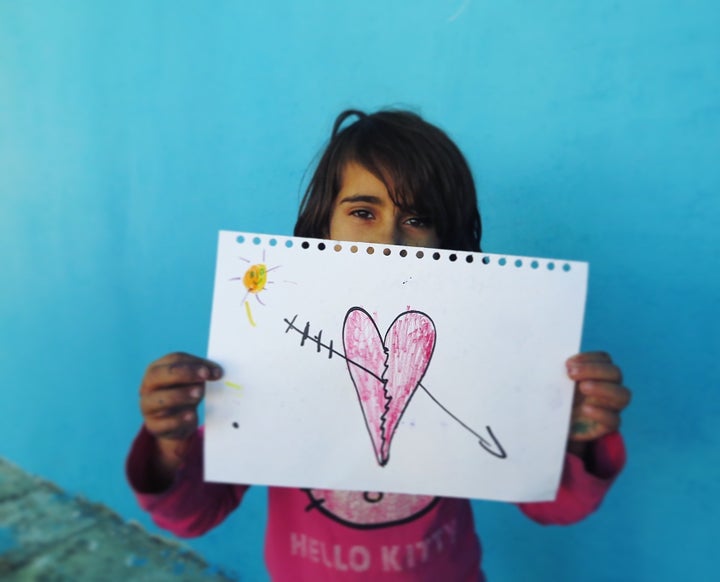 An hour north of Athens lies the Ritsona Refugee Camp, housing Syrians in limbo after borders were sealed in March of 2016. Many of the residents are children, some born in the refugee camp, others taken there with their parents whose search for a safer country turned up fruitless.
It's hard to imagine how all of this could impact an individual's well-being, not only physical but also mental; one charity has taken the initiative to do something about it.
Flourish Foundation, founded by Art Psychotherapist Missy Regan, first entered the refugee camp in October 2016, providing 6 weeks of successful art therapy with a team of 4 art therapists running open art studio groups within the camp. In March of 2017, Flourish Foundation returned to the camp to continue to provide mental health services to all who reside there.
To mark the camp's one year anniversary and to highlight the ongoing needs of its residents, I talked to Missy about her work and what Flourish Foundation requires in order to continue to provide this service to people in need of a way to process their feelings, traumas, and the ongoing experience of being in limbo.
What does the Flourish Foundation do?
"We provide mental health support through Art Psychotherapy in disadvantaged parts of the world, to individuals who simply don't have access to therapeutic services. At the heart of Flourish Foundation lies the belief that art is a medium for growth and positive change. Art making has been found as essential therapeutic activity that can help reduce symptoms of post traumatic stress, regulate emotions and behavior to enable children, young people and adults to engage in meaningful interactions and help individuals make sense of their experiences.
We are currently working in Ritsona Refugee Camp, Greece with a population of 750 Syrians. Our aim through art therapy is to provide a safe environment and emotional support for children, young people and adults to help them to cope with their experiences of war and the loss of fleeing their country."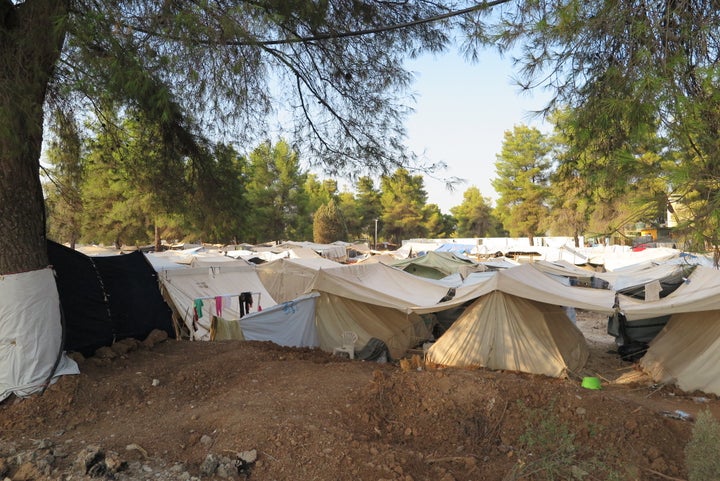 How and when did the foundation start?
"I was working in fashion design in London at the time major earthquakes happened in my hometown of Christchurch, New Zealand. I remember I was on my way to work unable to contact family and friends to see if they were safe. When I arrived to work that day there was a huge fuss made over a zip not matching the color of a dress for a celebrity. It was this moment I walked out and reassessed my purpose in life. I wanted to engage in something that felt more real, more meaningful.
Art therapy had always fascinated me, so applied to study my masters in 2012 at Roehampton University, graduating spring 2015. It was during my studies I set up Flourish, on my term breaks I would travel to areas providing art workshops to children that didn't have access to materials in Kenya, Mozambique and Palestine."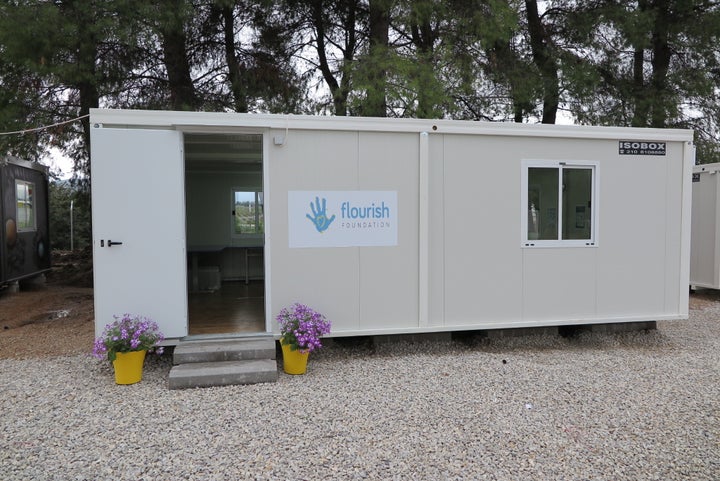 What change have you noticed in the children who visit the Flourish Foundation?
"Art therapy has many benefits for children; it provides a safe environment to freely and playfully express oneself, whilst using materials can help with problem solving and looking at feelings and experiences in a new way. The therapeutic relationship is paramount to the work we do as we offer an intervention that is consistent and boundaried providing stability.
These elements can help with emotional and behavioral regulation while reflecting on experiences and feelings. It is difficult to quantify the long-term changes art therapy has in the context of a refugee camp as it is not always possible to follow up with parents and the child as they are moved at any time to a more permanent home. But through our sessions we have seen a decrease in aggressive behavior, an increased ability to concentrate, playfulness and constant interest and attendance from the children."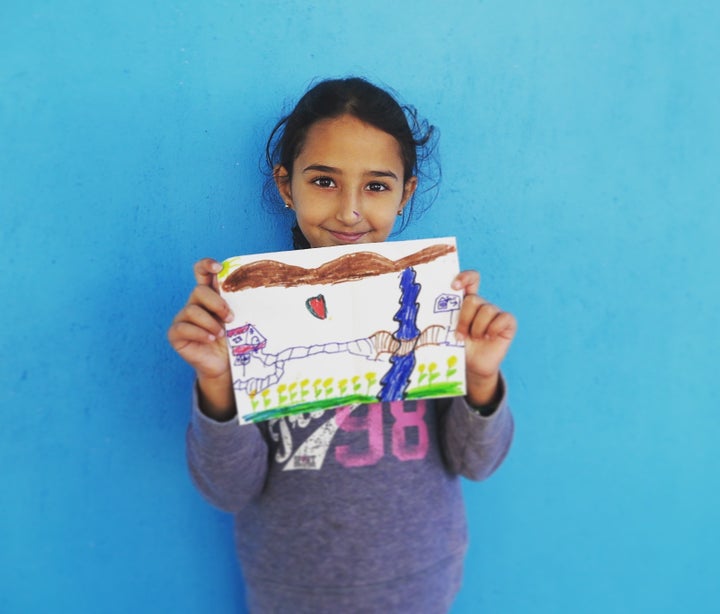 What are the benefits of art therapy?
"Art production stimulates creativity and coping, meaning-making and reflectivity, while engagement in group-work fosters social cohesion, integration, dialogue, respect and cooperation. Art and art therapy has shown to improve self-esteem, empathy, mindfulness, agency and resilience.
The benefits of art therapy stretch far beyond this though. It gives the individual the opportunity to express themselves regardless of artistic skill or ability; art can also reveal emotions that were previously unconscious.
Looking at our emotions can develop and enhance emotional intelligence aiding us in social relationships and self care. Art therapy provides a safe setting with no judgement or discrimination enabling the individual to express themselves without fear. And of course, the act of creating art can be enjoyable and fun!"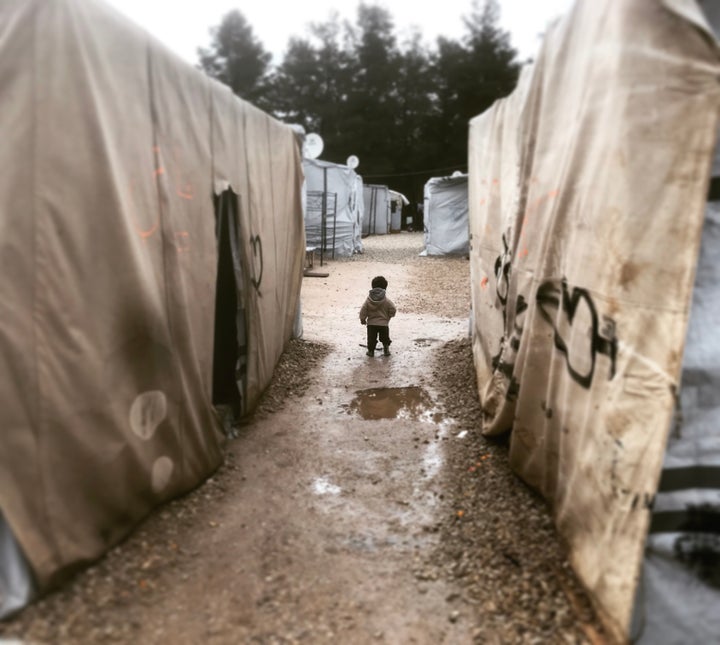 What do you enjoy about the job?
"Honestly, the entire experience is fulfilling and I feel so lucky to have the opportunity to be doing what I love. Learning about different cultures is fascinating, building real connections with the children and communities we have had the privilege to work with.
I am continually humbled by the residents of Ritsona and their acts of kindness and warmth as they welcome us into their community. The people here demonstrate incredible resilience and show the strength of human spirit in their ongoing hope for a better future. Many times I can feel frustrated and helpless as I witness their plight for safety and peace, it can leave you feeling extremely sad but also in awe of their abilities to survive and make sense of their challenging experiences."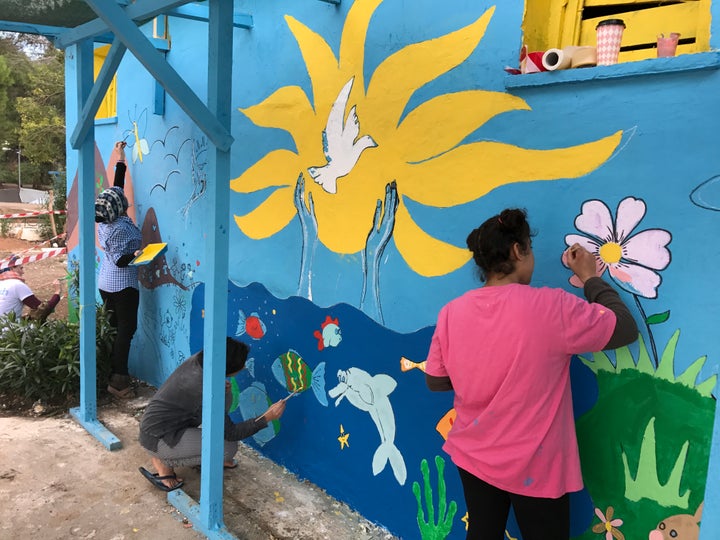 How can people contribute to your cause?
"We're so grateful when people understand our vision and ask how they can become involved and we offer many ways to do this. Awareness of what we are doing is key to our fundraising. We encourage supporters to get involved with their local community, discuss Flourish Foundation at schools and clubs and volunteer to hold fundraising events and we welcome anyone who would like to get in touch to help support our work. We appreciate that fundraising can take time though, so for people wanting to make a more immediate donation on our Just Giving site. All donations go directly to our projects."
If you wish to donate you can do so via Flourish Foundation's Just Giving page. To keep updated on the work of Flourish Foundation, head to www.flourish-foundation.org or follow them on social media via the links below.