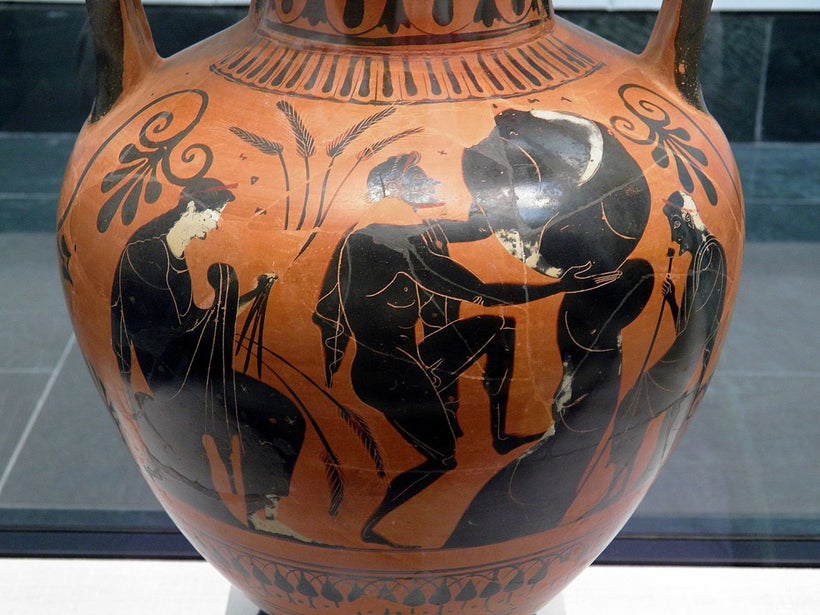 If the world were clear, art would not exist. The Myth of Sisyphus, Albert Camus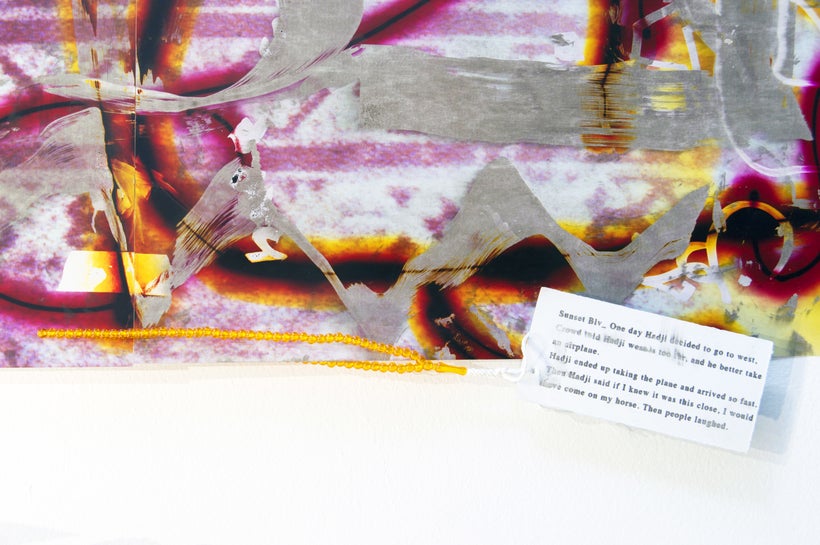 One day Hadji decided to go west. Crowd told Hadji west is too far, and he better take an airplane. Hadji ended up taking the plane and arrived so fast. Then Hadji said if I knew it was this close, I would have come on my horse. Then people laughed. Tag from Sunset Blv, 2016
The new solo show, "Everything is True", by Hadi Fallahpisheh at Kai Matsumiya in New York City - on view until December 31, 2016 - continues his unique achievement - freedom of thought and action within a sometimes prejudiced environment - that is a hallmark of his artwork. The works are made in the darkroom - on photographic paper printed with sections of prayer rug images gathered from the internet - taped together into full sized compositions. There is no camera used, nothing photographed/placed between us and the work - or so it seems. In the darkroom, from the typical prayer position, Hadi uses colored markers, flashlight, and crayons to comment on a fictional character/experience he has created - a character named "Hadji". "Hadji" is also used to describe both a Muslim pilgrimage, and a derogatory term sometimes abused by the U.S. military to describe Middle Eastern/North Africans. The backgrounds of these works are non-denominational however, bright, color field/wallscapes, covered in all-over aggressive word and picture play. He alternates between a sense of community and otherness. While the images are completed and hung for us to study, there are questions we are left with, both literally and figuratively.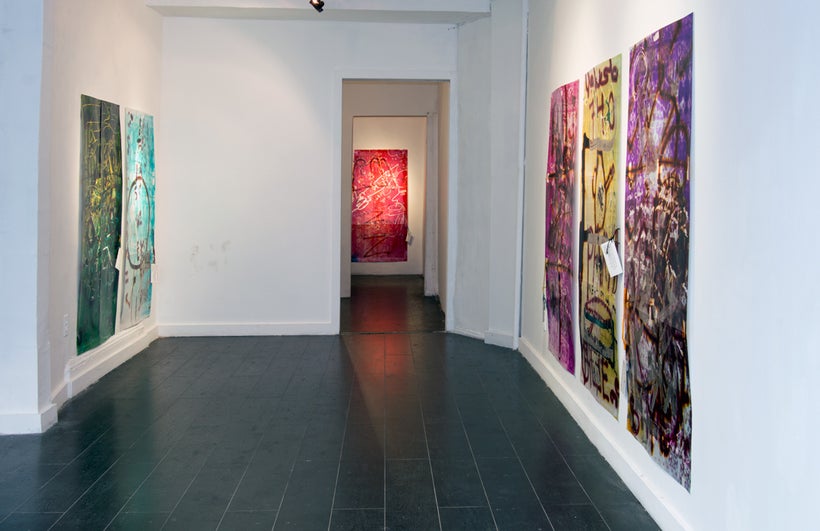 …this term has a similar pronunciation and spelling to my name, and provides an opportunity to test different roles—both as author and as a fictional character. Although I am not personally interested in Hadji's history, I feel that I can address the popularity of the narrative in the work of Middle Eastern artists through this character, and the way we are expected to position ourselves. I bring the word "expectations" in on purpose, because as a Middle Eastern artist in a Western environment I am often expected to have the position of a story-teller who goes to the past and finds interesting and untold stories, and uses them as material. Though what I am more interested in is using the whole idea of Middle Easternness not as subject, but as material. Hadi Fallahpisheh
Each artwork is tagged with a card hung on prayer beads, upon which is typed a joke, usually at the expense of his fictional Hadji/Hadi character. They come across as alternatively hilarious, aptly absurd, controversial, sad.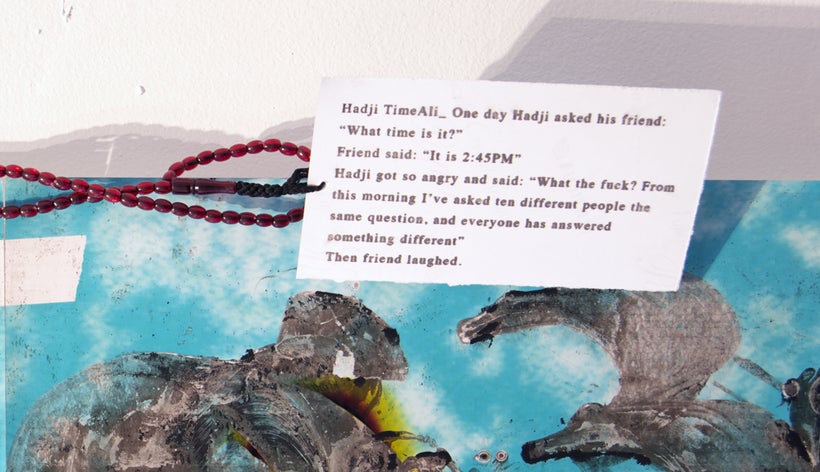 The way the type is set on the cards, their smudges signifying touching, handling, the significance of the beads that hang them on the artwork, both describing and becoming part of the work - offering it for sale, so to speak - is a fluent device. The "rugs" purposely obfuscate, using a street-cryptic language, the self-awareness the "jokes" possess, thereby melding the human with basic human nature - the need to organize tribes of like-minded folks. The tags counteract that basic tendency and push us toward each other and toward the work itself.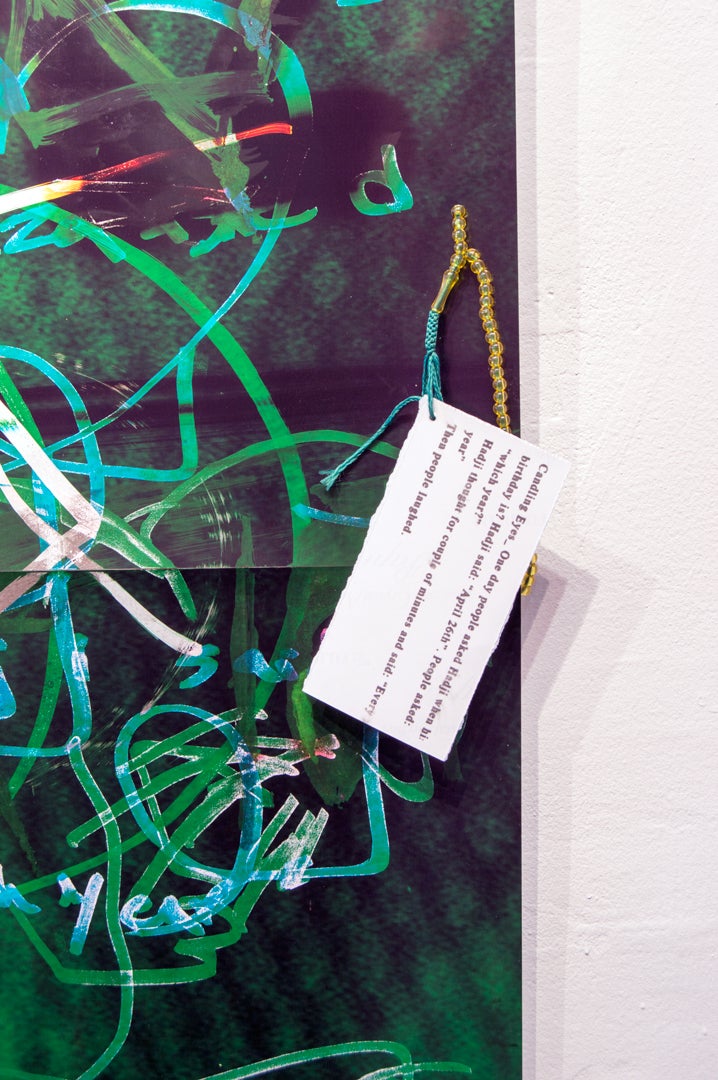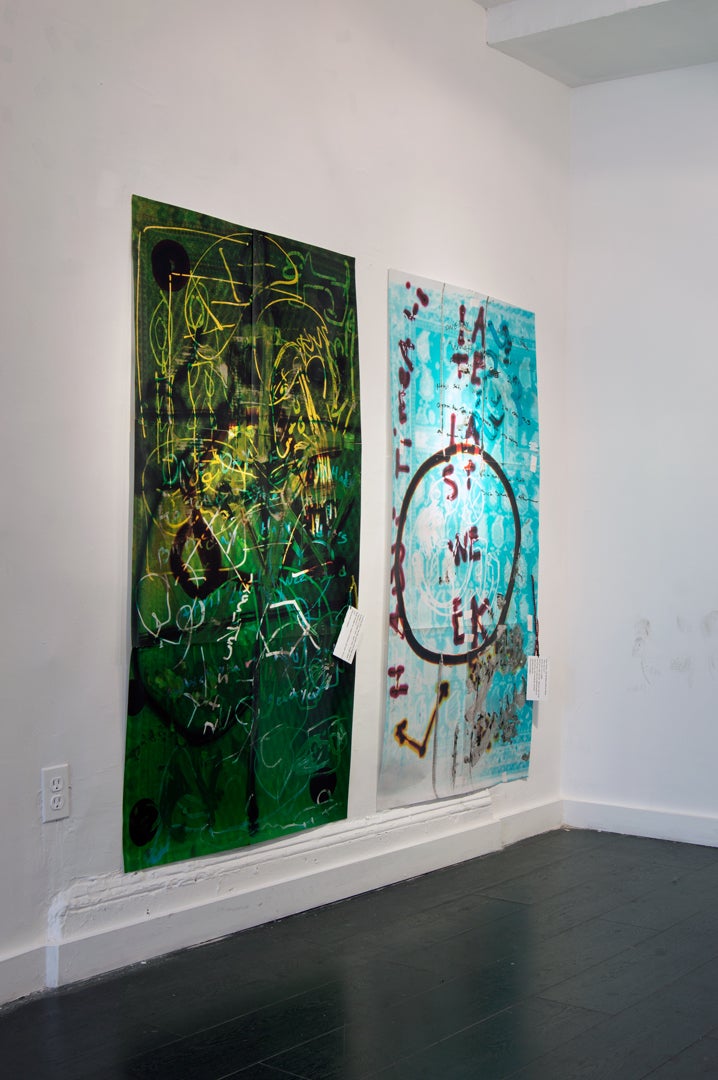 Hadi has always been very humorous with me in our conversations, hospitable as is the custom of his original culture, and in my opinion exceptionally brave in his artistic choices. When we first communicated several years ago it was by text messages over the net. Despite potential censorship - or worse - and technical limitations it was lucid and thoughtful - it was clear he was passionate about being able to communicate in his own way from a world where voices can easily be silenced. Again this time, he has dug deep into himself and brought forth what matters to him in order to make these works. They do not simply wait for us, they come and get us. They bring us into their space, and ask us to contribute, to be human, to be a part of their world.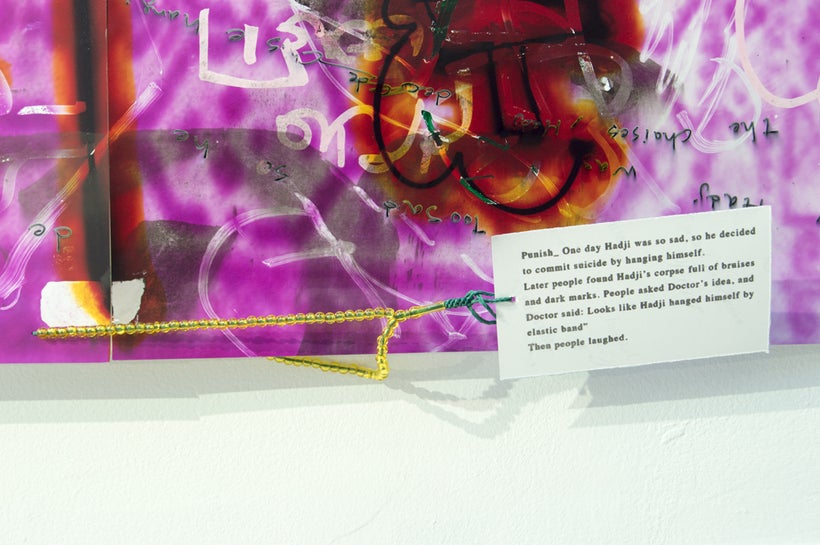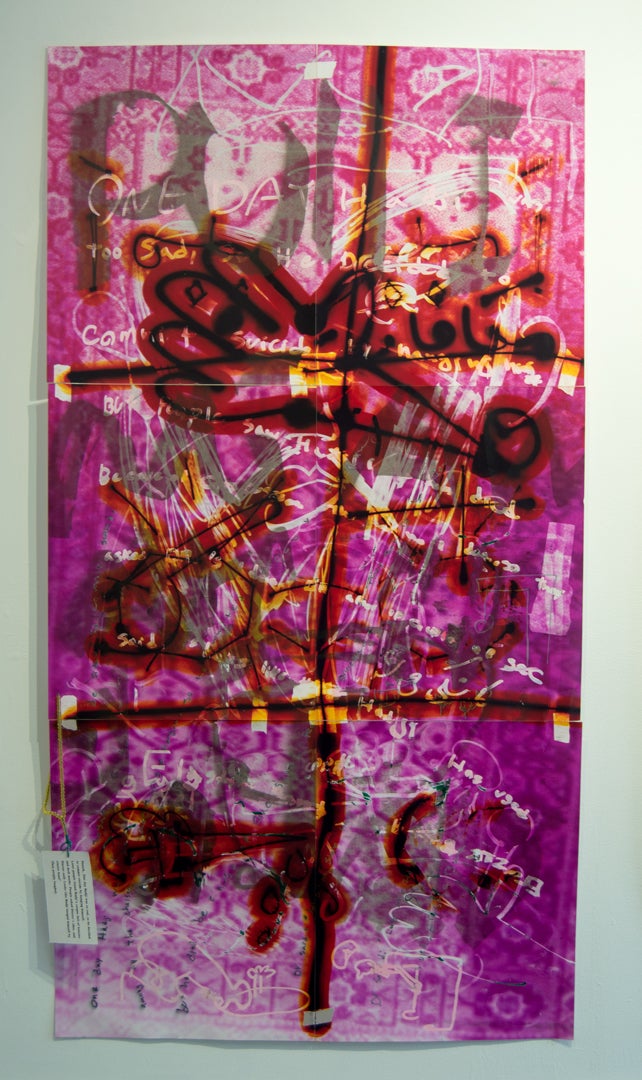 When I originally became aware of Hadi's work in 2013, after he read an article I wrote for this publication and contacted me online, he was in the middle of a show at a gallery in Tehran. That show bears reprise in light of these new works. The full article is here. It provides another layer to the consistently courageous voice of Hadi Fallahpisheh's art.
Suffice it to say that I think of him as an art activist without having to be underground, a person and an artist bridging two worlds at once. Back then he expressed a strong desire to come to America and work as an artist and I wrote a letter of recommendation for him. By the strength of his thoughtful, hard work he was able to come here and earn his MFA.
Hadi started working at my gallery as an assistant at the start of 2016. He was always very hardworking, thoughtful, and effective. The artists very much enjoyed working with him. We became friends during his time here. He was finishing his MFA at Bard college then. Before seeing his art, I had always thought that he's a "real" kind of artist, completely hell bent in getting his experiences and words across, and never making work based on audience expectations. I then went to his thesis show when he graduated and I thought it was the best work in the exhibition. The artists at Bard in general are very good -- but Hadi definitely stood out due to his utter sensitivity to aesthetics, signfying certain "positions" without resorting to general relativism, and his talents in bringing about prescient observations with great risk. Kai Matsumiya
Every artist in the Kai Matsumiya gallery moved their slots in the schedule to accomodate his debut solo show in New York City which is up until December 31st, 2016. His visa hearing comes up very soon, and it's very possible he'll have to leave at the end of this year - but a few weeks away. Given the present climate under the new administration, it might be difficult for him to be able to come back. My fervent hope is that he will be able to stay here and continue to work as an artist. You can help by visiting the gallery, bringing your friends, and telling others about it.
The work has been made before the election, the show has been planned before the election, the press release has been written before the election. My work is a response towards the time we are living in...The election result was probably also a response to the times we are living in...Anything I say more specific is either (a) going to be untrue, (b) going to be nonsense, and/or (c) detract from the experience of the work itself. But at the end everything they say about me and my work is true. Hadi Fallahpisheh/November 25, 2016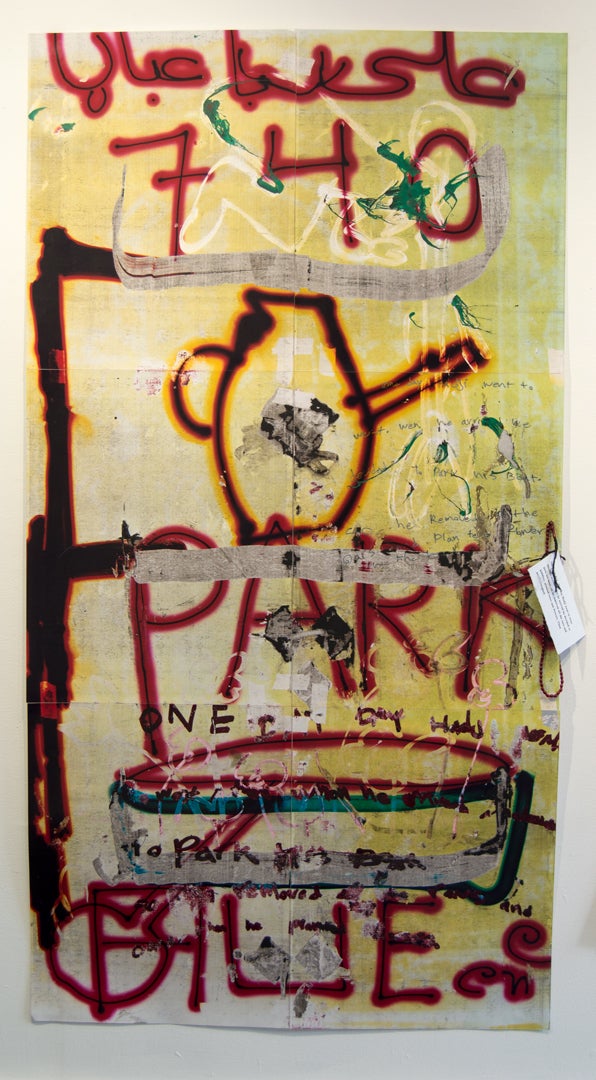 Without culture, and the relative freedom it implies, society, even when perfect, is but a jungle. This is why any authentic creation is a gift to the future. Albert Camus
"Everythis is True" is up until December 31st, 2016 at Kai Matsumiya 153 1/2 Stanton Street, New York, NY 10002. Information: 617-678-4440. Gallery hours: Wed - Sun 12-6pm. info@kaimatsumiya.com.
Calling all HuffPost superfans!
Sign up for membership to become a founding member and help shape HuffPost's next chapter
This post was published on the now-closed HuffPost Contributor platform. Contributors control their own work and posted freely to our site. If you need to flag this entry as abusive,
send us an email
.