At the suggestion of Robert Seitz of downtown's LA Artcore, I went last Friday to Hale Arts Space in Santa Monica at the Edgemar Center -- where the Santa Monica Museum of Art used to be. There was a small red carpet leading to the door, and even a mini-rope line. I was greeted by a very pleasant young guy who asked me if I wanted anything to drink. People were relaxing on several couches just inside the door. The place had the feel of a studio rather than a gallery. A popcorn machine was just inside to the left, and the place was packed. I realized very quickly that people were looking at the art and actually talking about it. (Often in galleries, after doing a quick perusal, people orient their bodies toward the center of the room, people-watch, and talk about anything but the work.)
I nudged my way through and was immediately struck by a several photographs, night exteriors, carefully composed and elegantly evocative.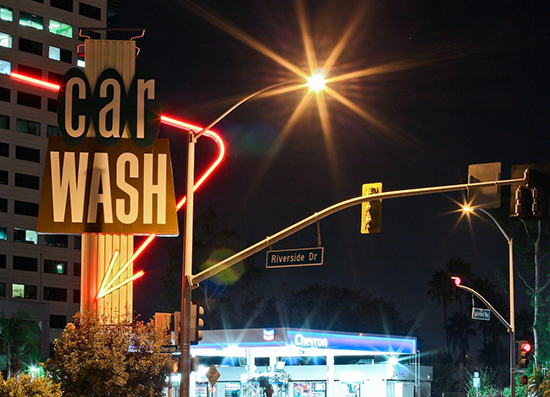 Charles Christopher, "Burbank After Dark"
Archival Pigment Print, 28.5" x 37.5"
They were all well-balanced without brooding, inviting the viewer into their spaces. Night time in LA is unique, open, and can be welcoming if you watch it long enough.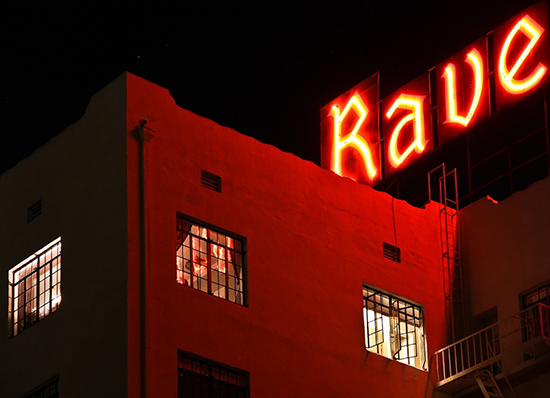 Charles Christopher, "Ravenswood"
Archival Pigment Print, 28.5" x 37.5"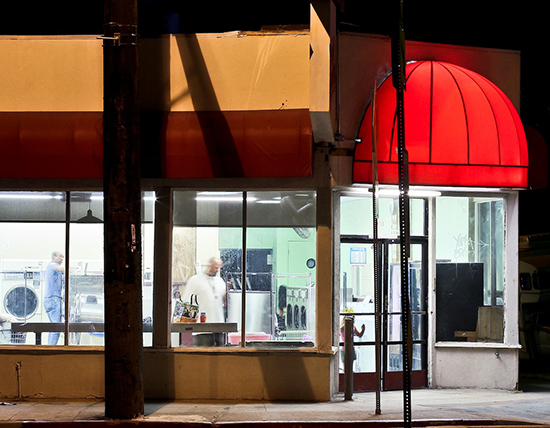 Charles Christopher, "Laundromat"
Archival Pigment Print, 20.5" x 24"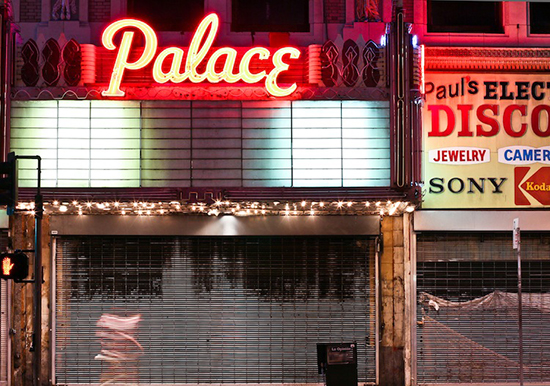 Charles Christopher, "Palace Ghost"
Archival Pigment Print, 20" x 26"
I was treated quite well by the staff, who gently offered to answer any questions, and without knowing me, introduced me to Charles Christopher immediately. So far, so good.
The verticals in the photographs are all perfectly straight, and so I asked him how he came to accomplish such strong composition. Did he use a 4X5 camera? Charles turned, and just kind of shook his head, puzzled, and lifted up a small 35mm camera, an older one I think, and said,
"Um, no, I just use this. By the way, did you see 'God's House?' that's one of my favorites." -- Charles Christopher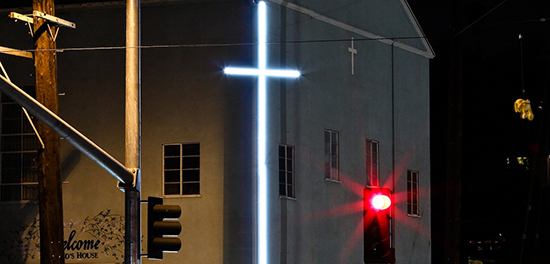 Charles Christopher, "God's House"
Archival Pigment Print, 15.5" x 23.5"
"Mine too.", I said. After a bit I thanked him and wished him good luck, and turned toward the other, completely different photographs, hung right next to his, salon-style. It was the work of John Rosewall.
As soon as began to study them, another person came up and asked if I'd like to meet him too. Of course, why not? (That never happens.)
His work is shot on film, and manipulated later. They are color field photographs, images that compress space and allow the eye and emotion to react to color placement and contrasts. There was a series of seven bunched together, and they made a nice picture by themselves as hung.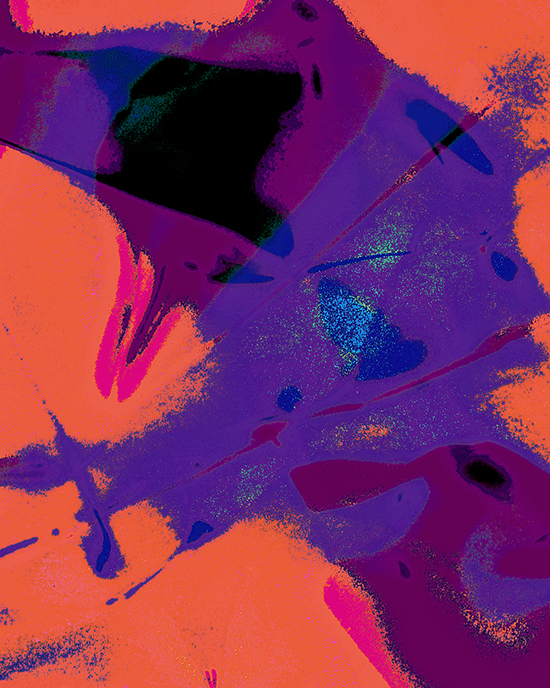 John Rosewall, "Untitled"
Archival Pigment Print, 13.5" x 12"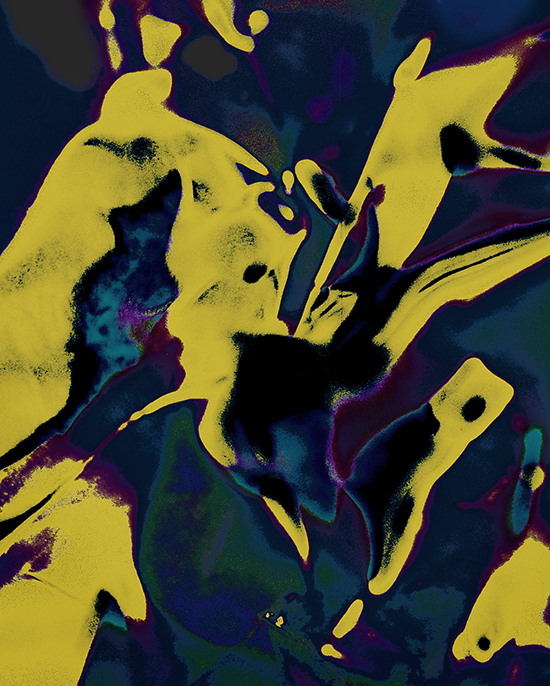 John Rosewall, "Untitled"
Archival Pigment Print, 13.5" x 12"
Next to that I was immediately drawn to two large images that hung right next to each other. They are even more compressed than the smaller ones, and look as if they are seen in a microscope. The images are masses of deep purple, red, black, orange. Nothing betrays their flatness, their swarming, amoeba-like texture. I asked how he did those, if I could impose. He put his thumbs and forefingers together, holding them up in a small square.
"They come from about 1/4" of the negative and are blown up really huge. I don't do anything to them. They just end up that way." John Rosewall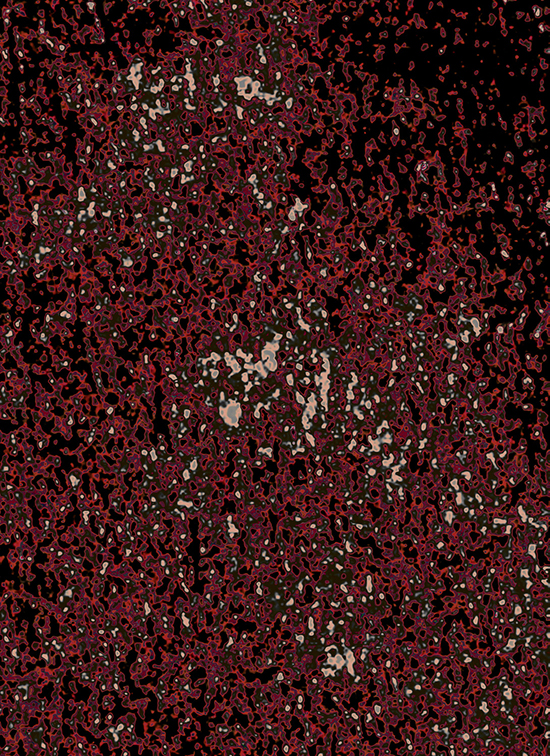 John Rosewall, "Untitled"
Archival Pigment Print, 48.5" x 36.5"
I asked him about the titles and he said he didn't really know what to do about that, so they're all "Untitled". As we were finishing, Sean Hemeon, the director of the gallery, came over and whispered to John that one of my favorite pieces in the show had just sold.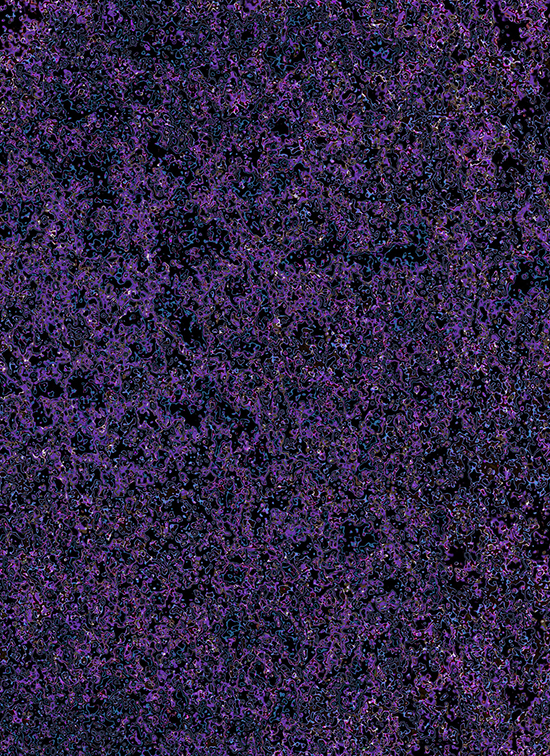 John Rosewall, "Untitled"
Archival Pigment Print, 48.5" x 36.5"
What struck me about both artists, and their work, is their complete lack of pretension - their honesty - which is what I loved about the space.
It is a two story gallery that is beautifully designed and appointed, from the casual sitting spaces to the ample art books for sale that line the walls, organized as if it were a living space, and yet it's completely approachable and open. Complete with fresh popped popcorn.
Talking to the owner, Michael Hale, you find the same vibe, a gallerist who is dedicated to showing emerging artists of all types. He has openings every other Friday, providing a turnover that allows as many local artists as possible to show their work. He's very focused on helping emerging collectors alongside the artists, whom he does not represent, just does his best to sell. There are also regular $100 nights, lectures, and talks aimed at helping collectors get started.
"We are a home for the local emerging artist for emerging collector". -- Michael Hale
There are still a few galleries in town that manage to operate on a level that welcomes, rather than repels, the art lover, artist, or collector. Another one is of course Mat Gleason's Coagula Curatorial in Chinatown. There are others.
Seek them out, find great art, get on a payment plan if you have to, and help artists survive.
Hale ART SPACE is located in Frank Gehry's Edgemar Center at 2443 Main St., Santa Monica, CA 90405. 310-314-8038. Ask for Sam or Caitlin. They're good people with good art. The show is up through Sunday, July 7, 2013.
REAL LIFE. REAL NEWS. REAL VOICES.
Help us tell more of the stories that matter from voices that too often remain unheard.