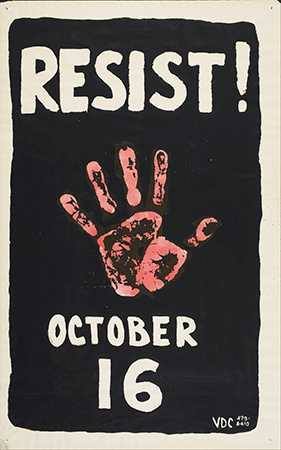 When I was 17, I went to my first protest alone, without my parents or older friends. It was the anti-nuclear demonstration organized by the Abalone Alliance in Summer 1978 at the Diablo Canyon Nuclear Power Plant in San Luis Obispo, California. There were at least 50,000 people there. I was part of the "security crew" helping make sure the crowd kept the fire lanes open - we identified ourselves with arm bands so people could seek us out if they needed help - it was all very peaceful and exciting at the same time. Great bands played. We were quite surprised when Jerry Brown, known to critics at the time as "Moon Beam", landed behind the stage in a helicopter and came on stage and raised his fist along with us, chanting, "No Nukes!" The feeling of family, of being part of a movement, was incredibly empowering, and would help shape my path in life.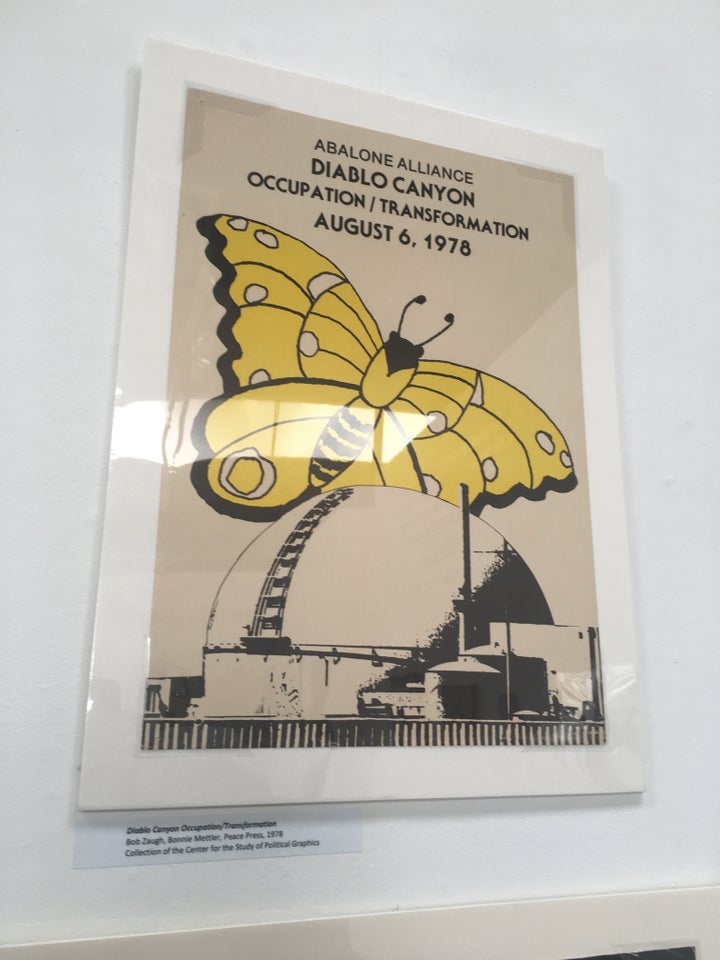 I hadn't seen the poster of that demonstration, nor even thought of the momentous events that happened there, in nearly 40 years. until I walked into "The Art of the Cooks of Peace Press", organized by Bob Zaugh and curated by Henry Klein. There, on the wall, was the poster, and the memories came flooding back. I had to find out more.
The show features artists who worked - and some of whom cooked for each other - at the Peace Press, which operated officially from 1967-1987. The Press was known to the underground of greater Los Angeles for publishing social and political materials when no one else would - for fear of prosecution and loss of business. It attempted to operate as a business in order to subsidize the work of printing for organizations that had important messages but couldn't afford to print. These artists gravitated to the Press because it was one of the few places where they could gather as a community, organize, and get their message of peace, justice and social change out to the public. It was started in 1965 or 66 by Jerry Palmer on the AB Dick Press he had originally bought to put out his own flyers and those of the SDS - The Students for a Democratic Society - the leading organizing force for the New Left from the early 60's until 1969.
While operating democratically and morally in decision-making, they printed calls for rallies, published leaked documents exposing abusive government policies (ala Snowden and Manning of today), posters, leaflets, magazines and books on various topics at the "cutting edge of the counter culture" as stated by Mr. Klein. During one moment in the 70's, they counted 300 political groups they printed for in Southern California, including the Communist Party, The Committee to Defend the Bill of Rights, Black Panthers, October League, CISPES, Greater Watts Justice, Free Gary Tyler, Free Angela Davis, and the American Veteran's Movement. They were regular targets of the FBI and local law enforcement, and were constantly having to move to stay out of trouble.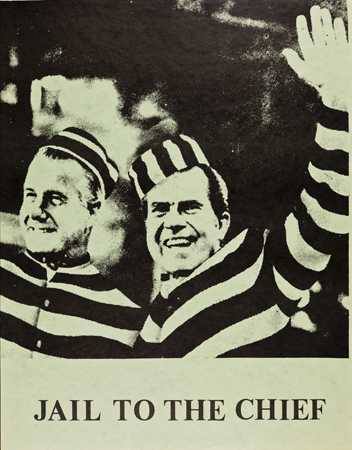 The political climate then would be quite familiar to us today - people were prosecuted for expressing their so-called radical views, jailed for protecting and asserting their rights, protesting or printing materials considered harmful, or for engaging in actions that supported causes opposed to the policies and acts of the U.S. government - such as the Vietnam War, police brutality and killing, poverty and it's attendant issues, freedom of speech, to name a few.
The Peace Press was just one of those actions, and it came at a time when the people of the United States were becoming mobilized. At an important time in our history, printing presses, which were largely too expensive to own and operate, were becoming an option for folks wanting to get their messages out to the public. These messages were often published in poster form. This allowed artists to function outside the contemporary art world - which in the early to middle 60's often focused on non-representational art - art for art's sake - with notable exceptions of course.
In this exhibition we honor the artists and writers and in doing so hope to inspire in others our sense of style, commitment and community. Bob Zaugh, 2017
The artists featured in this show are Carol Kaufman, Henry Klein, Jan Martin, Mary Peterson, Christina Schlesinger, Linda Shelp, Anni Siegel, Maud Simmons, Steve Volpin, and Nancy Youdelman.
My tenure at Peace Press was not long, but it was important. I felt safe and also, safe in my anonimity. I printed little hand-out posters for John Mayall at the Palladium and saved the rejects because I loved the look of the colors out of alignment...Christina Schlesinger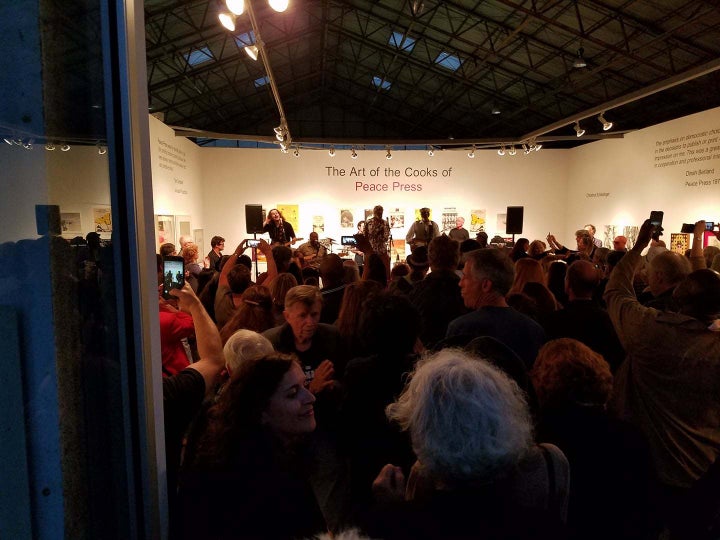 ...there were no complaints but I did get asked for more variety in the menu. The lunch room...had beautiful light shining in from the skylight and people would gather at this big wooden table with big appetites. Peace Press was my foundation for continuing graphics and giving me time to develop my artwork. Carol Kaufman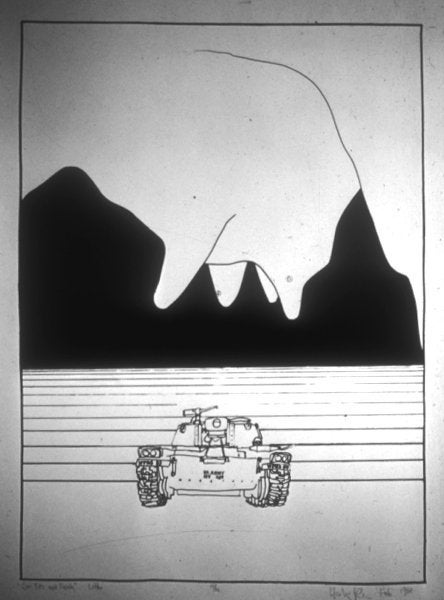 The Press validated the reintroduction of moral considerations into what might otherwise have simply been financially driven choice-making. I chose art teaching as a career because it offered me the opportunity to make a difference in my student's lives. But, at no time since my 3 1/2 year tenure at Peace Press have my work and ideals been so completely at one with one another. Henry Klein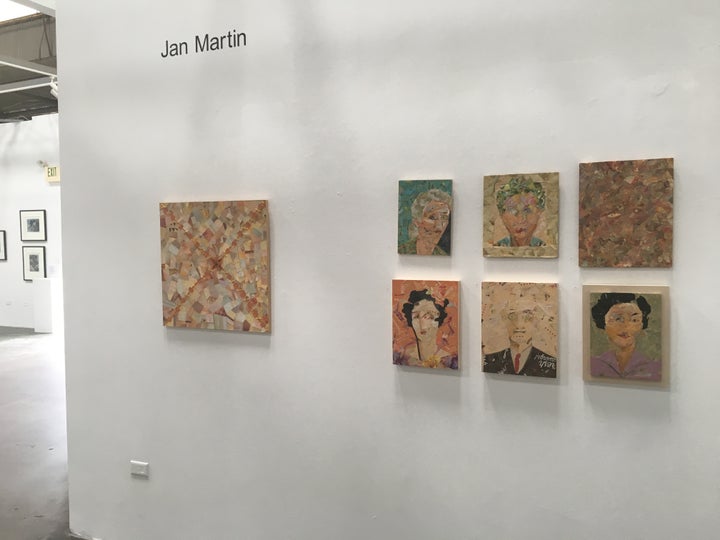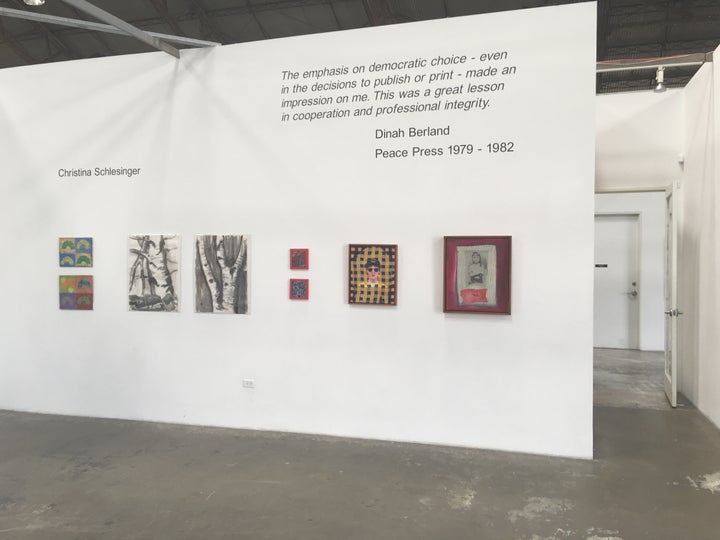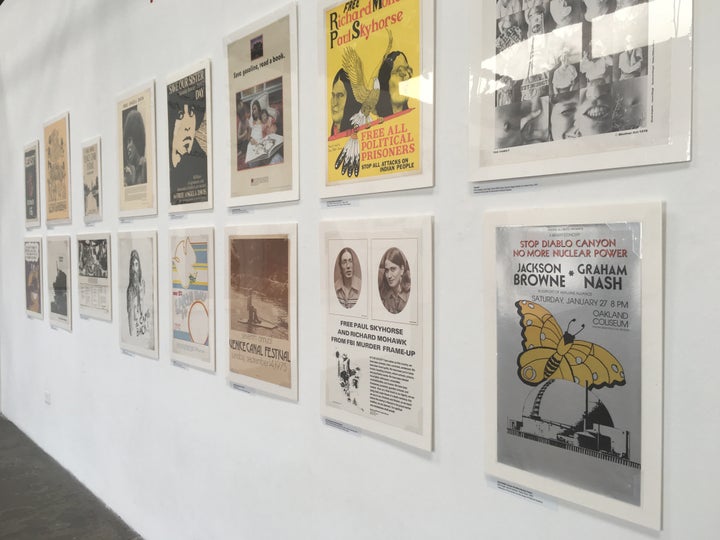 So, after a while the Peace Press seemed to fade out. And yet...it maintained a heartbeat. In 1989 I received a call from a lawyer in Louisiana who was looking to get Gary Tylor out of prison at Angola and out of the state of Louisiana. Gary Tylor had been framed and convicted for murder and his lawyer, Mary Howell, had been given our name by an old Peace Press customer. Even though Peace Press had been closed down for a year, I talked to the owner of NPA (National Promotions and Advertising, who bought Peace Press) and he flew back to Angola Prison with me to meet Gary Tyler. Despite a guaranteed job offer, the Governor refused to follow up on the pardon board's recommendation to release Tyler. It took another 27 years but NPA, Peace Press and Peace Press customers remained committed to Gary Tyler's release and reentry, and in May 2016 we brought him to Los Angeles. In the last 15 years Peace Press has organized reunions, a documentary film, two poster art shows, and the large museum show with the Getty....Peace Press lives!! Bob Zaugh, 2017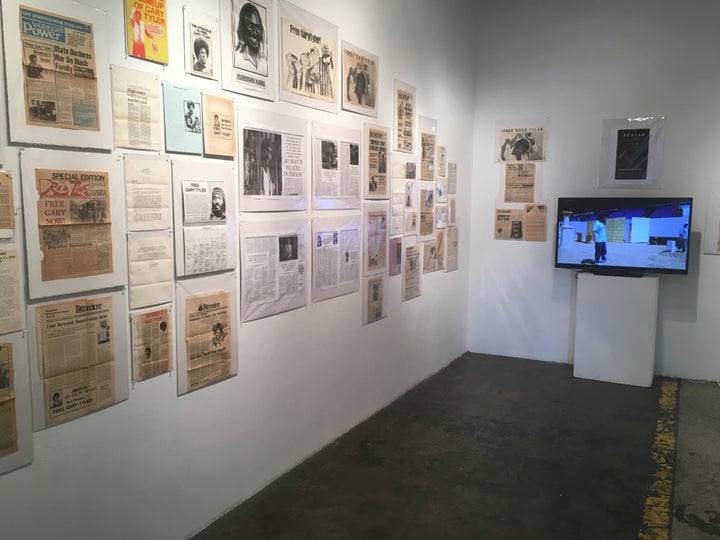 The Center for the Study of Political Graphics provided the posters for this exhibition and helped organize the exhibition "Peace Press Graphics 1967-1987: Art in the Pursuit of Social Change" at the University Art Museum at CSULB for Pacific Standard Time in 2011, with a grant from the Getty Foundation. CSPG continues to celebrate the art of resistance. It's an activist, educational and research archive that preserves documents, and exhibits historical and contemporary social movement posters and prints from around the world. In fact, CSPG's collection dates from the 19th century, holding more than 90,000 works on paper and over 7500 political buttons and ephemera in it's collection, many of which are available to study online at www.politicalgraphics.org.
On Saturday, June 17 the Poets of Peace Press will be featured from 2-4 at the Arena 1 Gallery. They include Dinah Berland, Michael C. Ford, Deborah Lott, Bill Mohr, Julia Stein, & LA Youth Poet Laureate, Rhiannon McGavin.
A docent tour fo the exhibition including the history of Peace Press will be held at 4pm.
On Saturday, June 24 will be Joe Ordinary on Social change, non-violent civil disobedience, and the law of constituency at 2:30pm, along with docent tours at 3 and 4pm.
On Saturday July 1, from 1:30 - 4pm will be an afternoon with Gary Tyler, who spent 41 1/2 years in Angola Prison despite lack of evidence. He will speak about his experience, including the prisoners who helped him survive from the age of 16 in an adult prison, and the programs he initiated while in prison to serve other inmates.
Arena 1 Gallery is located at 3026 Airport Ave., Santa Monica, CA 90405 and is open Wednesday through Saturday, 12-6. The show opened June 3 and closes July 1, 2017.
Related
Popular in the Community