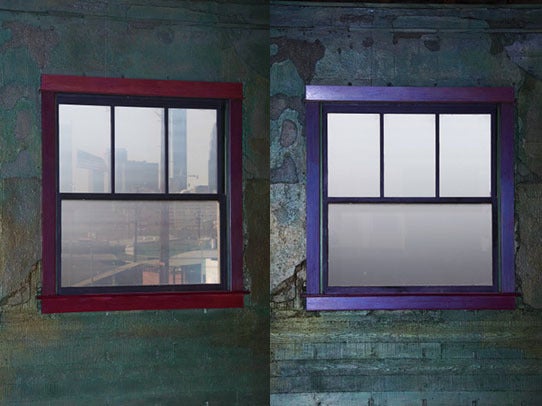 As an artist/curator who has worked with KuBO for quite awhile now, I have been able to watch the development of his work very closely - documenting his process, personality, and art pieces over the years, in differing lighting, weather, and aesthetic situations ranging from a farm field in Ojai to a modern museum in an ancient medieval town in Germany. His enthusiasm, exuberance, guided by what one might call a special "flow", is what gravitates one to him and his work.
KuBO has always been an improvisational artist, while making calculated and well researched decisions that help spontaneity flourish. As a young man he decided to go into business in concerns related to sustainable use of color in industry, going on to develop his own specialized pigments that are unique to his art and work, thereby creating a solid base from which to support his creative career through time.
(While presenting the Trans Angeles show (curated by Peter Frank) together at a museum in Sooest, Germany in 2014, I was lucky enough to receive rare samples of those pigments to use in my work, along with a container of natural resin - basically crushed beetles - so I can attest to this personally as well).
His work has been termed "alchemical" by various esteemed art critics, which can be thought to mean that his work appears mysterious - I would venture to say only at first glance.
In the present iteration of his work, he has created a monumental sculpture of sorts - definitely more than a mural - an experiential layering of pigment and medium that translates it's story in various ways according to the lighting and angle of your view, both physically and emotionally. It has everything to do with the environment of the Produce Haus, to be sure, but even more so is it's connection to the skyline views of downtown Los Angeles to the west - through and a part of the atmosphere we know so well here. His work is placed collaboratively in a show called "Walls" at a new (spacey) place called Produce Haus - in both the here and now, and the foreseeable future - as a testament to the alteration of our lives and spaces. The Produce Haus artists in collaboration include Zadik Zadikian, Kaloust Guedel, Andy Moses and Marjan Vayghan along with KuBO in the main room.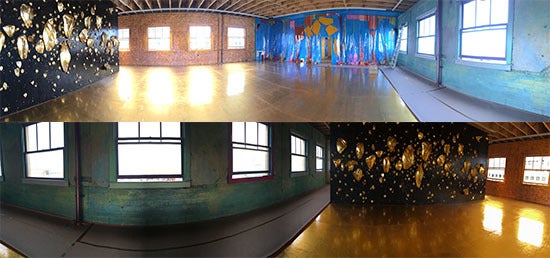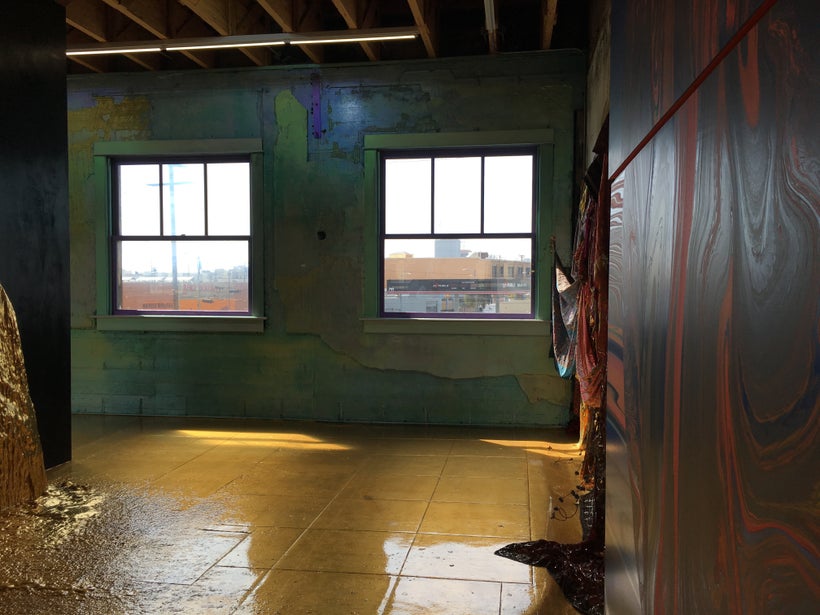 The work changes remarkably when viewed at different angles (as partially portrayed by the side by side images above) but one must be there, in the moment, to experience the work in all it's manifestations.
Around the world, we look to the west, especially Los Angeles, as a place where freedom and creativity can flourish and thrive, where one can see straight ahead - out the window - and do what they wish. The present work began with that in mind. After Trump got elected I decided to alter the windows, because looking straight out ahead we no longer have a clear view on that freedom, and one must now look from various angles at what is happening in order to see the truth, to find freedom and flourish. KuBO, April 24, 2017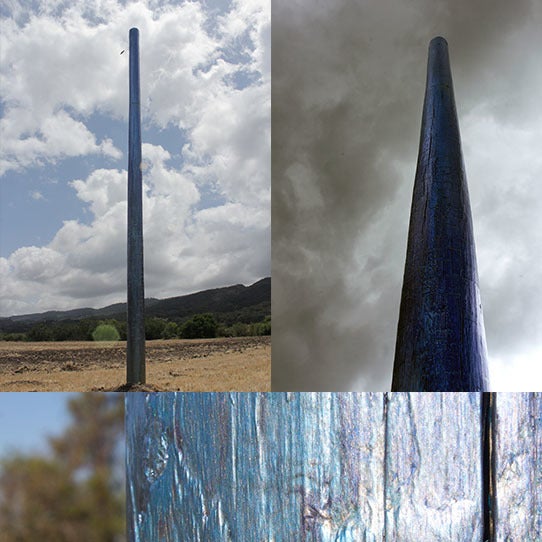 There were premonitions of this work in KuBO's "Water Mark" piece, which we commissioned from him for our Water Works II show recently. Seeing how the drought was affecting California, he wanted to create a monumental sculpture that stood where water once was - yet another statement from the artist that focuses on an issue from an alternative point of view, one which is characteristically bold, while unusually unique.
(A revealing short film of the overall installation process of the Water Mark piece, along with other artists involved in the Water Works II Sculpture Tour, is included here.)
Whether collaborating with other artists in the field or working alone in his various studios in Hong Kong, Germany, or Los Angeles, KuBO has consistently looked at things in a unique way, with a character that is strong yet subtle. His work beguiles, gently guides us into a clear-eyed view on things as they could be, indeed as they should be.
Produce Haus premieres today, Thursday, April 27, from 7-9pm at 1318 E. 7th Street Los Angeles, CA 90021. Here are the directions for entry as listed on their website: "You will enter into the Market space at Market Court, on 7th in between Alameda and Central. You will see a vintage "CAFÉ" sign where the entrance is. Once inside, drive (or Lyft/Uber) to the far end of the very large parking lot. The studio door will to the right – there is a large gold circle painted on it."
It's a show you won't want to miss.
Calling all HuffPost superfans!
Sign up for membership to become a founding member and help shape HuffPost's next chapter
This post was published on the now-closed HuffPost Contributor platform. Contributors control their own work and posted freely to our site. If you need to flag this entry as abusive,
send us an email
.