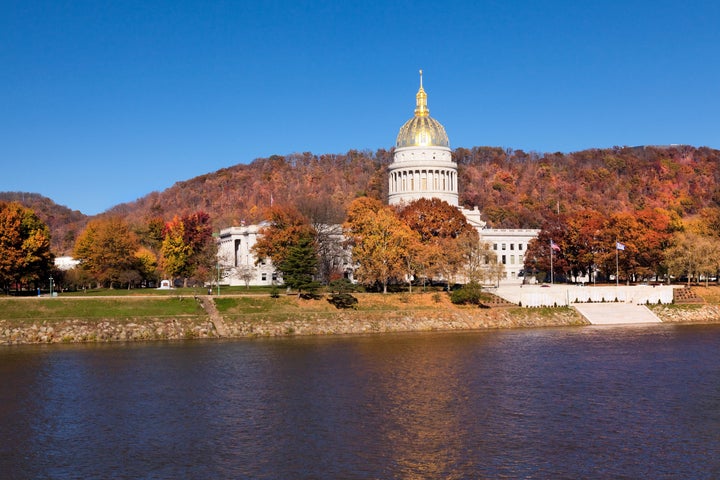 I appreciate HuffPost coming to Charleston, West Virginia in its exploration of life in communities throughout our country. While news coverage and a community forum focus on our biggest challenge (the opioid crisis that envelops so many communities), I'm grateful for the chance to share several of the great things about my hometown, West Virginia's capital city.
We are preparing for a brighter future in Charleston, with emphases on arts and culture, next generation innovators and creatives, tourism, recreation and hospitality. With an aging population and a regional economy that's been based on extractive industries for a long time, I stress the need to base every decision we make on young people who hold the key to our economic and cultural future.
Our goal each day is to make Charleston a more attractive place for people to live and visit, work and play, invest, innovate and create. We do that with a spirit of friendliness and a welcoming attitude: If you want to come and grow here, visit and explore here, create and produce here, you're welcome in Charleston. We say that ― no matter what you look like, what you believe, whom you vote for and whom you love. 
Our slogan, "Hip, Historic… Almost Heaven," is about the aspirations of the creative class and is the brand promise that a visit to Charleston will be transformational.
Our goal each day is to make Charleston a more attractive place for people to live and visit, work and play, invest, innovate and create.
Soon after I became mayor in 2003, we intentionally increased the financial and human resources dedicated to arts, culture, special events and creativity.  FestivALL Charleston started in June 2005 as a weekend celebration of music, dance, drama and public art. Now FestivALL covers 10 days in June and several special events in every season of the year. Our artist community has been celebrated, empowered and strengthened as never before.
Music provides the steady undertone of Charleston's cultural progress. The founding executive director of FestivALL was Larry Groce, who has hosted Public Radio's Mountain Stage from here since 1983. 
We are blessed with dedicated citizens -– people working in our hospitality industry and folks involved in community organizations -– who follow their passions to promote a wide range of special events throughout the year and in every part of our city.
For example, every October, about 1,000 classic cars fill our four-lane Kanawha Boulevard during the annual Rod Run & Doo Wop.  In August, West Virginia Games weekend features a Pro Watercross national jet skiing competition, EVP professional beach volleyball and several more sporting events in and next to the Kanawha River.
The unique 15-mile Charleston Distance Run is one of dozens of races and walks that promote friendly competition and healthier living while promoting many different worthy causes. The West Virginia Power plays Class A professional baseball in Appalachian Power Park, which opened in 2005 and has hosted several hundred future Major Leaguers on the field.
HuffPost is hitting the road this fall to interview people about their hopes, dreams, fears ― and what it means to be American today.
In addition to hosting concerts, sporting events and live theater, the Charleston Civic Center is undergoing a $100 million renovation project that will transform it into the top convention center in our state and region.  This major investment in our city's top tourist destination followed nearly $100 million in private sector investments in the local hospitality industry, including new and renovated hotels, locally owned restaurants and the Charleston Town Center Mall. That's pretty impressive for a city of our size!
In addition to being a destination for visitors and tourists, Charleston is also a great place to start a wider adventure. Within an hour's drive, adventure-seekers find world class whitewater rafting, zip lining, mountain biking and snow skiing.  That is why the national Boy Scouts developed the Summit Bechtel Reserve as the host for the National Boy Scout Jamboree every four years and the World Jamboree in 2019.
As you can see, Charleston has a lot to offer people of every age who are looking for a special place to be and to enjoy. We also are fortunate to have key partners working with us to strengthen Charleston for the next generation with their unbounded sense of what's possible.
The University of Charleston opened its new Wehrle Innovation Center last December and recorded its largest enrollment in decades this fall. Following President Ed Welch's vision, innovation is incorporated into every course of study within the university with emphasis on design thinking and promotion of entrepreneurship.
A private institution, UC recognizes the value of innovation in an ever-changing, rapidly revolving and evolving world. This intentional focus on innovation introduces many of the best and brightest young minds from our region and far beyond to the university and our city.
I could write much more about additional ways Charleston has become a more inviting and special place for people. But I'll close with one final thing I love about our city: The progress I've highlighted has come because of tremendous bipartisan cooperation with our city council. We have a relatively large council, but we have never had a party-line vote in the 14+ years I have been mayor.  Our approach, to put Charleston first without regard to Ds, Rs or Is, could be a model for other levels of government, and that's been a great blessing.
I am grateful that you've taken time to read this and learn even more about Charleston.  If you chose to learn more in person, we will welcome you with our West Virginian warmth and hospitality anytime.
REAL LIFE. REAL NEWS. REAL VOICES.
Help us tell more of the stories that matter from voices that too often remain unheard.