It's that moment in Moana where most audience members go from passively viewing this motion picture to being swept up in the magic & the wonder of this Walt Disney Animation Studios production.
Which sequence am I talking about? It's right after the toddler version of this film's title character saves a baby sea turtle from some scavenging sea birds. Whereupon the ocean (who's a living, sentient being in this Ron Clements / John Musker movie) decides to reward Baby Moana for her good behavior.
What follows is almost a perfect piece of animated pantomime. A nearly wordless interaction between child & wave that then makes even the most hard-hearted of adults start to well up.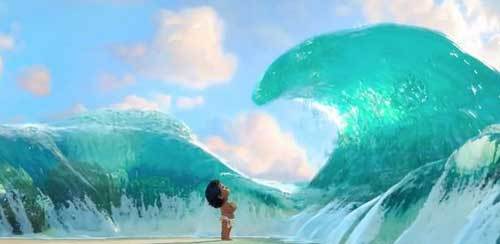 And you know what's really remarkable about this moment in Disney's Moana ? It was never supposed to have been in this movie at all.
Strange but true, folks. This magical little scene that made millions around the globe tear up was originally meant to be an in-house test. Something that only WDAS staffers were supposed to have seen as they struggled to get a handle on how to properly portray the Ocean in this motion picture. Transform this huge amorphous body of water into some sort of living character that Moana could then interact with.
"That was one of the more intriguing things we learned as we were researching the culture of the Oceanic people. They talk about the Ocean as it were alive," said John Musker. "This is why the Oceanic people don't think of their islands as being separated by all this open water. But – rather – they see the Sea as this living thing that then connects them all."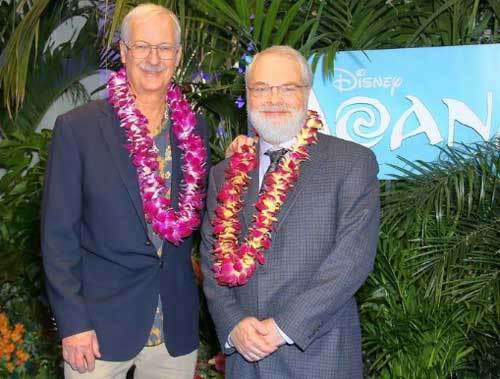 So having seen some story potential in this core belief of the Oceanic people, Musker & Clements then wondered: Would it be possible for the Ocean itself to become a character in Moana ? Become someone / something that their film's title character could perhaps talk to / interact with / rely upon as she made her long, lonely epic voyage across hundreds of miles of open water.
Mind you, filmmakers have previously explored this H2O-as-performer idea (Witness that computer-generated column of water which James Cameron – with the help of the FX wizards at ILM – conjured up for 20th Century Fox's Summer 1989 release, The Abyss). But what Ron & John were looking to do here wasn't just some CG effect that would only be on screen for 30 seconds or so. What they were shooting for was a living version of the Ocean that could be – at turns – playful, thoughtful, even soulful. What's more, this entirely-made-out-of-water character would then make multiple appearances of their motion picture and have a significant impact on Moana's story along the way.
"Before we actually committed to this story idea, having the Ocean actually be a character in Moana, we wanted to make sure that it was even possible. That the technology we had available at the Studio could actually deliver the sort of performance from water that we were looking for here. Which is why we commissioned a test," Musker continued. "This would have been five or six years ago. And this test was the very first footage to be animated for this film."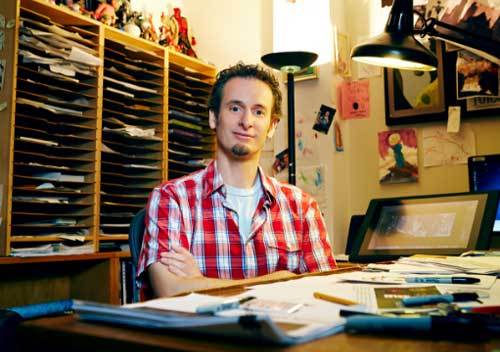 And who did Ron & John tap to do this test? Chris Williams, a story-artist-turned-director (Williams had helmed – along with Byron Howard – WDAS' 2008 release, Bolt) who – to hear Chris tell this story – wound up working at the Mouse House because of an earlier Musker & Clements movie, The Little Mermaid.
"It was that film and 'Aladdin,' another one that Ron & John made, that really started the renaissance of Disney Feature Animation back in the 1980s & 1990s. And when I saw those movies while I was studying animation at Sheridan College up in Ontario, that's when I knew that I wanted to work at Disney. That I wanted to be part of a team that could make an animated feature that was as good as that," Williams recalled.
So when Ron & John asked Chris if he'd like to help them out with this Moana living ocean test, he immediately jumped at the chance. Not just because this then gave Williams the chance to work directly with two heroes of his. But also because Chris had recently had a life experience that he felt could serve as suitable artistic inspiration for this test footage.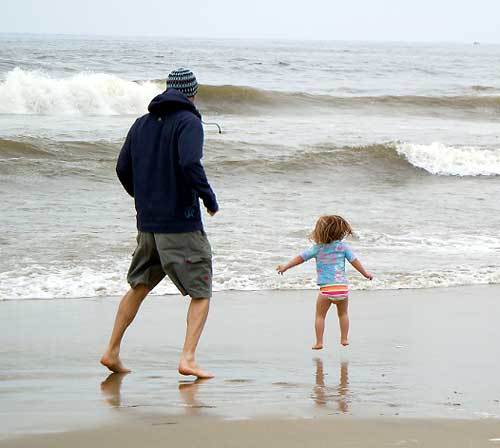 "Just a few months before I was handed this assignment, my wife and I had taken our then-two year-old daughter Harper down to San Diego where we then spent some time on the beach. And I remember just being spellbound as I watched Harper interact with those lapping waves," Chris said.
"Which gave me an idea. Seeing as I had Harper's day at the beach and how she had interacted with those waves still fresh in my mind, that's what I decided to use as my inspiration for this test. I just keyed all of my poses & animation choices off of what my daughter had done that day. And as a direct result, it all just kind of poured out of me," Chris continued. "This has to have been one of the cooler assignments that I've ever gotten at Disney Animation because it was just so personal & effortless."
So Williams boarded this test scene and – with the assistance of Moana art director / production designer Bill Schwab, who came up with a super-appealing toddler version of this film's title character – put together just what Musker & Clements had been looking for.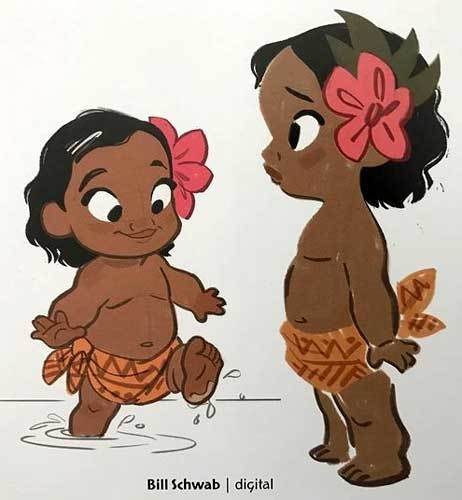 "Of course, Chris & Bill weren't the only ones who worked on this in-house test. In order to make sure that the Ocean – while it was interacting with Baby Moana -- looked correct, our effects department first had to do hundreds of water simulations," John said. "They had to factor in all sorts of things: refractions, reflections, bubbles, the amplitude of these waves, the in & out of the surf, the foam that you see at the bottom-most edge of these waves. And each of these specific aspects of this CG water were generated by their own engines, and all of these engines then had to work together and combine these individual effects in ways that had never been done before."
"Chris, Bill & our FX team did a really great job with this test footage," Ron enthused. "Long before the rest of Moana was done, we had this little set piece that we could then show people as an example of what this movie was going to look like."
What follows is the original version of the Baby Moana water interaction test (And you'd like to compare & contrast how this footage is different from what ended up being used in the finished film … Well, Disney's Moana is now available on Blu-ray, DVD, Digital HD and Disney Movies Anywhere):
That's charming, don't you think? There was one problem, though. After this Baby Moana test footage was screened (and after all of the audience members then finished dabbing their eyes), this question would invariably come up: "That scene is great. Where does it fit in the movie?" And then Musker or Clements would then have to explain that this was just a piece of test footage. That it had been produced very early on during Moana's pre-production. More importantly, that this scene didn't actually fit in with the film's current storyline.
"For a long time while we were working on this movie, Moana didn't actually 'meet' the Ocean, realize that it was a living thing until she was a 16 year-old. But the only problem with that Moana-meets-the-Ocean scene was that it wasn't nearly as charming or powerful as that test footage that Chris had put together," Musker stated. "We tried multiple versions of this introductory scene with Moana as a 16 year-old. But none of them were as good or as strong as what Chris had done."
"At this point, that Baby-Moana-meets-the-Ocean test footage had kind of taken on a life of its own," remembered Hank Driskill, technical supervisor on Moana. "It wound up being shown at the D23 EXPO. And even though it wasn't even part of this film's storyline at that time, it was so adorable and so many people had fallen in love with it that the story team eventually decided that they had to find a way to integrate this test footage into the story."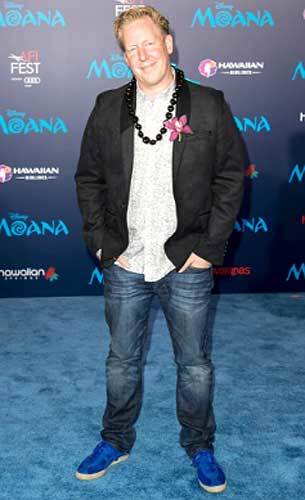 "The trick then was to find a way to make this Baby-Moana-meets-the-Ocean footage fit organically into the film's pre-existing story. Which was honestly one of the hardest thing to do," said Moana screenwriter Jared Bush. "Because sometimes there are these scenes or bits of business that you love which don't actually fit in your film, that take away from the overall story. Which is – for the good of the movie, even though it can really break your heart – you have to then cut this stuff out."
"Luckily that wasn't the case with the Baby Moana sequence. I can honestly tell you that – on the day we figured out how to organically fit this scene in the movie – there was this audible sigh of relief in the building. People here were saying things like 'She's in!,' "It worked!' It was such a good day," David Pimental, Moana's Head of Story recalled.
And what of Chris Williams, the guy who initially came up with the idea of having a toddler version of Moana interact with the Ocean? Given that he went on to co-direct the Academy Award-winning Big Hero 6 for Walt Disney Animation Studios, Chris spent much of the past 5 years wrestling with his own set of story problems.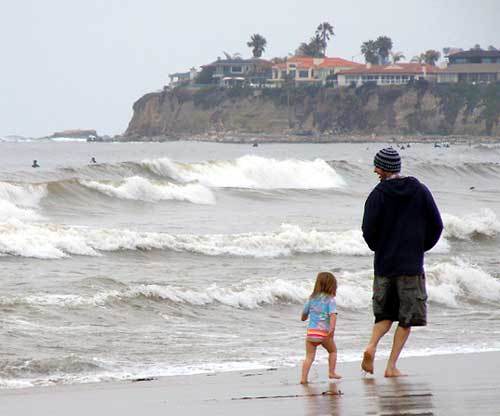 And what does his daughter Harper (who's now nearly 8) think of being the inspiration for the Baby-Moana-meets-the-Ocean scene? Williams revealed that – though he gave his daughter a Baby Moana doll to commemorate her contribution to this motion picture – she actually prefers another character from this motion picture.
"Harper loves Hei Hei, the really stupid rooster character from Moana," Chris laughed. "I mean, she likes the Baby Moana doll – which looks just like the character from the movie. But she has a number of Hei Heis now. Harper just can't get enough of that stupid rooster character."
Related
Popular in the Community