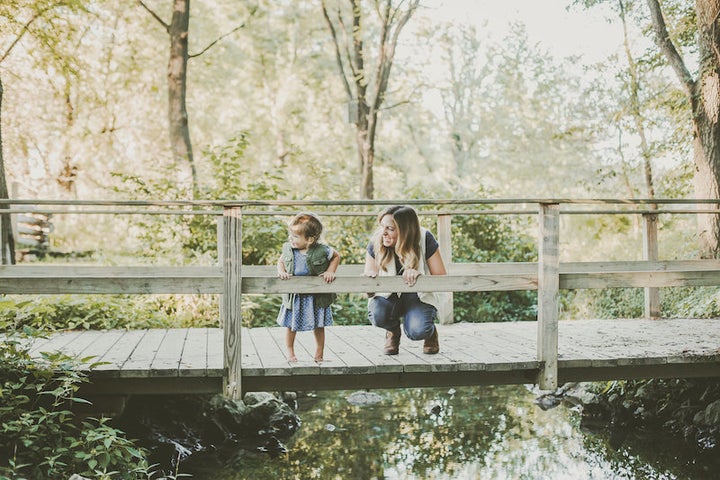 Go ahead, call me a cliché. I'm a millennial and I love the latest tech and gadgets. I'm an early adopter of new apps and services and I'm not afraid to try new things (bring on the self-driving cars!).
But I'm also a mom of two young kids. And embracing the intersection of tech and parenting was a challenge for me early on.
It started to become clear that I may not end up in the tech-savvy mommy club when I started shopping for my gift registry while preggo with kid number one. I couldn't wait to pick out clothes, strollers and nursery decorations.
But as I went online with searches such as "best baby products" or "must-haves for new babies," I became so overwhelmed by the amount of choices that I almost had a meltdown.
It wasn't just trying to figure out those typical first-baby mysteries (what the hell is the difference between NB sizing and 0-3 months?). It was the shocking amount of tech that has been weaved in to every aspect of baby retail.
There are some seriously impressive products boasting incredible sensor and data tracking. I just wasn't prepared to see it EVERYWHERE.
Today, parents have to decide between a regular pacifier or one with a digital thermometer built in that will ping your phone if a fever is suspected. It's deciding whether you want a baby monitor to have a video feed, alerts and live streaming to your phone or a bottle that tells you the optimal incline for a less gassy baby.
Those all sounded pretty good to me. I could see how they might prove helpful for a first timer like myself. But there was more.
Like a digital nanny that keeps track of how frequently your kid s**ts himself. And speaking of s******g, there's a potty training seat that you can attach an iPad to so your kid can take a relaxing dump while watching his favorite cartoon. (Why does this seem more fitting for my husband?)
After scrolling through page after page of products like these, I became even more nervous about becoming a mom. The new (but maybe not better) technology solutions made motherhood seem like an impossible task. And I despised how some of the products tapped in to my irrational fears about my child's health.
Although my pregnancy was healthy and there was no indication of any problems with the baby, I started to consider products that monitored a baby's vitals as something I had to have.
Have you seen the smart onesie that records a baby's breathing, temperature, body position and activity? Or the room thermometer that tells you the optimum temperature to keep your baby comfortable at night? I felt like I needed all of these products to be a successful and "good" parent. If the tech is available I should use it, right?
And it wasn't just the confusion creeping in that was giving me doubts. It was also the realization that this baby will put me in debt before the hospital bills could even start rolling in.
These products are filled with the latest tech and are unsurprisingly pricey as hell. While a regular "dumb" baby monitor can be $25, a video monitor with the latest and greatest features can cost upwards of $200. But like every parent, you only want the best for your kids. Bye-bye college savings!
Thankfully, I was able to talk myself off the first-time-mom ledge just before my home became an over-connected web of baby data with me analyzing every detail of my kid's existence.
It turns out what made the most sense for me and my family was to go mostly tech-free during the early baby stage. No smart monitors, pacifiers, bottles or potty seats. I parented through trusting my instincts, my baby's cues, and my doctor's professional opinion. And it was the right choice for us.
I'm still a fan of cutting-edge tech, and trust me, I often find myself researching the latest gadget out there that might solve my most recent parenting challenge.(Something that removes the word "no" from a toddler's vocabulary perhaps?)
You just have to find your own balance between parental intuition and support from baby products to get you through the day. And that's what it's all about. If getting through the day means you need a diaper that can be scanned with your phone to get the pH level of your kids' pee, cool. Looking back on my early parenting days, I preferred the low tech version of mommy-hood and wouldn't change a thing.
Andrea Rhoades is the creator of Selfies to Selfless, a parenting blog for Millennials. She is passionate about exploring the unique challenges the newest generation of parents face. Follow her as she reveals the hopes and dreams, fears and failures of Millennial parents. Follow Selfies to Selfless on Facebook and Twitter!