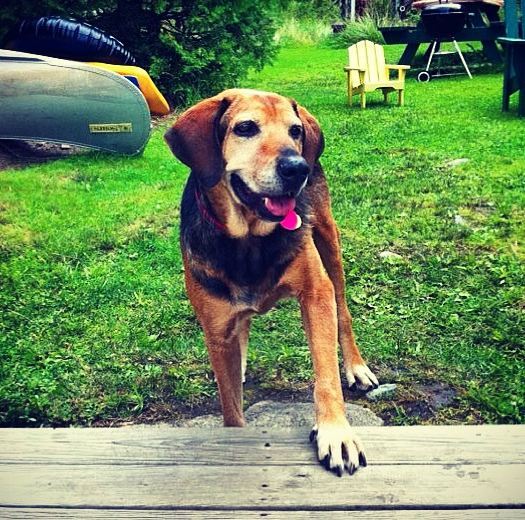 On Nov 9, 2013, Steve McQueen passed away peacefully in his dog bed at home in Staten Island. Two years before, he sat waiting to be killed in a concrete cell at the Rutherford County Animal Control pound in rural North Carolina. As a senior in a high kill pound, this big old hound had little chance of being rescued or adopted. Badass Brooklyn Animal Rescue founders Eva and Sara saw his gentle face in the Facebook album of dogs on the kill list and knew that if they didn't rescue him no one would and he would die cold and alone in the pound.
No one knows what Steve's life had been like before he landed at the pound, but it was clear he had not been well cared for. After 3 months in boarding in NC recovering from treatment for advanced heartworm, Steve arrived in NYC ready for a forever home. Although he charmed everyone he met, he suffered from 'senior stigma.' While seniors in shelters are often the most loving, sweet and gentle pets, so grateful for good homes after lifetimes of who knows what, adopters are often hesitant to commit to seniors for multiple reasons, including concerns about the shorter time they will have with the dog before suffering the heartbreak of loss and the high cost of continued vet care for older dogs with health issues. And because they are not as 'adoptable' as younger healthier dogs, rescues shy away from pulling them, leaving these wonderful dogs with little chance to make it out alive.
Steve showed improvement in his Brooklyn foster home but really blossomed when he went to live at Eva's Play Pups Pennsylvania farm in the spring. At the farm, he enjoyed sniffing through acres of meadows and rolling in the grass. Before Susie's Senior Dogs existed to publicize homeless senior dogs to a wide online audience and share stories of how rewarding it is to adopt these wonderful dogs, there were very few outlets for rescues to gain attention for seniors. As a rescue, we were doing everything we could to publicize this great dog, but having no luck. After a few months, we started to really worry that we would never find Steve the forever home he deserved. One day an alumni adopter put us in touch with Best Friends and asked for their help. They agreed to send out an email blast about Steve to their NY fanbase, over 15,000 subscribers. After the email went out, only 2 people contacted us with interest. One was serious and sounded like a great home. A couple who had adopted a senior, abused pit, nursed her back to health and enjoyed several years before she died. They were looking for a calm sophisticated gentleman to be a companion to their young, happy Rottie mix and thought Steve might just be the right match.
Almost 8 months after leaving the pound in NC, Steve arrived at his new home in Staten Island where he immediately settled in to the life he always deserved. Steve won the hearts of his parents, canine sister Lily and even his feline sister Zoe. Steve's parents kept in regular touch, updating us frequently on his progress, sharing happy stories and pictures - Steve on vacation in Vermont, playing with his favorite stuffed toy or sleeping on his dog bed at home, walking through a snowy park wearing a warm coat. Steve had gained quite a following while he had been with the rescue and his fanbase grew as new people learned his story and saw pictures from his new life. There was something special about this dog that touched people who had never met him in person but cared for him and rejoiced in this most heartwarming Happy Beginning.
Steve's family only had a year and a half with him and they were devastated by his passing. As painful as it was to lose a beloved family member, Steve's family cherished every moment they had with him and would not have traded their time with him, however abbreviated, for the world. Because this family was willing to open their hearts and home to a senior, Steve lived his last months and passed away surrounded by love and comfort.
While many rescues and adopters are hesitant to commit to seniors, Badass has rescued numerous seniors like Steve. Talk to Steve's parents or anyone who has adopted a senior and they will tell you that they have never regretted giving their hearts to these most grateful and devoted dogs. We believe these dogs deserve a chance for a few months or years of a good life and know what joy they bring to those who take the chance on them. Badass continues to rescue, rehabilitate and re-home sweet seniors. Exactly two years after pulling Steve McQueen, we rescued a senior beagle from Alabama. Steve's parents named her Emma Thompson.
'Tis better to have loved and lost
Than never to have loved at all.
REAL LIFE. REAL NEWS. REAL VOICES.
Help us tell more of the stories that matter from voices that too often remain unheard.