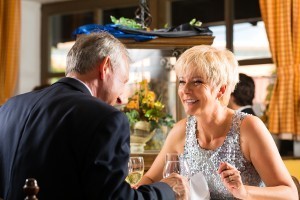 Everyone comes with baggage when they enter a relationship.

Heading onto the dating scene for the first time in a very long time...

You probably haven't given much thought to how this baggage from your past can affect your present and future relationships with men you're dating.

Let's face it, we all carry baggage.

Even when we married the first time around back in our 20's and 30's, we were carrying some of it.

Maybe a couple of high school and college sweethearts along with some "growing pains" type issues you might have had with your parents.

The thing is...what we had back then would have fit in a carry on suitcase.

Now fast forward 20 or 30 years to where you are today.

You may have experienced a marriage or two.

There's children and grandchildren.

Aging parents.

In laws you're still close to.

Shared friends you socialized with.

Houses.

Health Issues.

Debt... and that's just to name a few of the pieces you're carrying around with you.

What this means is your baggage has now grown from that small suitcase into a steamer trunk filled with baggage.

Most of us totally underestimate how baggage can affect a date and a future relationship.

One of the biggest mistakes women make is revealing too much of their baggage on a first date.

It's like you're testing the guy to see if he'll like you...issues and all.

Men are happy to help you with your issues over time.

But...what a man can tolerate once he's in a relationship with you will more than likely scare him off if its revealed on a first date.

So what topics should be left off the table on a first date?

Trashing Your Ex

Sharing your anger about an ex on a first date is a huge no-no!

He thinks if you're talking this way about the last guy you were with... then what will you say about him should the two of you get involved then break up?

This feels pretty scary to a man!

If he asks about your ex, you can use phrases like these...

"Yes, I have one but he lives out of state."

Or..."Yes I have one, and he was a good father to my children."

Or "Yes, I have one and he remarried."

Or even "Yes, I have one and he works in a specific industry."

Your goal is to say something positive about your ex no matter how small it is, so you do not appear as negative or vindictive on a first date.

Health Issues in Detail

I remember one particular first date where a guy started telling me about his health issues within the first 10 minutes.

I heard about his breathing machine.

And his prescription drugs for his heart and blood sugar issues.

This was way too much information for a first date.

I used an exit strategy and was out of there within 10 minutes of hearing that.

And men will run too!

Why? Without an emotional attachment to you, you'll feel like a project to him.

If a man asks you about your health (which he shouldn't unless he's doing the first date checklist)...you can turn it around and say in a flirting voice something like this..."Why, do I look sick?"

Remember, first dates are for meeting someone new and interesting.

They are not for grilling someone.

I promise if you stop Dating to Mate and start Dating to Date, you can have far more fun with dating.

And when you're having fun...you appear a lot more interesting to a man than the woman who uses a checklist and spills her baggage on a first date.

Your Finances

Money is a taboo subject for a first date.

If you are in debt...and if you share this on a first date, a man thinks you're just looking for a sugar daddy.

This will send him running.

The same thing goes for if you have a lot of money.

He may be looking for someone to take care of him.

Until you know someone better, you want to keep this information to yourself.

And remember...when you're on a first date, the guy you're sharing private information with is still a stranger.

Don't share a lot of personal information with him.

What You Can Talk About On a First Date

Keep your dates light and fun.

Share interesting things about your life that you love.

Ask him about his life and come away from each date having learned one new and interesting thing about this new man.

I'd love to hear what you think about your baggage, his baggage and how it's affected dates you've been on in the past.

Lisa Copeland is known as the expert on over 50's dating. She's the best-selling author of The Winning Dating Formula For Women Over 50 and a regular Huffington Post contributor. Her mission is to help as many women around the world as she can discover how to have fun dating and finding their Mr. Right after 50. Learn the 5 Little Known Secrets to Finding a Quality Man Over 50 at www.FindAQualityMan.com.