Ballet requires dedication, strength, confidence, bravery, endurance, grace, hope, joy, passion, concentration, memory, self-esteem, flexibility, knowing who you are, critical analysis, adaptability, ability to learn quickly, pain tolerance and eventually, really ugly feet. Sometimes, when I take a step back, I wonder why anyone would put themselves through this, especially girls today. You put on a leotard and tights that reveal your body shape and form completely, move around in front of others and constantly have people tell how you are doing it wrong. Judgment, judgment, judgment. Rejection. Why would anyone put up with that?
But I know why. When I dance, I feel free.
I started dancing when I was 11 years old, it was all I wanted for my 11th birthday and I promised my parents I would never ask for an MP3 player or iPhone or even a car ever again if I could start ballet classes. If they couldn't put me in classes because it was too expensive, I asked for ballet in a box, a video and books to follow and I would teach myself. My parents decided that maybe they should make real ballet classes happen.
Starting ballet at 11 is pretty late, so I was the tallest kid in my level 1 class -- most of the other students were 7 and 8 years-old. I stuck out like an awkward sore thumb. Except I loved it. Nine months later, I went en pointe and a year after that, I was invited to join my studio's Company Two and I really started to get serious about ballet. A secret hope began to bloom that maybe I could do ballet professionally. My instructors and my parents kept encouraging me, telling me that I had talent. Tall for my age at the time and all gangly arms and legs, ballet just felt right in my body. In a leotard and tights, when dancing, I was so oblivious of my technique, I just felt free. Being able to move in such a different way was liberating. The music, the movements and the lack of fear were and still are my favorite things in the world.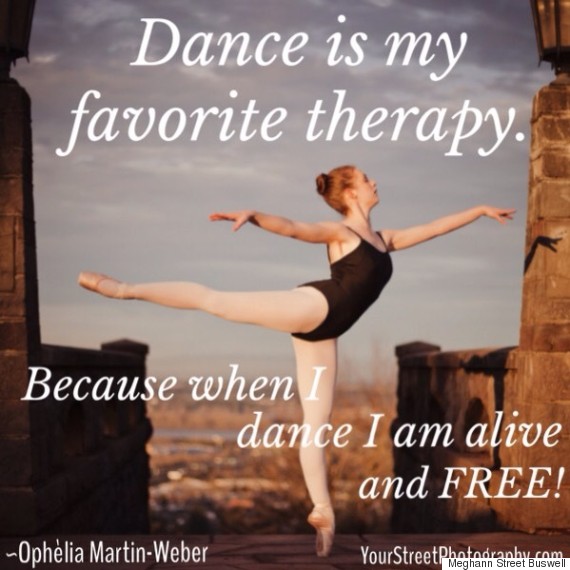 Atop Rocky Butte in Portland, OR.
I didn't use the mirror to watch myself, I didn't like to look in the mirror. I still don't, honestly. Seeing myself made me uncomfortable, I thought I wasn't pretty and I didn't look as graceful as I felt but the studio mirror is one of the main tools a dancer has to work on their art and eventually I had to face myself. It wasn't easy.
When I was 5, long before I was dancing, I went through a very traumatic experience that changed my family, changed me and trapped me in a secret bondage. I became more aware of bad things in the world and terrified of just about everything in life as a result of the sexual assault I experienced at the hands of a family friend. A teenage boy whose family had been very close with my family repeatedly abused me before my parents found out and put a stop to it. There's a lot I don't remember, but I do remember different scenes and mostly I remember fear and shame. Shame was the primary tool the boy used to control me, telling me my parents wouldn't love me if they found out, that they would spank me and that I deserved what he did to me. He threatened to hurt my family if I ever told. To this day, even with lots and lots of counseling, I still struggle with that fear and shame.
But when I dance, I feel free.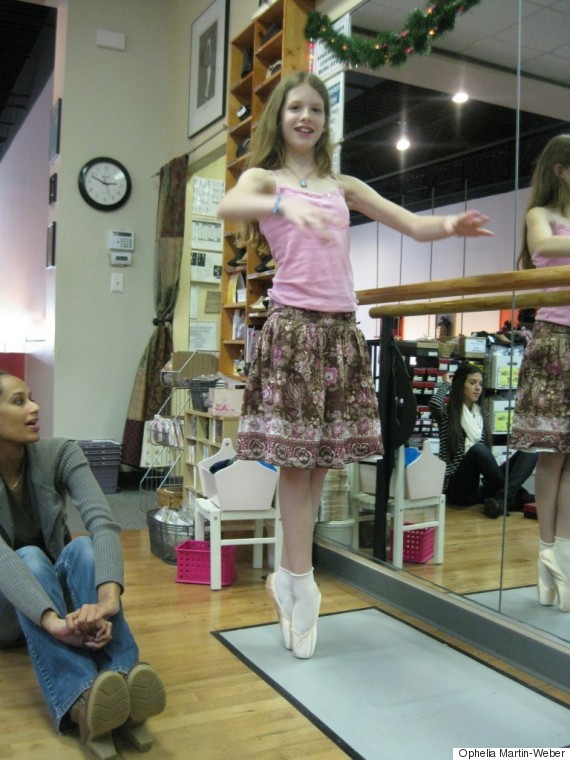 This is me at my first pointe shoe fitting, nine months after I started taking weekly ballet classes.
My 11-year-old self just wanted to dance because it was fun. What I didn't know was that ballet would also be healing. If I'm having a bad day, even if I don't want to go in the studio and dance, I almost always feel better when I do. On the dance floor, I'm distracted from whatever stress I'm dealing with at the time. It is just a one on one conversation with me, my teacher and my body. Even if I'm struggling with a specific technique or choreography, when I'm at the barre or in center, I don't have to focus on anything else but that moment with the music and my body. Frustration, fear, anger, I can squash them on the dance floor, sweat them out of my system, leap over them to music. I never imagined that it could so healing, sometimes dance feels as important to my vitality as breathing. Dance is my favorite therapy. I feel so alive and free when I dance, even with other people's steps.
You may not think that a sexual abuse survivor would find healing in putting on a leotard and displaying her body for others to judge but that's exactly what my journey has been. Learning to trust my partners and feel comfortable dancing with young men, teen boys, has helped me develop a confidence in communicating what I am comfortable with. This past Christmas season as I danced the Dewdrop Fairy in The Nutcracker, my first full partnering role onstage, I had to deal with my insecurities regarding my body and trusting someone else to touch me. Communication is key in a ballet pas de deux and my partner patiently supported me until I was fully comfortable with our performance. Ballet has given me so many opportunities to address my insecurities and know who I really am. I'm not done growing and I still have a long way to go, but any time I put on my slippers or pointe shoes I feel like I'm getting closer.
Because when I dance, I feel free.
Ballet is notorious for criticizing the bodies of dancers, there is a lot of pressure to be a certain body type. When my boobs began to really grow I got scared that they would be too big for dance. As my hips widened a little bit and I was no longer just skinny arms and legs, I was nervous about being the wrong body type. This is still a fear for me and I'm pretty sure I didn't get into a couple of the programs I auditioned for recently because of my body. Still, I am learning more and more to appreciate the strengths of my body, even as I discipline myself in training it, even as I am careful about how I fuel it. This body of mine can do amazing things, I have strong jumps that are powered by my thighs and while I didn't get into some programs, I did get into others and have new opportunities I never imagined. I have my teachers, training and yes, even my body to thank for that.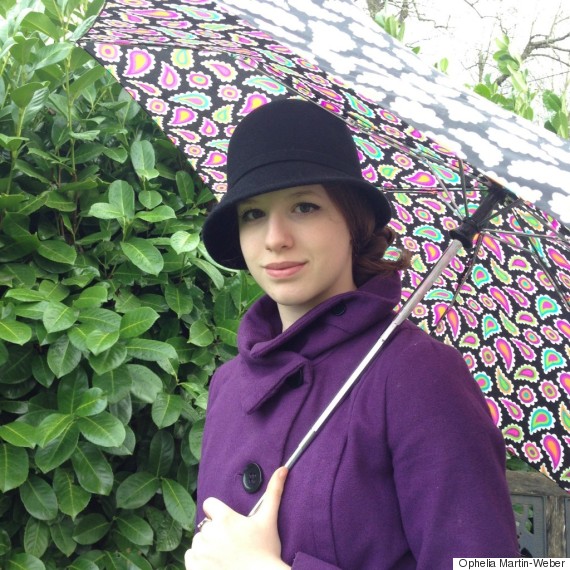 Life isn't all rainbows and butterflies in ballet. There are politics, drama, blisters, muscle pain, injury and sometimes fear and shame. I've moved studios four times in just five years of dance, recently losing my mentor due to politics, a loss that sent me into a month long depression during a crucial audition season. Those are gifts too and I've learned how to fight through the hard stuff because the beauty and freedom I find within the art form is so fulfilling. I have moments where I consider walking away but I'm more me with ballet and I'm grateful my parents and others helped me get to the barre to remember that. There are hard times in life, times when we will bleed, times when we will be left, times when we will be injured and feel like we can't go on, but I've learned how to go on thanks to ballet.
It has been five years since I started ballet in that weekly class where I stood a good head or two taller than everyone else. It has been 10.5 years since my sexual abuse when I became a very scared and timid little girl filled with shame, silenced into hiding my pain. Now, I speak out. I challenge myself and those around me to consider how our culture enables abuse. I am learning how not to live in fear and shame. Hopefully, I will reach my goal of becoming a professional ballerina, but either way, I will never stop dancing.
For when I dance, I am free.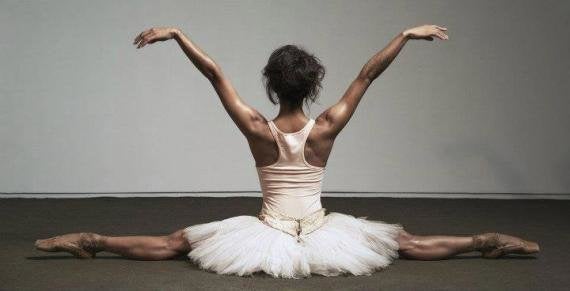 Ballet Dancers Changing the Landscape
Support HuffPost
The Stakes Have Never Been Higher
Related
Popular in the Community