The Cool Kids is a series documenting creative humans shaping present day society with their work and outlook.
Gloria Noto | Makeup Artist | Editor-in-Chief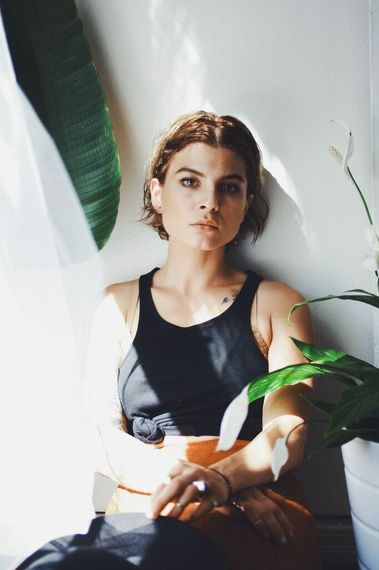 Gloria Noto is the model of a modern day renaissance woman, mastering the art of the multi-career lifestyle. By trade, she is a makeup artist, whose expertise in the field has been recognized by The Hollywood Reporter and has landed her as a regular contributor with both Nasty Gal and Refinery29. When she is not on set for the likes of Nylon or Flaunt, or preparing her clients for the red carpet, she can be found in one of Silver Lake's cafes working steadily on her conceptual arts publication, The Work Magazine for which she is the Editor-in-Chief and on the culture magazine, 2139, for which she is the managing editor. Gloria is also an established painter whose work has been shown in DTLA group art shows and commissioned by top designers and creative agencies. When asked how she spends her spare time she'll tell you about the experimental makeup techniques on her beauty blog SetDaze, the record label she is thinking about launching, or (maybe) the secrets behind her proprietary blends of essential oil fragrances.
Gloria Noto does it all. What moves me most is her constant exploration to find new ways to express herself and her dedication to spotlighting the talents of her peers. We caught up at Cafe Stella in Silver Lake to talk more about her motivations to create beauty in the world - through as many channels as possible.
I live in Silver Lake, which is here in Los Angeles. I also have a place in Greenpoint, Brooklyn, which is also like Silver Lake, except sometimes more cold and rushed.
I moved from Detroit to LA about a decade ago to get the hell out of the winter. I moved to Silver Lake so I could be a part of a community of artists and creatives and have the ability avoid getting in my car. It's become much like Williamsburg at this point with gentrification, but I still love living here. I have a place in Greenpoint so I can switch things up and do that whole bicoastal dream living thing.
How does your environment contribute to your work?
I believe it's called being an Empath. I am tremendously affected by my surroundings, therefore I try to keep them as inspiring as possible. My bedroom is one white room. White walls, curtains, bed. It's important for me to feel clear and that helps a lot.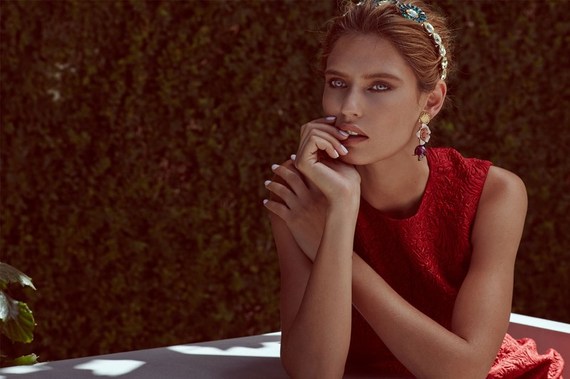 My work consists of shedding light and being a platform for the arts. Whether that be in my makeup field where I get to create beautiful imagery, or doing special content for SetDaze and featuring new cosmetic brands I love, or featuring artists in the pages of printed matter, or put on a music show or event. I wear many hats but they all are in the same closet.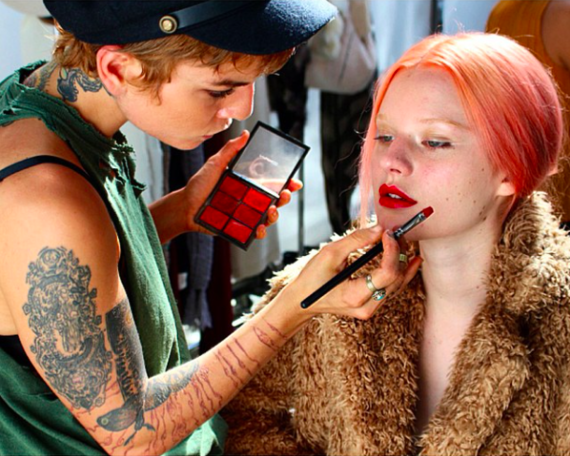 Why makeup as your trade?
I went to art college to be a furniture designer, and then I decided that I didn't have what it took or wanted to take to do it. I dropped out and decided to pursue makeup and hair because I loved being involved in fashion and I knew I was talented with makeup. I knew I could do it and I knew I wanted to do it...So I did it.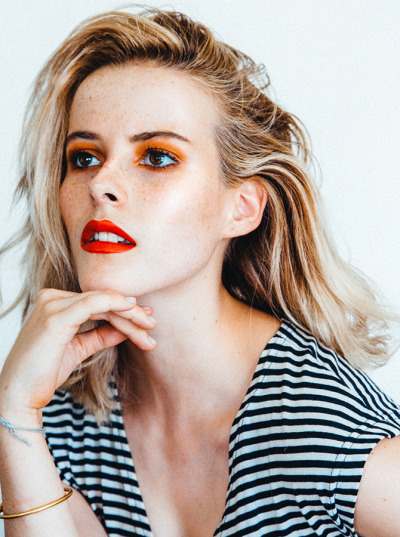 What drew you to your work?
I told myself from a young age that I would NEVER wake up dreading going to work. We spend the majority of our lives working. Therefore, I want to feel like it's not work, like I am hanging out with friends and making cool things to put out into the world. I don't believe in following rules because the are no rules. Who makes these rules? Why aren't we questioning what we get to do with our lives? I wanted to make up (no pun intended) my own life's path. I wanted to figure out how to beat the system. I think I have. Don't tell the system I said that.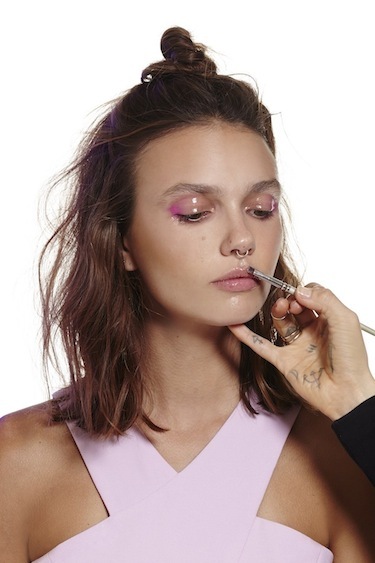 How do you continue to nurture your talent?
As far as makeup goes, I nurtured it by starting SetDaze, my beauty blog. I felt I had gotten to the point where I had made a name in the industry for my flawless natural makeup looks, but then realized I never experimented with color and abstraction like I used to. I started the blog to create fun ideas and be free to do what I wanted with it, and to give readers insight on products that I loved.
Why did you start The Work Magazine?
I wanted to be a part of the printed world in a different way than just behind the scenes in makeup. I knew so many amazing artists around me that I felt should be in the pages of magazines that were being over looked. So I started The Work Magazine to feature new and established talents that had heart and concept to their art.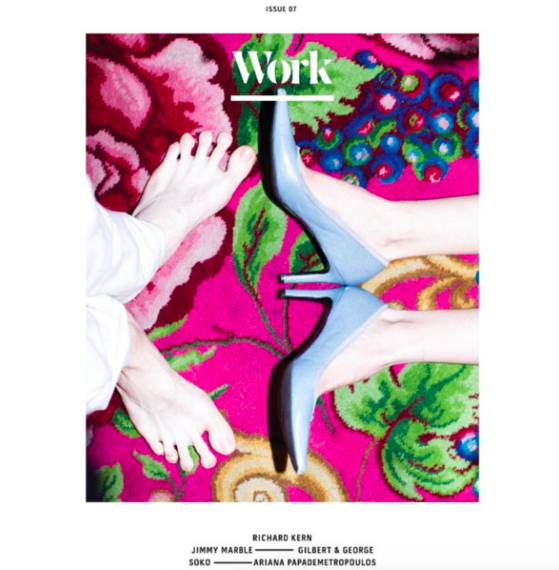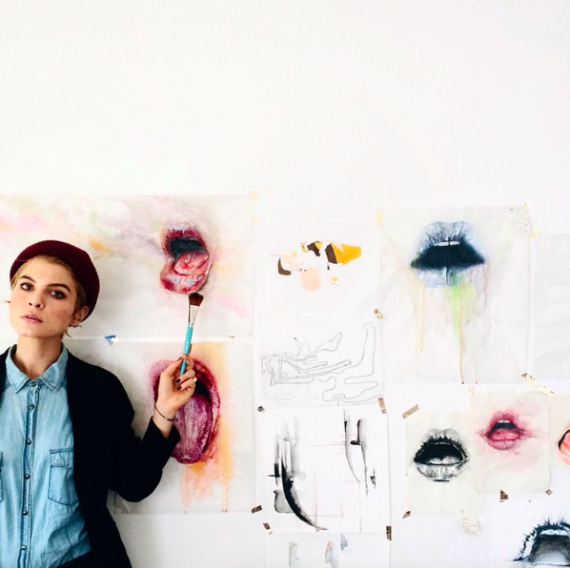 What did you learn early on that you continue to take you with you on your career path?
Treat people with kindness, be authentic to yourself, and don't follow trends.
What do you hope to achieve with your work?
I just want to have fun, inspire others, and help people I believe in succeed with their goals.
What does your work contribute to society?
I ask myself this question weekly, if not more. I believe it contributes to creating beauty and individuality. We need more things in this world that make us feel good. If I can make you feel good, feel inspired, and feel like you can do anything, then I have succeeded.
As a make up artist, what do you hope to contribute to the world?
I hope to show people to have confidence and experiment and play.
As a human, what do you want to contribute to the world?
What is your personal Mantra?
I am everything, I am nothing. I am everything, I am nothing.
You can meet Gloria this Thursday night, April 30th for the launch of The Work Magazine Issue 7 at The Ace Hotel in Downtown Los Angeles.
More information on this event here.
Portrait of Gloria Noto by Lani Trock
Photo of Alex Noiret by Samantha West
All photos used courtesy of Gloria Noto and SetDaze.
Related
Popular in the Community