A few weeks ago at a professional cocktail event, a friend introduced me to someone for the first time, but instead of focusing on my work in nonprofits or women's and girls' issues, she blurted out, "She's America's Miss DC! Isn't she gorgeous?" I knew that it was meant to be a compliment, but I was profoundly embarrassed. As quickly as I could, before the other person could react, I rushed to interject. "Former," I said. "I'm a former pageant titleholder. I stopped competing in beauty pageants."
It wasn't that I was trying to hide this part of my life, or even that I wanted those who knew me to forget. I just wanted people to see me as something other than just a pageant queen.
When I was first contacted and asked to compete in a pageant, I was 18 (barely eligible) and in my sophomore year of college. I didn't know the difference between the various pageant systems (e.g., Miss USA / Universe, Miss America, Miss World), was completely unaware of how the scoring worked, or even where to go to get an evening gown. I wore my hair in light brown curly braids, shied away from too much makeup, was a women's size 8, and agreed to submit an application because I was told I could win scholarship money.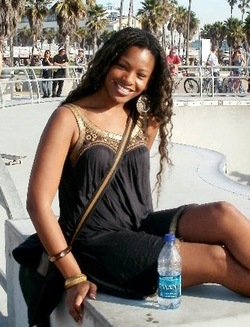 Weeks later, I received a phone call letting me know that I had been accepted as a local finalist and would compete at the state level that upcoming summer. That summer, I lost 15-20 pounds, got rid of my braids and got extensions instead, and deleted my blog about social justice out of fear that it would be seen as too controversial. Even though multiple coaches advised me otherwise, I chose to stick with a spoken word poetry performance as my talent. I held onto the thing I felt was the last piece of my originality, even though I knew most winners at the national level were dancers, singers or musicians.
That year, I didn't place in the top five, but won a "spirit" award. Months later, I competed again in a different pageant, and was awarded a state title, America's Miss District of Columbia 2012. Within the year, I was invited to the White House to meet the president and first lady, attended an inaugural ball as a VIP where I met Vice President Biden, walked in charity fashion shows, was in magazines and news articles, on television, had my picture on a billboard in Times Square, and had half my wardrobe sponsored, among other cool things.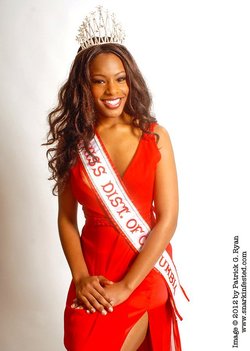 I was also often asked to speak at local schools to young girls and teens. Since I had Friday afternoons off from classes and work, I would visit a different school each week and give presentations. At each school, I was asked to speak on various topics, often times topics that were related to my platform on healthy eating and fitness. However, many teachers would also ask me to speak about self-esteem and body image, which inspired me to later found Girls Health Ed, a charity organization that provides health education and self-esteem workshops to girls ages 8 to 17 in underserved areas.
While pageants helped to boost my self-confidence in some ways, given that I now had a platform and an amplified voice, I also felt restricted from truly being myself and fully accepting my body. This made me feel like somewhat of a hypocrite when I gave talks.
Traditional beauty pageants are unique, in that they are an all women forum. Women do not have to compete with the opposite gender for share of voice. Still, while there are interview and onstage question categories, women remain judged in swimsuit and evening gown.
During a school presentation, a girl once asked me if she could ever be as beautiful as the women she saw competing in pageants on television. I told her of course she could, but the question itself made me cringe. I was saddened that this girl didn't already see herself as beautiful. Then, I thought about it, and realized even though pageants provide these great platforms and open countless doors for women, they also feature women with relatively petite figures, hair extensions, fake tans, and sometimes, plastic surgery.
Although some pageants are becoming increasingly more modern, there are still remnants of an institution where women are seen, and not heard. One popular pageant, Miss World, recently made a decision to remove the swimsuit competition at its annual event, but at the local and national levels, delegates are still more than likely subjected to a strict set of standards to qualify to compete on the international stage.
While some pageants, such as the Miss America Organization, for example, place a greater emphasis on interview, public speaking, and scholastic achievement, others are weighted more heavily on physical appearance. Since some of the competitions are televised events, networks want good ratings, which means they require aesthetics.
However, women who desire to compete shouldn't have to feel the need to go to extremes to win. The real competition should lie in community service hours logged, charity dollars raised, and persons inspired. Women should be judged based on character and contributions, instead of looks. Thus, even though I owe much of my success to the pageant world, I'm sometimes more embarrassed than proud.
Popular in the Community