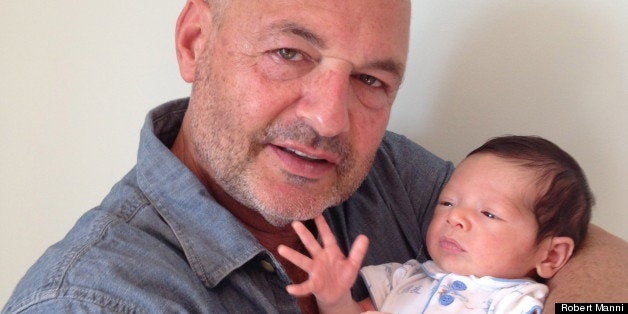 I'm at an age where some former classmates are posting photos of their grandkids on Facebook.
Life, for many men my age, has become a pattern. My buddies talk about their life in the past tense or about getting older and slowing down. However, having grown up as the youngest person in class, I never gave power to "growing old." True to form, it wasn't until my forties that I ran three marathons, became an advanced clinical master hypnotist and Reiki Master/Teacher, and most recently, published my first novel.
Only three years ago, I was a contented, fifty-something bachelor. I was more of a serial monogamist than a serial dater. At 50, I began thoroughly enjoying the company of lovely, successful New York City women. Having acquired patience and experience through the years, I managed the online dating game like a pro. I could have dated forever, but something inside gnawed at me. After a few years of the dating scene, I was ready for the deep dive -- marriage. It was then that a special woman "winked" at me. On the third date, I asked her what qualities I needed to be a good boyfriend. She told me to "pay attention." That was her only advice. Fortunately, I had learned how to listen. The next day, out of the blue, she texted, "I believe in you." Words I'd been waiting for years to hear without even knowing it. We were married the following year, and it was worth the wait.
As we were both older, the idea of having children was an add-on, a blessing to a union for which we were grateful. We left the possibilities up to nature. Last summer, we fasted together before attending a spiritual retreat -- an experience that connected us at higher levels of "being." The following month she told me that she was pregnant. Coincidence? Maybe.
Awaiting the birth, I skimmed some parenting books, but nothing prepared me for what I'd feel "catching" my son and delivering him into the world. When he first looked into my eyes and screamed at the top of his lungs, a rush of love poured through my body unlike anything I'd experienced before. To say it was worth the wait is insufficient.

Yesterday, I placed a kiss on my son's forehead. He puckered his lips, kissed me and smiled. It was his first kiss. I'm not saying that I would not have enjoyed parenthood in my thirties like many of my buddies, but it happened as many friends talk about how things have come and gone, while I have a future of "firsts" waiting for me. And this was definitely worth the wait.
Age is a state of mind. How we age relates to how we think and maintain our physical and spiritual presence. I believe good things happen when we're ready. I guess I'm even late to appreciate that I am a late bloomer.
Related