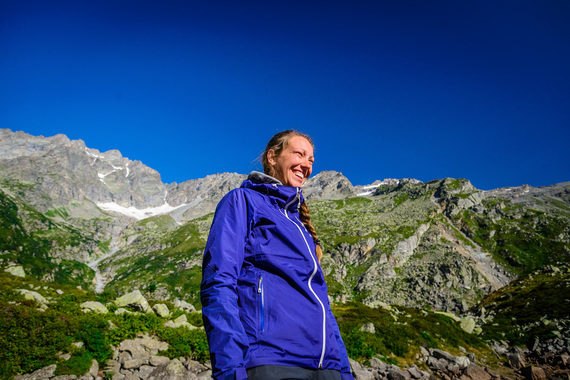 I went to guide school but never thought it would help me in business. I just wanted to play in the mountains and the rivers. I wanted to take a few years to hang out in nature and get paid to not live inside.
Guiding is about pushing people out of their comfort zones while making sure they are safe. It's about giving them the experience they dreamed about, putting them first and your comfort second. It's about getting people to trust you because you know if they do, the outcome can be amazing. It's about encouraging and inspiring and empowering people but most importantly, it's knowing: it's not all about you, you aren't the hero. It's knowing you are stronger, safer, more epic and helpful when you are the guide and you create heroes.
We started Animal Experience International in 2012 and I realized that my guide training may have been even more important to our mission, than my degree or my background in travel. This is because more than a business woman, traveler or animal lover, I am my clients' guide. I am the person who encourages them, paves the way, makes it safe and empowers them to adventure. I am not the hero of Animal Experience International, it's them. And THAT is exciting.
AEI started off as a simple plan. Set up animal welfare and conservation partnerships around the world. Find locally run leaders who started placements that were working in their context to solve their locally specific problems, and provide those leaders with clients. We would make sure, as good guides we would go to placements first to make sure they are safe, ethical, justice focused, solution based and have a high standard of animal welfare and rights.
We would also make all the mistakes first, so our clients wouldn't have to. We would (in mountaineering terms) go on a recce or (in canoe terms) run the river first. I would travel around the world ensuring our clients could live their dreams safely and ethically but also ensuring I could sleep at night knowing they were doing it with people I trusted, in safe places. We would be making a safe space so our clients could become their own heroes.
Now we have more than 25 programs. That is more than 25 communities we are personally linked to. More than 25 groups of people we know are doing inspiring and incredible things. That would be overwhelming if I was thinking I was the hero. If I needed to do all the work. But I am not. I have heroes for that. I am the guide; the empowered that helps others know they can make a difference, make them the heroes.
I didn't think owning a business would feel this way, but I love that it does. I love that I don't have to be the hero. It's not all about me. It is about me knowing I am limited but making sure our reach isn't. It's not just about Nora doing it all because it can't be, I can't be everything to everyone. There is less pressure on me (from me) because I know it doesn't stop with me. When I have a day off, our mission doesn't, our heroes don't.
It's not just my small ripples in the ocean. It's all our clients' ripples, too. The heroes I have helped guide to their dreams: They are clients who are the heroes of their own stories. The stories they tell now are about ethics and welfare and the deep bonds they've developed with the community they lived and worked in; They create ripples through their life and their world.
They change their world for the better, the more ethical, the more humane, the more just. And they're more as their world changes, the more our whole world changes.
As I write this we have had 384 alumni. That is 384 heroes from around the world who travelled around the world to help animals. Even if they all volunteered for only two weeks (the minimum) that is 5,376 days of volunteering. All of them came to us because they wanted to be a hero but needed a guide.
All they needed was someone to believe in them and their story. Needed someone to help them blaze a trail to start their journey so they could continue on their own. I love that it isn't about me. My job is about them, about creating heroes.
I'm not the hero of AEI, I am just the guide and that means true, honest and real world change because when there is only one hero, change is limited. When we create heroes, we make sure change is infinite.
Pioneers for Change is a seed-bed for innovative thought. An activator of personal potential. A catalyst for collective energy. A community to drive social change.
Our annual, international Fellowship is open to anyone aged 28 - 108 years old. We gather change-makers -- a business person, a community person, an investor, a thinker or doer -- who are willing to harness their talents, energy and resources as a force for good. Pioneers for Change is an initiative of Adessy Associates.
Adessy Associates believes social and business objectives are mutually reinforcing. We equip and enable organisations and individuals to make positive change happen, and contribute to a sustainable future. We focus on benefit for people, planet and profit. Our bespoke services harness sustainability, innovation, consciousness and purpose. We are proudly B Corp certified.
About Nora Livingstone
Nora Livingstone is a co-founder of Animal Experience International, a Canadian B Corp that helps people travel around the world and volunteer with animals. She has guided on rivers, mountains and prairies across North America, Africa and Europe. Nora holds FEMA certifications for volunteering, leadership and deployment during natural disasters, which she has put to good use rescuing animals in places like New Orleans after Hurricane Katrina. Having spent thousands of hours in planes, trains, tuk-tuks, buses, canoes and in her dirty ol' hiking boots. She has volunteered with animals in such places as Guatemala, Mongolia, Sierra Leone and Croatia. She loves the idea of empowering people to live their dreams and travel while helping animals.
Calling all HuffPost superfans!
Sign up for membership to become a founding member and help shape HuffPost's next chapter