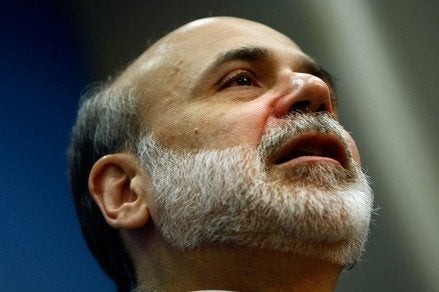 With Federal Reserve Chairman Ben Bernanke's term coming to an end on January 31, what once seemed implausible has quickly become a genuine political possibility: he might not have the votes to win confirmation.
On Friday, a host of lawmakers expressed either skepticism or downright opposition to a second term for the man appointed by George W. Bush and re-nominated by President Barack Obama. By day's end, it was unclear whether the Fed Chairman had the 60 votes needed to move his nomination forward, raising speculation that the president would have to pull the nomination.
How, exactly, did it come to this? Aides on Capitol Hill were asking themselves that very question. One high-ranking Democrat said that until recently, the Bernanke nomination was barely discussed in leadership meetings and even less frequently in caucus gatherings. "It was widely assumed that he would coast," the aide said, "after taking a few political punches." It seemed so inevitable that leadership was leaking news that a vote would happen this week -- Wednesday being the target date.
Then Massachusetts happened. The election of Republican Senator-Elect Scott Brown on a wave of anti-Wall Street, anti-bailout sentiment was, as Sen. Bernie Sander's (I-Vt.) deemed it, a "wake up call to many Democrats" considering Bernanke.
"I think Tuesday's election reinforced that the American people are appropriately outraged by the behavior of Wall Street for creating this crisis and wanting to go back to business as usual after this," Sanders told the Huffington Post. "Was Massachusetts a wakeup call to many Democrats, that the American people are profoundly disgusted with Wall Street, want changes and want a new chairman of the Fed? I'd say yeah."
What followed for members was a frantic day of self-reflection over the party's economic platform and the message it is sending. During the caucus meeting on Wednesday lawmakers aired their concerns that symbolically and substantively they had become too tied to Wall Street. The anti-Bernanke voices then spoke up. Sanders went first, taking the quaint and unusual tact of printing out one-page fliers (which he distributed to his colleagues) that laid out the case against confirmation.
"It ain't that hard," he said to the Huffington Post. "It isn't that hard to figure out. If you are a Democrat you ask yourself right off the bat why would we be reappointing not only the individual that George W. Bush appointed to the Fed, but someone who was a member of the Bush administration? Why would you want to do that when the country faces today the most severe economic crisis since the Great Depression?"
Next up was Sen. Jeff Merkley (D-Ore.), a backbencher freshman but also a widely respected progressive economic thinker who was the only Democrat to vote against Bernanke's nomination when the Banking Committee considered it. The Oregon Democrat explained his earlier vote and relayed the positive reception he had received when talking about his opposition to the Fed Chairman with constituents back home.
"Those comments really did focus people on the issue and made them start to think," said a senior Democrat with direct knowledge of the caucus meeting.
"There was tension there," said a Senate aide briefed on the meeting. "There were people willing to vote yes but hesitant about it. After that, people got the sense there was a need for different leadership on the economic front."
The floodgates were suddenly open. Sanders put out a post-caucus statement expressing his sense of growing opposition to the confirmation vote. By Thursday, Capitol Hill newspapers were poking around to see who else was turning into a skeptic. The Huffington Post quizzed 26 Senators and found that three were no votes, 13 were undecided and one simply wouldn't state his position. That day, Majority Leader Harry Reid (D-Nev.) met with Bernanke. That night, his office made it official. "The votes might not be there," said Reid's press secretary, Jim Manley.
Manley now tells the Huffington Post to expect a vote at the "end of next week," adding: "It looks pretty close and we may need Republican votes in the end to confirm him."
But on the Republican side of the aisle, support for Bernanke was never strong to begin with. The Fed Chairman had already received a poor reception from the GOP during his Banking Committee hearing, with six of the party's 10 committee members voting against him. The Massachusetts election only crystallized the opposition. By mid-week Republican leadership was counting how many members would oppose confirmation.
"It was a known quantity that Republicans are not thrilled with him," said one top-ranking Republican aide. "What has been new is the Democrats coming out against him."
All of which is not to suggest that opposition to Bernanke has been purely driven by electoral politics -- though his confirmation vote could not have come at a worse time. Sanders, indeed, has been raising concerns with the Fed Chairman for months, citing not just the performance during the market meltdown, but also his unwillingness to make economic policy changes in real time, such as lowering interest rates on credit cards, finding avenues to get credit to small business, and pursuing additional measures of transparency.
Over the summer and into the fall, those concerns were overshadowed by a nearly monomaniacal focus on health care. To a large extent, the Democratic Party had blinders on when it came to seeing voter discontent with all things tied to the Wall Street bailout.
The Massachusetts election ripped those blinders off. And by Friday afternoon the Fed Chairman Obama had nominated in late August, who was confirmed by the Banking Committee in mid-December, and who seemed destined for a second term as late as last week, no longer was a shoo-in. Just how toxic Bernanke had become was evident by day's end, when Reid in a statement affirming his support for confirmation, made sure to declare that it was "not unconditional."
"I made it clear that to merit confirmation, Chairman Bernanke must redouble his efforts to ensure families can access the credit they need to buy or keep their home, send their children to college or start a small business. He has assured me he will soon outline plans for making that happen, and I eagerly await them," Reid's statement read. "I know Chairman Bernanke is committed to transparency and accountability, and that is why I will hold him to the highest standards of both."
With Reporting From Ryan Grim

Calling all HuffPost superfans!
Sign up for membership to become a founding member and help shape HuffPost's next chapter