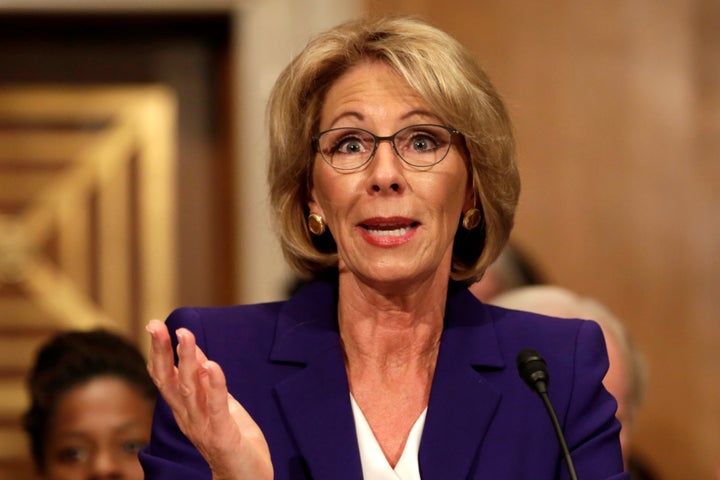 A Huffington Post report Thursday revealed how much money Betsy DeVos and her family have contributed to the senators who are scheduled to vote next week on DeVos' nomination as Secretary of Education.
Included in that number was Sen. Roy Blunt, R-MO, who according to the FEC records cited in the article received $33,100. That number ranked only 16th on the list, but Blunt's financial connection to Betsy DeVos is far deeper and dates back long before Blunt became a U.S. Senator.
It also explains why Roy Blunt will be one senator who will not waver in his support of the embattled nominee.
It's hard to vote against the woman who bought the governor's mansion for your son.
In 2004, Blunt's son, Matt, the youngest secretary of state in Missouri history, won the Republican nomination for governor, seeking to unseat Democratic incumbent Bob Holden. The plan changed when Holden was decisively beaten in the Democratic primary by State Auditor Claire McCaskill, now Roy Blunt's Senate colleague.
McCaskill appeared to be on her way to a victory when a late blitz of negative advertising blanketed the state and enabled Blunt to narrowly defeat her by two percentage points.
The negative advertising did not come from Matt Blunt's campaign. At that point, Missouri limited contributions to statewide races to $1,200, while the advertisements that turned the election for Blunt cost $196,252.33.
MIssouri Ethics Commision records show that All Children Matter, a pro-voucher organization headed by Betsy DeVos, paid for the advertising. While state law did not permit All Children Matter to give that much money to the Blunt campaign, it was allowed to spend an unlimited amount to oppose a candidate.
During his four-year term as governor, Matt Blunt took serious steps toward replacing the State Board of Education with people who were not only voucher proponents, but who actively attacked public schools.
Blunt's first appointment to the board came 14 months into his term. In his announcement, he emphasized only part of the background of Debbie Demien, who had briefly been a public school teacher.
Demien was director of marketing for Building God's Way, which built churches and Christian schools and in 1999 wrote a book, Stealing America, the National Takeover of the Economy, Education, and State Governments, which primarily criticized the school-to-work programs being used in public schools. She opposed a Missouri program that enabled high school students who participated to receive free schooling at Missouri community colleges.
Demien headed a group called Restoring America's Way which fought against the separation of church and state. Restoring America's website at that time prominently featured an article on "the sin of sending kids to public schools."
While Demien slipped past the public education rader, Blunt's second appointment, Donayle Whitmore-Smith, did not.
Blunt introduced Whitmore-Smith as the founder of Ptah Academy of Arts and Science. That and her position with Coalition for School Choice were the only connections she had with education, but as impressive as her academy credential sounded, the reality was not quite as convincing.
The ribbons of incense and the children who meditate beneath them at the start of each school day leave no doubt that the Ptah Academy of Arts and Sciences isn't your typical school. The academy is named after an ancient Egyptian god and 'includes elements of ancient spiritualism in its instruction. The school is not religious, Whitmore-Smith said, but it does encourage children to tap into their 'spiritual energy.
The article indicated the school featured "yoga, organic meals, tai chi and daily 'inner studies' or sessions of meditation" in its curriculum.
Whitmore-Smith came under fire when she wrote a guest column in the St. Louis American in which she said that if Martin Luther King were alive, he would support vouchers.
Blunt's chief of staff, Ed Martin, told the Post-Dispatch that any thought that Whitmore-Smith would be opposed to public education was "ridiculous." Before taking the position in the Blunt Administration, Martin was the treasurer for All Children Matter, working closely with Betsy DeVos.
Whitmore-Smith's nomination was blocked by her State Senator, Jeff Smith, D-St. Louis, but that did not faze Blunt, whose next State Board appointment was former Democratic State Representative Dario Gambaro, Gambaro was not your typical Missouri Democrat. In an unsuccessful State Senate run in 2006, Gambaro's campaign received $20,700 from billionaire voucher supporter Rex Sinquefield, who legally circumvented the $675 campaign contribution limit by contributing to party committees, which were able to funnel the larger amounts to Gambaro. Sinquefield gained notoriety several years later when he claimed that the KKK started public education.
All Children Matter, meanwhile, did not contribute directly to Gambaro, but spent $7,577.12 on his behalf, according to Missouri Ethics Commission documents.
Gambaro briefly served on the board as a recess appointment, but when it came time to put his nomination before the Senate, it was blocked once again by Sen. Jeff Smith, the man who defeated him in the Democratic primary one year earlier.
Though he failed in his efforts to appoint Gambaro and Whitmore-Smith, Blunt's appointment of Rev. Stan Archie of Kansas City made it through the Senate. From all appearances, Archie came from the same mold as the two unsuccessful appointments and Demien.
During a news conference, Archie, who served on the board of a private charter school, said he favored school choice:
I do believe in a competitive market when it comes to education, because I think it leads to strong accountability,
Archie was approved by the Senate after he issued a statement to numerous media outlets insisting that he was a strong proponent of public schools.
Matt Blunt's effort to pack the Missouri State Board of Education with voucher supporters ultimately fell short when he elected not to seek a second term and was replaced by Democratic Attorney General Jay Nixon.
The failed experiment that Blunt, with hefty financial support from Betsy DeVos, attempted in Missouri, could become national next week and Roy Blunt has signaled that he is ready to return the favors that DeVos and her family provided to him and his son.
I believe Betsy DeVos understands that decisions about education need to be made much closer to where kids are. I look forward to working with her to find ways to get those decisions back to local school boards, and moms and dads. As Chairman of the Appropriations Subcommittee for the Department of Education, I will be working hard to ensure that public education continues to be appreciated as the cornerstone of opportunity in America.
Nice words, but the record shows something completely different.
Popular in the Community