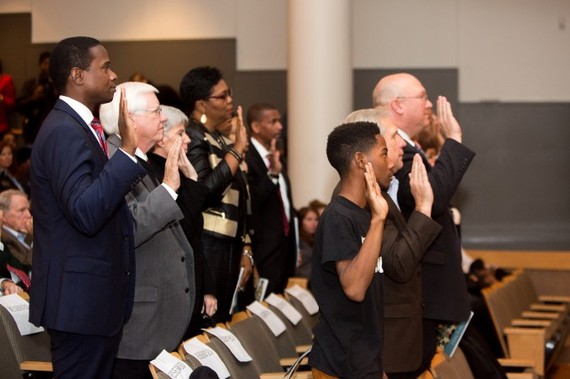 Is the recently convened Ferguson Commission merely an attempt to placate the Brown family and lull the black community into a false sense of "we're working to fix the problems?" Will the Commission's policy recommendations translate into meaningful change on the Ferguson Police Department? I'm not so sure.
As a retired 20-year veteran sergeant on the Los Angeles Police Department, I can attest to the fact that a commission report, a survey or a neighborhood poll will add little to what is thought to be widely known by the black residents in Ferguson; white police officers appear to have little regard for the black people who live there. The residents of Ferguson don't need a report to tell them that they are under represented by the members of that police department. The residents of Ferguson don't need a report to tell them that apparently Ferguson police officers are allowed to aim assault weapons at them, hurl profane and offensive language in their direction and shoot and kill unarmed citizens with apparent impunity. The residents of Ferguson don't need a report to tell them that their pleas for dignified treatment and justice in the murder of Mike Brown have seemingly fallen on deaf ears.
While the creation of a commission to address community concerns and subsequent recommendations to the governor is a good first step, what about the more immediate problems with regard to the way white officers police black residents day-to-day?
Missouri Gov. Nixon created the commission to address "social and economic conditions" highlighted by protestors and the commission is expected to focus on three goals: 1) "the underlying causes of the unrest", 2) "tap into expertise to address those concerns" and 3) "recommend ways to make St. Louis 'stronger and fairer' place to live."
Perhaps it would be helpful if the Ferguson Commission focus included a review of tactical procedures leading up to a deadly force incident; ways in which to identify police officers with racial animus; cultural sensitivity training and then lastly, a fast-track to the unemployment line for any officer who fails to follow their recommendations. That is, assuming their recommendations actually have potency. Gov Nixon "declined to be specific" with regard to "what kind of teeth the commission will have."
Although, the commission report is not expected to be completed until approximately September 2015 a finding could come within six months. What should the Ferguson residents expect from their police department in the meantime? Could there be another Mike Brown incident? Will Ferguson police officers be admonished with regard to the tactics they deploy when confronted with an uncooperative citizen? Will Chief Jackson work to identify any fearful cops working patrol and re-assign them to desk duty? Will officers receive immediate in-service training on exactly what is an acceptable use of force; more specifically deadly force? And will Chief Jackson endeavor to create a police department, through recruitment/hiring, that is more reflective of the community which it serves?
According to the St. Louis Post-Dispatch, Governor Jay Nixon has had a "tense relationship with the African-American community for years, dating back to his time as State Attorney General." It would appear that Chief Thomas Jackson's relationship with the black community is very similar.
As we continue to await a grand jury decision in the shooting death of Mike Brown by Officer Darren Wilson, Chief Jackson has allegedly said that Darren Wilson is "unlikely to return to his job regardless of whether a grand jury decides to indict him." It is reported that Wilson is negotiating his resignation. A Wilson resignation, in my opinion, would be a gift from Chief Jackson. Resignation allows Wilson to pursue employment with another police department with his service record in Ferguson unblemished by the murder of Mike Brown.
Would further study and subsequent report be necessary to spotlight the chilling effect a non-indictment and Wilson resignation will have on the residents of Ferguson, Missouri.
Cheryl Dorsey is a retired LAPD sergeant, speaker, and much sought after police expert on important issues making national headlines; as such she has appeared as a guest expert on the Dr. Phil Show. She writes and provides commentary on police culture and surviving police encounters. She is the author of The Creation of a Manifesto, Black & Blue; an autobiography that pulls the covers of the LAPD and provides an unfiltered look into the department's internal processes. Visit Cheryl's website www.cheryldorsey.net., listen to her on Soundcloud follow on Twitter @retLAPDsgt
"Those who make peaceful revolution impossible will make violent revolution inevitable."~JFK
Popular in the Community