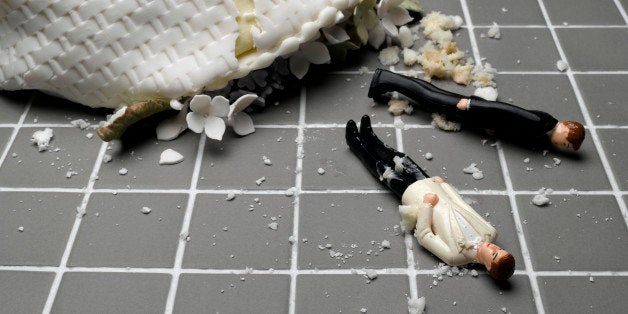 As more states enact marriage equality, we see hundreds of images of happy couples and families, both famous and ordinary, in the newspaper, on the covers of magazines and on our favorite talk shows. We have had a front-row seat to the coupling of Ellen DeGeneres and Portia de Rossi, and we've seen pictures of the happy children of Neal Patrick Harris and David Burtka. What sometimes gets understandably lost in the celebration is that not all these relationships last forever, and breakups can leave parents and children, particularly those who do not share a biological connection, in vulnerable situations.
As evinced in the public breakup of David Tutera (host of My Fair Wedding) and his former partner, Ryan Jurica, biology can play a significant role in defining parent-child relationships after a breakup. The couple filed to end their marriage while their surrogate was pregnant with twins. Tutera explained to The View that the couple had decided that each of them would get one of the twins. Their daughter Cielo was biologically fathered by Tutera, while their son Cedric was biologically fathered by Jurica, so they determined that each child would stay with his or her respective biological parent. Whether the twins will have a relationship with each other remains to be seen. As Tutera said:
That can't happen until the environment is calm and peaceful. I have no right to not have them know each other, but I can protect my daughter about when that time is the right time. ... My responsibility right now is to get through a divorce and protect and guide and nurture my daughter.
Though policy arguments for marriage equality largely focus on protections for intact couples, it is also true that marriage can afford critical protections to couples, and particularly their children, when they decide to separate. As suggested by the Tutera/Jurica divorce, without legal protections or recourse, biology matters in defining future parent-child bonds post-dissolution. My research on 20 young adults who had experienced their same-sex parents' relationship dissolution in the absence of marriage suggests that children may suffer damaged relationships with their nonbiological parents in the wake of parents' relationship dissolution. And the inequities in parents' biological status are exacerbated in the absence of legal protections, because the nonbiological parent has little legal recourse.
All of the young adults in this study were raised by two moms or two dads who split up when they were kids but, in the absence of formal legal recognition of their relationship, managed the dissolution of their relationship, and the details of custody and visitation, informally and without legal intervention. Most of their parents split amicably and inexpensively. However, in a small number of cases, the biological mother appeared to use her biological (and legal) status to functionally oust the nonbiological mother from the parenting equation. That is, in the absence of legal relationship recognition (in the form of marriage to the biological mother, or legal adoption of the child), the nonbiological mother was left with little or no parenting rights, which ultimately translated into a weakened or completely fractured relationship with her children. Young adults whose parents were able to negotiate a shared parenting/custody agreement were often grateful of this reality and aware of how differently things could have played out. Gabe, 24, whose two moms had split when he was 12, said:
If [my parents' split] had been less than incredibly amicable, I think [my nonbiological mother] would have been [up against] a lot to get any sort of custody rights. If [my biological mother] just decided to be a jerk about it and say, "No, sorry," that would've really sucked for [my nonbiological mother], 'cause she wouldn't have been able to see her son.
In some cases the biological and nonbiological mothers in this study co-parented their children in the period after the split but then assumed more specialized custody arrangements whereby the biological mother was the primary custodial parent and the child(ren) had more limited contact with the nonbiological mother. In this way, truly "joint" parenting arrangements evolved into arrangements that were clearly differentiated by biological/legal parental status. In several cases participants described how, when their parents split up, they were separated not only from their nonbiological mothers but from their siblings. That is, each parent had taken the child that was biologically related to them. Anne, 24, whose two mothers broke up when she was 5, reflected on how this arrangement increasingly "bothered" her, as she realized what her parents had done:
If there was someone like a judge telling her she couldn't move, maybe she would have worked something else out, and we could have grown up together. I didn't question it till I was older, but then I was like, "This doesn't make sense. Just because we were biologically related to [my birth mother], and my brother was biologically related to [my nonbiological mother], you split it? No, you're a family." A judge wouldn't have allowed [us to move].
What is needed, then, is a societal awareness of the ways in which the media, society, and the legal system privilege biology, as well as access to marriage and adoption rights that allow parents to gain legal recognition of their intimate and parenting relationships. Ultimately, even if a parent's intimate relationship dissolves, their parenting relationship shouldn't have to.
Related
Popular in the Community