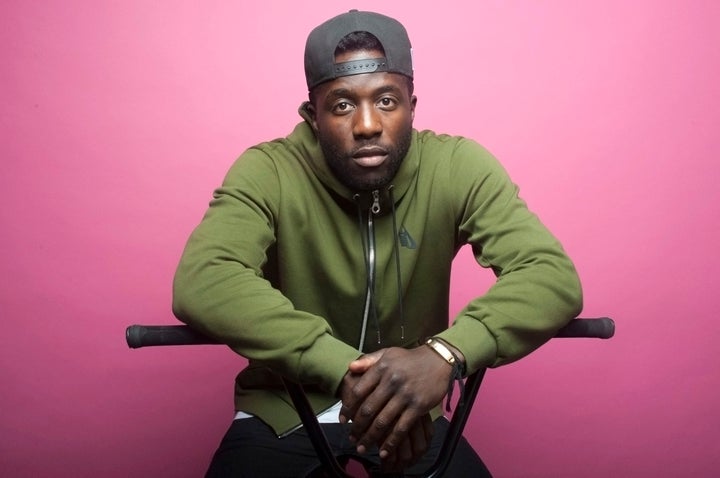 In one fluid motion, he exited the elevator, kicked up his Air Jordan 1s and hopped on his descending all-black bike, pedaling his way to the stage for his first interview of the day at AOL's expansive office space. Whooshing past startled employees with his on-trend green hoodie sailing off his back, BMX star Nigel Sylvester, 28, wasn't flanked by a manager, agent, publicist, or even an athlete's usual posse of friends and hangers-on. He was just there, by himself.
"It's usually always near me. No matter what," he told The Huffington Post. Sylvester had a series of interviews booked at AOL for the day, but his main worry was whether or not he could get his stealthy-looking Animal-brand bike into the office, since some New York City buildings don't permit them or have tiny elevators.
Sylvester needs his bike, and in a perfect world, he'd ride it everywhere. He rode it from his home in Bedford-Stuyvesant, Brooklyn, to Manhattan for the day's events. He rode it around the office as we made our way to different interview and photo-shoot locations, visualizing potential stunts and joking about doing tricks off the furniture. (He declined my invitation to ride on the ping-pong table, which was probably for the best.) When we'd sit, he'd sit on his bike seat, arms folded across the handlebars. Only when we'd stand would he carefully prop up his bike and politely stand among the group. As a BMXer who rides without brakes, his bike has become a necessary extension to his arms and legs for his own safety.
When asked how he wanted to be shot, Sylvester said, "Tell me what you want, and I'll make it happen for you." (Gabriela Landazuri Saltos/Huffington Post)
Riding a BMX bike around an office like its a skatepark made Sylvester stand out quite easily, but outside of its walls and in the streets, he receives just as many looks: strangers gawk at his tricks and aggressive riding around the city. SoHo types compliment his tasteful style. Designers want him to wear their clothes. Hip-hop radio stations want to talk to him and rappers want to collaborate with him. He's a living embodiment of convergence culture.
Sylvester's one of leading athletes in professional BMX riding, and he's rocketed to the top of the individual sport on his own accord. He says he has no handlers, managers or publicists. As an independent professional athlete in a niche sport, he has no competitive medals or world records (he doesn't do the X Games), no league, team, or union behind him as a safety net, and no highlight packages on rotation on SportsCenter.
And yet, he's still become a hugely successful athlete since breaking onto the BMX scene in 2006, collecting sponsorships from Nike 6.0, Beats By Dre, New Era, Animal Bikes and Casio Watches, and even starting a bike company with Pharrell.
So how'd he manage it? By doing three things: Riding his bike obsessively, recording his tricks and trips and leveraging the Internet's increased interpersonal connectivity through social media platforms to brand himself as the coolest guy riding a bike.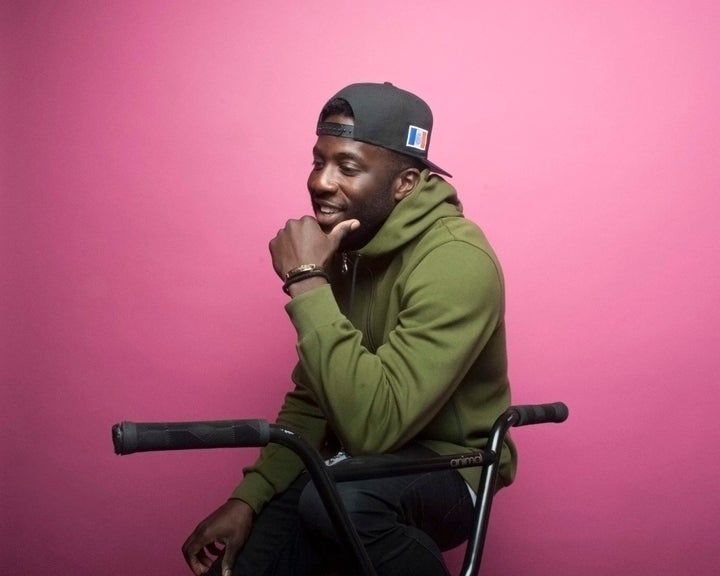 His career come-up isn't unlike some of today's most popular rappers, entertainers and personalities: Sylvester's buzz started on the Internet around the late '00s. After spending his teenage years riding around New York City and becoming a local legend of sorts — people would tell him, "You're crazy for doing this and it's weird, but keep riding" — Sylvester got his big break in 2006 when he was featured on "Flipside," a BMX DVD that paired amateur riders with pros to pull off tricks. He did the video with the late Dave Mirra, an X Games great who tragically took his own life in February, and Mirra quickly became his mentor. Sylvester scored his first endorsement deal before shooting the video, and soon thereafter, he decided to become an 18-year-old pro BMX rider.
But his next ride wasn't for an energy drink sponsor at the X Games — it was for his own growth as a rider and traveler. Now familiar to the thriving BMX scene in Los Angeles, where many of the production companies are housed, Sylvester could start riding and hopping and twirling and twisting and grinding and contorting his body-bike for a living. Sylvester began showing his talents through a series of BMX DVDs and a deep assortment of clips on YouTube. His mainstream profile as a rider rose parallel to his video view counts, achieving virality in the streets and online.
Sylvester's latest video series, "GO!," takes viewers for a ride around the world's cities from his perspective.
In this sense, Sylvester's not only an athlete, but for his films, he's an artist. It's fitting, given that he'll refer to his bike as his paintbrush, his environment as his canvas and his recorded tricks as his art.
"My bike is like my paintbrush in a sense, in that I'm able to draw certain visuals and express that to the world and share it with the people," he told HuffPost. He then moved the conversation to explain how, as an artist, he repurposes what's in front of him.
"When the bicycle was first created, I'm sure it wasn't meant to do what we're doing now with it. Just like how when I ride a handrail, that handrail wasn't meant for riding, it was meant just to hold onto for safety," he said.
After riding BMX bikes for half his life, Sylvester's mastered the bunny hop.(Gabriela Landazuri Saltos/Huffington Post)
Unlike his bike, however, handrails aren't his property, and Sylvester's had to ride away from incoming police officers a number of times. He chuckled when talking about his times escaping NYPD, noting that while they're just doing their jobs, he feels like they misunderstand him.
Sylvester believes that if more people understood his process — he's not some dopey skater kid who aimlessly rides around causing mischief for people trying to use handrails — they'd appreciate his line of work more. Behind his art, there are meticulous calculations, in-depth location scoutings and strenuous practices. Like any athlete preparing to take the field, he studies his game plan before executing it. It's just that nobody's reporting on him daily, tweeting injury updates morning, noon and night. (Well, unless they're from his Twitter or Instagram.)
Sylvester gapped the platforms, but he couldn't stick the landing at that speed. He flew into the next track and just ate it.
But, in comparison to most pro athletes, Sylvester doesn't have to wait until game time to show his skills. As seen above, Sylvester's gapping of the 145th Street subway platform was a spur-of-the-moment idea. He says he just thought to do it one day, planned it out, and nervously did the scary stunt at 2 a.m. Soon after, he uploaded the above photo and saw his painful, awe-inspiring stunt go viral. It was another content home run — the exact thing sponsors and advertisers crave in today's digital age — and all it took was a camera, his daring style and a self-starter's hunger to support his family.
"You don't have to wait for someone to say you can do it. You can just go do it on your own," he said with an air of excitement.
Analyzing achievement in sports is largely a numbers game: How many points, wins, championships and records can one claim? In Sylvester's sporting universe, these standard-bearing metrics don't exist. There's no Lombardi Trophy to aspire for, no heroic buzzer-beater moment to dream about. His goal, however, after riding his own race for 10 years, is pretty simple.
"It's crystal clear at this point: I'm going to keep riding this bike creating amazing visuals and opportunities for myself and those around me."
Sylvester's not hard to spot around the city. He's usually biking from Point A to Point B, purposefully running his paintbrush across handrails and park benches, leaving his art up for judgement as he whisks himself along by. Later, he'll upload his ride online and reap the rewards of a monied Internet influencer performing as a pro athlete.
Before You Go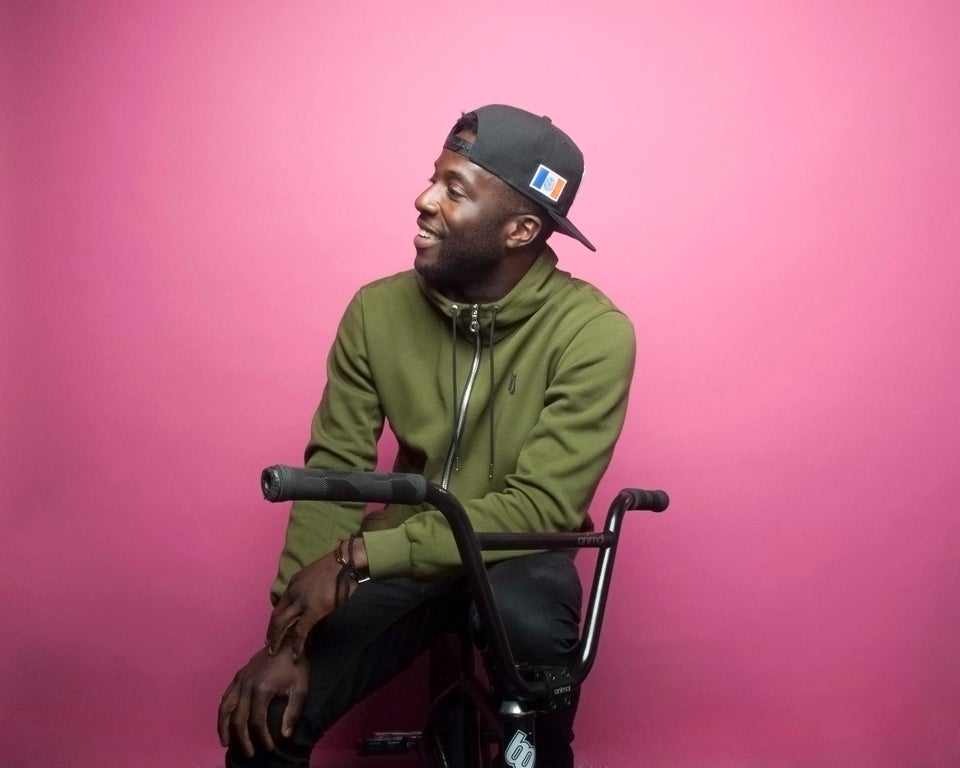 The Many Looks Of Nigel Sylvester
Popular in the Community