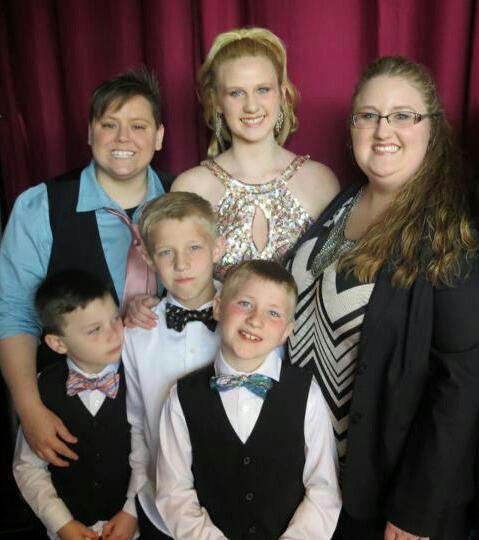 My name is Jennifer Tyrrell. In April of 2012 I was forced to resign as my son's Den Leader in The Boy Scouts of America because I am gay. Refusing to back down, my partner, Alicia, and I teamed up with GLAAD, launched a change.org petition, and unknowingly set out on a journey that would forever change our lives and the course of history. We live in a small town in Ohio where we raise our four kids, two cats, a dog. We have (had) a perfectly normal life filled with homework, sports practices, school field trips, and all the chaos that comes with raising four kids! Before this scouts adventure I had never even been on a plane!
The past 13 months have had many ups and downs and has had a major impact on the dynamic of our family. We are frequently in the public eye and that can be tough for the little ones who just want to be kids! I feel like this experience has definitely brought us closer, as it has pushed us all to our limits many times , but we always come out stronger in the end. What Alicia and I have learned in these times of heightened nervousness and irritability is how much we depend on each other. We have learned to rely on each other, more than ever, for moral support and a safe place to land when things become overwhelming.
The financial burden of the last year has been the hardest issue we have had to tackle. It's hard to keep a job when I have to drop everything and fly out of town at a moment's notice and never being able to keep to a set schedule. Alicia has had to take on full financial responsibility for the family, while also funding many expenses associated with our travels. I have the utmost respect and admiration for her for stepping up and taking care of us during this time. We have all had to make many sacrifices, but we believe God has chosen us to change people's hearts and minds by showing them how typical and "mainstream" lgbt families are. We are committed to seeing this through until there is full equality in scouting and all areas of our lives.
While there have been struggles, we have also had many exciting moments and have met the most amazing people along the way. We chuckle at the fact that our kids think it's perfectly normal to hang out with celebrities and walk red carpets on a regular basis. The best thing that has come from this experience has been the incredible bonds that all of us have formed with the staff at GLAAD. They have become part of our family and have lived every moment of this roller coaster with us. They have cried with us, laughed with us and worked tirelessly to help see this dream become a reality. We would not have come as far as we have without the dedication and support of the GLAAD staff.
We are truly grateful for the opportunity to make a positive change in the world. We will not rest until society catches up with the reality that families like ours are "The New Normal"!
Calling all HuffPost superfans!
Sign up for membership to become a founding member and help shape HuffPost's next chapter