If women participated in the economy equally to men, it could increase global annual GDP by 26%, or $28 trillion, by 2025 according to a recent McKinsey study. Yes, $28 trillion - roughly equivalent to the combined US and Chinese economies today.
To achieve this extraordinary target, we must first recognize that despite progress on many fronts, we have not reached the tipping point on gender equality. Indeed, the more milestones we pass on the path to gender equality, the more the challenges become convoluted and entrenched. It is time that we have honest conversations about what is really holding women back. We need to end bias, both overt and unconscious. We must also understand that gender equality is not just a women's issue - it's a men's issue, a family issue, a community issue and a business issue.
Certainly, glass ceilings are coming down but the day-to-day reality for women in the economy is still full of barriers. Women constitute 40% of the global labour force but on average earn significantly less than men in every country in the world. According to the World Bank, nearly 90% of 173 economies studied have at least one law impeding women's economic opportunities. It's clear that no country can declare victory on gender equality.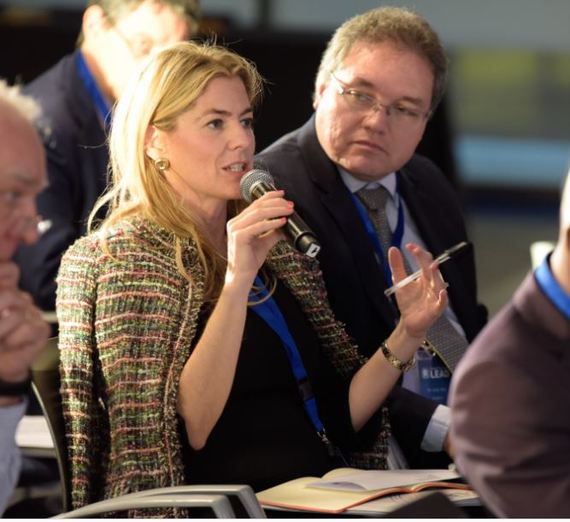 I believe that business can play a transformative role. The private sector is in a position to empower women in the workplace, marketplace and community. And, companies have a lot to gain. Investing in women and girls can lead to increases in productivity, organizational effectiveness and return on investment. Yet, it's not easy to enact change in an organization. That is why the UN Global Compact partners with UN Women to provide business with a clear course of engagement through our Women's Empowerment Principles (WEPs).
The Women's Empowerment Principles (WEPs) offer companies a proven approach to the complex challenge of unlocking the power of women in business and society. Through seven guiding principles that cover leadership commitment, workplace practices and policies, community engagement and other key areas, the WEPs provide leaders with a clear path and impetus for discussion. Importantly, the principles foster an integrated approach - driving cohesive, not piecemeal, change. Why? Because partial approaches only yield partial results. With the WEPs, we can cut through confusion and get to success faster.
The new Sustainable Development Goals (SDGs), committed to by all countries last year, provide a clear mandate and deadline to address our world's greatest challenges. Making progress will require greater equality and opportunity for women and girls everywhere. The multiplier effect of empowering women and girls is essential to the next era of development. It will bring us closer to implementing the Sustainable Development Goals and creating a better world for future generations.
Improving the lives of women and families in communities around the world. Bringing workplace culture into a new era of empowerment. Adding $28 trillion to the global GDP in less than 10 years. No matter what lens you look through, the conclusion is the same: achieving gender equality clearly makes sense.

My only question now is: who's in?
Calling all HuffPost superfans!
Sign up for membership to become a founding member and help shape HuffPost's next chapter