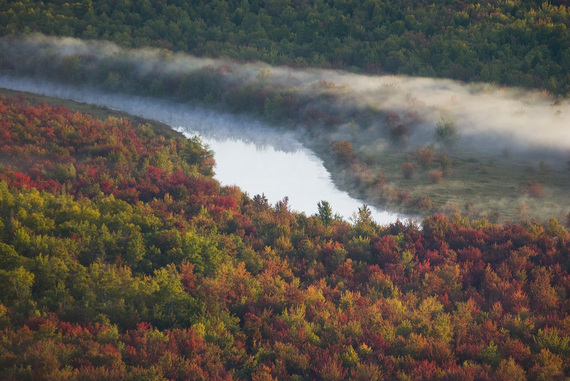 Stakeholders came together to develop a win-win solution for people and nature on the Penobscot River. © Bridget Besaw
Let's face it -- solving today's environmental challenges requires unprecedented leadership.

That's why I was pleased to be a panelist a few weeks ago at the Global Private Equity Conference hosted by the World Bank's International Finance Corporation (IFC).

The audience included senior professionals from private equity, banking, global companies and multilateral organizations. The group was mainly focused on business opportunities in the developing world.
During my panel, I was asked some good questions on how business leaders can make a positive difference.

Here's what I said.

1. What does business sustainability mean for you?

It means being smart, creative and bold so you can pursue initiatives that improve both business results and environmental outcomes. Everyone in this audience can show the world how to do business while protecting nature in a way that makes business sense.

I'm not talking about corporate philanthropy or corporate social responsibility. Both are good. But true business sustainability means changing the way business is done -- including environmental considerations as a key part of business.

2. Can you give some examples that make the business case for sustainability?

There are many examples -- good and bad.

I can think of at least two hydropower dams that were legally authorized -- in Chile and Myanmar -- but the advance environmental work and broad coalition building didn't happen. And in both cases, the projects were ultimately canceled or suspended because of public outcry. Hundreds of millions of dollars were lost. That's a steep price to pay for not getting sustainability right.

On the other hand, many companies now understand that factoring nature into their decision-making is a smart business strategy.

For instance, a decade ago, Greenpeace activists pressured McDonald's to ensure its soy was sustainably produced in Brazil. So McDonald's went to Cargill, the agribusiness that supplied the fast-food company's soy and Cargill agreed to stop buying soy grown on newly deforested land.

The company then worked with TNC and other NGOs, the Brazilian government, other agribusinesses and global soy buyers to develop an unprecedented moratorium on the purchase of any soy from newly deforested areas. As a result, deforestation of the Amazon because of soy production has nearly come to a halt.
Cargill's leadership on reducing the impacts of soy production was more than a purely environmental or ethical decision. It was also a matter of competitive advantage. Consumers and markets across the world are increasingly worried about climate change and deforestation. Being a responsible steward of the Amazon is in the company's best interest.

3. What about companies with sincere intentions that find sustainability hard to implement?

Sometimes companies want to do the right thing but have trouble pulling it off.

Take, for instance, a sincerely committed engineering company. The company's leaders really want to do the right thing in building a dam. But they find that siting decisions made before they entered the picture hugely overwhelm their own good practices. The siting decisions were made early on and in a way that's suboptimal for the environment.

Likewise, the engineering company finds that roads and other infrastructure built to make the dam possible also lead to great environmental harm.
Our advice in these kinds of situations is to look at the full range of impacts -- even those that are not your direct responsibility -- and to work with environmentalists, community groups, government agencies and others to push for better siting and infrastructure early in the process.

Your businesses have clout. I encourage you to be bolder -- use your clout to push decision-makers and build coalitions that result in win-win strategies that strengthen both business and environmental outcomes.

4. Surely not all collaborations can be "win-win."

Of course not -- it would be naïve to think that all sustainability initiatives can be win-win. But there are still many win-win opportunities that we haven't fully pursued.

In some cases, thinking bigger can transform what at first seems like a zero-sum game into a true win-win.

Let's go back to hydropower. It can be very challenging to find win-win solutions at the scale of individual dams. The choices between environmental performance and energy performance can be too difficult.
However, zoom out to the bigger picture -- an entire river basin -- and the potential for win-win solutions greatly increases.
Take Maine's Penobscot River, for example. For decades, local residents, energy companies and environmentalists battled over individual dams and their negative impacts on fish habitat.
But when a single company took ownership of all the major dams along the river, the opportunity arose to forge a big-picture solution. Two dams were removed, and a state-of-the-art fish bypass was built around a third dam. This re-opened hundreds of miles of river habitat for salmon and other migratory fish. Meanwhile, energy production is being increased at other dams so that current hydropower levels are maintained.
This type of solution only emerged by finding the right scale for addressing a complex challenge.

5. This sounds hard, and more like your job than everyone in the audience's. Why should people do it?

Looking around the room, you all strike me as dedicated, hard-working professionals. You relish a challenge, feel driven to accomplish important work and are motivated by opportunities to make a difference.

And so I encourage you to embrace these sustainability ideas. They will improve your business results. They will lead others to view you as an innovative and influential player. They will get you out of your comfort zone. And they will make the world a better place.

It's extraordinarily exciting to do this kind of work. It might seem daunting, but it's not as hard as it looks. My book, Nature's Fortune, can give you some ideas for applying these ideas in your own work.

If you pursue these initiatives, not only will you do important things, but your own children and grandchildren will thank you. Just like my own kids have thanked me. What could be better than that? That's the way to lead a joyous professional life.
This page contains materials from The Huffington Post and/or other third party writers. PricewaterhouseCoopers LLP ("PwC") has not selected or reviewed such third party content and it does not necessarily reflect the views of PwC. PwC does not endorse and is not affiliated with any such third party. The materials are provided for general information purposes only, should not be used as a substitute for consultation with professional advisors, and PwC shall have no liability or responsibility in connection therewith.