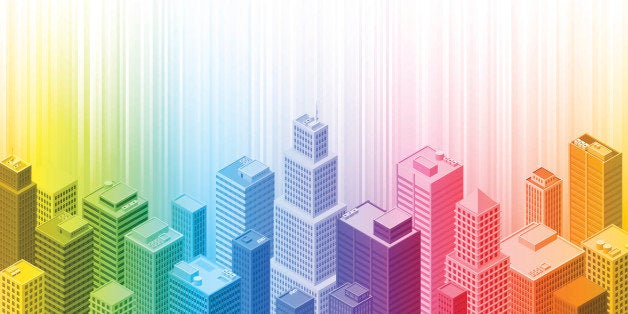 This year in Davos, world leaders and major global businesses will come together to exchange ideas and best practices on strengthening economies and workplaces through the full inclusion of lesbian, gay, bisexual and transgender (LGBT) people.
As the leader of the United States' largest LGBT civil rights organization, the Human Rights Campaign (HRC), I have witnessed the strength that private sector leaders can have in advancing equality. In advance of last year's U.S. Supreme Court ruling establishing nationwide marriage equality for America's same-sex couples, hundreds of businesses signed and submitted amicus, or friend of the court, briefs affirming their support for marriage equality.
But outside of the United States, businesses are speaking up too. Leading up to Ireland's historic vote for marriage equality, tech titans such as Google and eBay released videos of their employees voicing support for equality. In addition, in late 2013, when homosexuality was recriminalized by India's high court, we saw prominent private sector businesses throughout the country immediately take to social media to express their opposition to the decision and their support of the LGBT community.
When Businesses Outpace Lawmakers
Major corporations such as Delta and Marriott are partnering with local LGBT chambers of commerce and advocacy groups in growing economies like Colombia and Argentina to host summits raising the profile of LGBT-owned businesses, as well as generating more LGBT tourism dollars to these countries. Even financial hubs such as Shanghai have now seen their first LGBT summits, with dozens in attendance from international companies to discuss why equality is good for business.
Around the world, businesses have far outpaced lawmakers in embracing the basic premise that the hard work and talents of all their employees -- regardless of who they are or whom they love -- are rewarded fairly in their workplaces. In 2002, HRC launched the Corporate Equality Index, a survey and report assessing major businesses' LGBT-inclusive policies, benefits and practices in the United States, which we have published every year since.
In 2002, only 13 businesses scored 100 percent; today, 407 businesses achieved this top rating, representing virtually every industry and investment throughout the world. In addition, the number of rated businesses affording specific protections for transgender employees has soared from 5 percent to 87 percent. Even transgender medical coverage has gone from a rarity to common - with 40 percent of Fortune 500 businesses now offering these crucial benefits.
The progress has been staggering.
After years of a focused and successful dialogue with businesses on their U.S. operations, last year we expanded the report's scope and evaluation to include global non-discrimination policies. The results show that major businesses are not merely ensuring basic workplace fairness to LGBT employees in select locales, but are increasingly upholding LGBT-inclusive policies of non-discrimination wherever they do business: 95 percent of global CEI businesses have fully inclusive, globally applicable non-discrimination policies and/or codes of conduct that include both sexual orientation and gender identity.
At the Clinton Global Initiative's Annual Meeting last fall, HRC launched a first-of-its kind coalition of major global businesses committed to not only publicly standing in support of LGBT equality, but rolling up their sleeves to tackle hard questions about upholding these principles in hostile environments and other challenges ahead. Weeks later, our team travelled to Mexico City, a jurisdiction of over 20 million people that has seen incredible progress for the LGBT community -- bolstered by private sector support -- to release the first global edition of the Corporate Equality Index.
As we move forward in the new, rapid economy of tomorrow, it is increasingly apparent that equality is more than "good" for business -- it is absolutely essential. Our research has found that employee engagement suffers approximately 30 percent when workplace environments shun difference and people feel compelled to stay in the closet. The impact is felt beyond just the LGBT population. Millennials swelling the ranks of jobs from Shanghai to Sao Paolo are more embracing of difference than any other generation. And they are looking for these values when deciding where to work and where to shop. In the U.S. alone, the LGBT consumer market is worth nearly 900 billion dollars, with billions more in the hands of other fair-minded consumers.
Later this month, the World Economic Forum will lead a conversation on "Bridging the Diversity Divide," looking at how its members can create LGBT-inclusive workplaces. And that conversation will extend as we join our partners at SkyBridge Capital and Microsoft to celebrate a historic year for equality as well as addressing how we can work together to make the world a more equal place.
Businesses and global leaders who ignore LGBT equality do so at their own peril. No executive wants to lose the next brilliant employee to a competitor simply because the business has not caught up with the times in terms of inclusive policies. No executive wants to have to ask, "What if?" when assessing the loss of talent.
This post is part of a series produced by The Huffington Post and The World Economic Forum aimed at providing insights into working conditions for LGBT-oriented people around the world, and the personal journeys of some of the high profile leaders that are striving to make a difference. The series is running one week before the commencement of the Forum's Annual Meeting 2016 (in Davos-Klosters, Switzerland, Jan. 20-23). Read all the posts in the series here.
Popular in the Community