When someone mentions BuzzFeed, top-ten lists, cat memes, big bubbly images and similar types of catchy and fluffy content probably come to mind. BuzzFeed is known for re-inventing the digital top-ten list, essentially creating a new way to present content and cater to a millennial's attention span. Since BuzzFeed's launch in 2006, the famous list format has been modified by several established publications, such as Business Insider, and more.
BuzzFeed has created a whimsical world of content, but it's one that some in the content space are now frowning upon. For example, some claim that BuzzFeed and its list-icles are "dumbing down the Internet" -- I could not disagree more. As the co-founder of a content creation company, I can assure you that BuzzFeed isn't destroying the Internet. They're re-creating world-class journalism, but just targeting a younger audience. I recently spent some time digging into why BuzzFeed is successful, and here is what I discovered.
Not many publications, online or offline, can say that we've had an article viewed over 14 million times -- or that they have an audience of 80 million unique visitors a month -- more if you look at Quantcast numbers.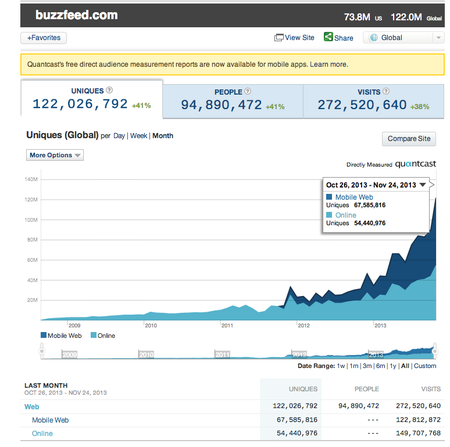 Here's a more in-depth look at why they're a leader in the content space -- and why people need to stop recognizing them solely for their catchy list-icles.
1. BuzzFeed Is a World-Class Media Company with World-Class Journalism

BuzzFeed may be known for their top-ten lists, but they actually have a very large team with impressive backgrounds in journalism. According to the New York Times, BuzzFeed roughly has a team of 130 journalists. Most recently in October, BuzzFeed hired Pulitzer winner Mark Schoofs, an investigative reporter from Propublica and the Wall Street Journal, to lead a special team of investigative reporters. BuzzFeed has also snatched journalists from the New York Times as well, including Lisa Tozzi. And don't forget its leadership team includes Editor-in-Chief Ben Smith, who came from Politico, and Jonah Peretti, who co-founded The Huffington Post before BuzzFeed.
With a team whose backgrounds are familiar with high-quality content, not only do they do the "light-hearted stuff," but they also break news. Yes, BuzzFeed breaks news -- like when they reported John McCain's endorsement for 2013 presidential candidate Mitt Romney in January 2012.
They also shed light on interesting people through storytelling and investigative pieces, like how America's "strongest woman" Sarah Robles struggles every month to pay rent. These examples are just a small slice of many, thoroughly-reported and compelling pieces of content that BuzzFeed publishes day after day.
2. BuzzFeed Knows How to Reach a Younger Audience

BuzzFeed doesn't create list-icles and photo-driven content for nothing, they do it because that's what's proven to resonate with a younger audience the most. In an interview with NPR, BuzzFeed President and COO, Jon Steinberg explained how BuzzFeed's focus is to become the go-to news source for the "younger generation" -- as opposed to similar "news competitors."
"Young people really have no media that is their own. Arts and leisure sections and real estate sections talking about expensive things doesn't really appeal to a younger generation, where memes and Web culture is their culture," Steinberg said in the interview. "We felt that we could be the place that they come to for their hard-hitting news and reporting."
According to a May 2013 Comscore report, BuzzFeed's audience is pretty evenly split in terms of gender: 51 percent male and 49 percent female. Readers between the ages of 18 and 24 (the "younger generation") dominate the space. An estimated 24 percent range between the ages 18-24; 28.7 percent are between 25 and 34. Here's a full breakdown on how that compares to an "older audience" and the "total Internet," according to BuzzFeed.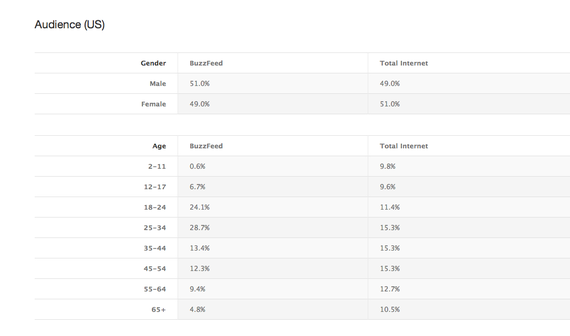 3. BuzzFeed Understands Content as an Advertising Unit

Now that I've covered how BuzzFeed succeeded at attracting a younger audience while maintaining world-class journalism, I'd like to breakdown how they've mastered content as an ad unit. BuzzFeed has successfully been able to drive revenue through sponsored stories which is what many in the "content marketing" space are focused on today.
They've managed to succeed at content as advertising because their ads are doing well, compared to other forms of digital advertising. According to BuzzFeed, ads placed on their homepage have an average click-through rate (CTR) between 0.5 percent and 2.5 percent (this depends on page placement) -- compared to the 0.1 percent average CTR for display ads (according to DoubleClick).
BuzzFeed has also taken their content ads and sponsored posts a step further by syndicating them with other publications. As a media company they've managed to successfully create an advertising network by selling content for other publications, but promoting their own brand as well by making the sponsored content look like a BuzzFeed article -- except it has a "sponsored" strap or bubble on it.
All of this is a form of "native advertising" or "native marketing" because it's natural and transparent. The good news for BuzzFeed is that they're clearly on to something because according to a survey conducted by Solve Media, 49 percent of media buyers said they were going to make "native advertising purchases" in 2013. I can bet that percentage will increase for 2014 as well.
So the next time you look at a BuzzFeed list-icle, remember that this is a real business, with a world class team behind it. BuzzFeed is destined for great things in the future, and may just save investigative journalism in the process.
Popular in the Community