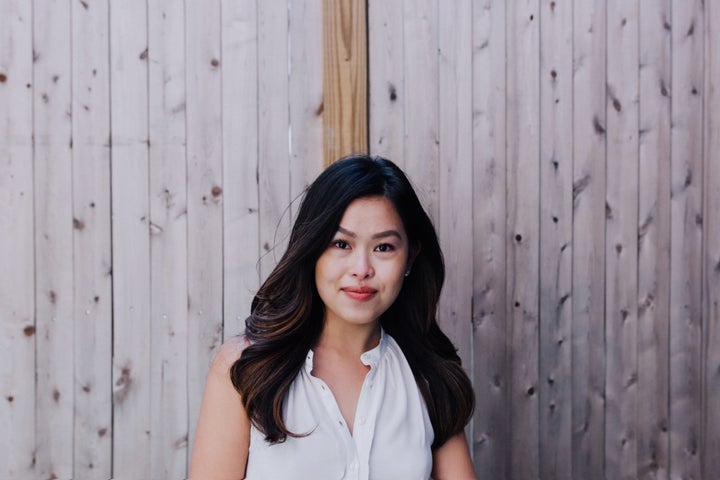 I used to ride my bicycle down the block from my childhood home where the earthquake-fractured cement gave way to a collection of colorful blooms. I would admire the innately resilient wildflowers, surely planted unintentionally, before racing back to where my grandfather stood looking on.
My grandparents left Phnom Penh on April 16, 1975, hours before the Khmer Rouge captured the city. In fact, they were initially turned away at the border, but ultimately escaped with the help of a brave and compassionate government official. They, along with their five young children, spent the next two years in a refugee camp in Thailand before relocating to Australia, and eventually, the United States. I grew up hearing snippets of this story and stories like these, but it was not until early adulthood that I truly understood the repercussions of this trauma, particularly among first-generation Cambodian Americans today.
Cambodian Americans as a group rank among the nation's poorest with some of the lowest educational attainment rates across demographics. According to the White House Initiative on Asian Americans and Pacific Islanders, 23.9 percent of Cambodian Americans live in poverty. The Center of American Progress reports that fewer than 15 percent of Cambodian Americans hold a bachelor's degree or higher. The Cambodian American population's low educational attainment stagnates its social mobility and perpetuates the cycle of poverty for its younger generations, which struggle with their own unique set of issues including gang violence, poor mental health, and for those that do pursue higher education, low retention rates.
Communities of color are often shallowly portrayed in American society. The Cambodian American population is one of many that fall victim to harmful mischaracterizations, namely that of the model minority myth, which is often applied generally to the larger Asian American population. Positive stereotyping of Asian Americans as a whole place those who do not fit the mold of high achieving in positions of alienation and heightened social stigma. On a practical level, because their unique challenges remain unaddressed, these outliers do not receive the assistance they need to advance. But it is rare and perhaps even impossible for positive transformation to occur without two prerequisites: a plan and a support system.
In order to distinguish ourselves as separate from what is unfortunately cast as a monolithic group and become more proactive citizens of this country, Cambodian Americans must actively engage in sectors most likely to achievement empowerment through representation and facilitate awareness of the specific issues affecting our community. That is why it is imperative for Cambodian Americans to seek or create opportunities in leadership, particularly in the fields of education, politics and media. In the same vein, it is absolutely crucial for Cambodian Americans to support each other and others like us.
American educational policy generally miscarries its duties to one of the country's most underprivileged communities. Too often, admissions professionals overlook Cambodian American students as a distinct ethnic group, and instead follow the positive statistics that aggregate Asian American students into a homogenous group of successful students. The aggregation of Cambodian Americans into the "Asian" group leaves them out of the picture in terms of policy decisions (educational and otherwise) and deprives them of a fair review for admission into educational institutions ― both highly important processes in improving the group's socioeconomic condition. This astigmatic conception can be remedied through activism, and ultimately, awareness of disaggregated data among the public.
As an initial matter, however, empowerment through engagement begins with the Cambodian American community itself. Many Cambodian Americans who do pursue higher education struggle with navigating the admissions process and once on campus, other aspects of student life. Because many young Cambodian Americans today are the first in their families to attend college, managing academic processes both looming and granular becomes a self-taught endeavor. Unfortunately, this method of development is burdensome and inefficient. However, there are signs of a narrowing education gap for younger Cambodian Americans. While fewer than 65 percent of Cambodian Americans overall finish high school, those born in the United States fare much better at around 85 percent. This is indicative of an upward trend in educational achievement, resulting in more Cambodian Americans equipped to encourage and advise younger members of our community in matters both academic and professional. There is an attractive case, therefore, for more Cambodian American mentorship programs.
While political empowerment and participation was much more difficult for Cambodian Americans two decades ago due to initial language barriers, lack of community establishment, and an overwhelmingly young population, the circumstances are wildly different today. Cambodian Americans are becoming increasingly politically active, as demonstrated by strong voter turnouts and heavy engagement in local elections, especially in cities with sizable Cambodian American populations such as Long Beach, Seattle, Philadelphia, and Lowell. Another prominent example of the rise Cambodian American activism lies in the tremendous grassroots movement against the deportation of Cambodian refugees, many of whom were raised in the United States. Civic participation is integral in advancing communities like ours, which suffer from struggles largely unknown to the greater American society due to a lack of disaggregated data and the subsequent hidden opportunity gaps this creates.
Another way to positively reinforce our community's recent strides and bring attention to areas in which we seek improvement is through crafting our own narratives and documenting our unique experiences on our terms. Earlier this year, I connected with Phatry Derek Pan, founder of Khmerican, a news and media organization that covers and curates stories unique to the Cambodian American experience and the greater Cambodian diaspora, and quickly became an active proponent of the media company. This year, Khmerican, which currently reaches 3 million readers a month, celebrates its fifth year anniversary and renews its commitment to encouraging public engagement among Cambodian Americans. With a Long Beach office firmly established and a Phnom Penh office in the works, Khmerican aims to expand its reach to Oceania and Europe, Khmeroo and Khmeropean, respectively, in the next year. The growth of Khmerican and other media companies like it is integral to supporting the rising promise of Cambodian Americans in education, politics, and beyond.
Despite the challenges, it would be imprudent to dismiss the notion that to some degree, Cambodian Americans today are lucky. We live in a time and place where it is easier than ever to mobilize, share, and act, making it possible to channel our ancestors' sorrows into our descendants' fortunes. In its very inception, the Cambodian American community was conditioned to thrive in the face of hardened barriers. Like wildflowers, we continue to demonstrate the strength in fragility and the ability to grow in places unexpected.
REAL LIFE. REAL NEWS. REAL VOICES.
Help us tell more of the stories that matter from voices that too often remain unheard.