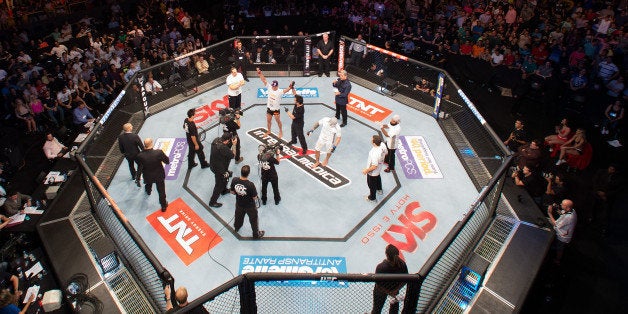 In the 20 years since its inception, the UFC has transformed from a cage-fighting spectacle into one the most lucrative sports franchises in the world. But long before the world embraced the UFC, Semaphore Entertainment Group (SEG) Executive Producer Campbell McLaren thrust mixed martial arts into the American media spotlight, launching the Ultimate Fighting Championship amid a campaign of controversy.
With only six months to create, develop, brand, and promote the inaugural Ultimate Fighting Championship, held on November 12, 1993 at Denver's McNichols Arena, McLaren and SEG went on the media offensive, borrowing from acclaimed media philosopher Marshall McLuhan, who famously coined the phrase "the medium is the message." For McLaren, the medium of controversy was the perfect vessel for his message of no-holds-barred pugilism, and soon slogans and taglines like 'banned in 49 states' and 'there are no rules' captured the nation's attention.
"There were no rules for the marketing of this, or the development of this. It was very much on the fly," states McLaren. "I was a test pilot for how far you [could] go in the media... I did promote the most wild aspects of it because we didn't have a marketing budget. I had to make noise."
The UFC was an instant hit with the Pay Per View (PPV) audience, selling approximately 86,000 units, an astronomical figure for a first-time venture. And with this unparalleled success came insurmountable optimism that the UFC was the future of combat sports entertainment.
But in 1993, when America was still healing in the wake of the LA Riots and when the murder rate was at an all-time high*, it was unprecedented to lock two men inside of an octagon and allow them to brawl with few rules. Still, the nation was experiencing a radical shift in social attitudes after President Bill Clinton was elected to office.
"It was an odd time in America 20 years ago... men were trying to figure out where they fit in. We came up with something with epic proportions at a time when America sorely needed it," comments McLaren. "The UFC clicked instantly. It took off right away in popular culture ... because I think we tapped into something that was much, much, much more than the blood and guts. We presented the spectacle of human achievement or human courage... because when these guys went in there, no one knew what was gonna happen."
The media-savvy McLaren came from the world of entertainment, producing live, televised concerts for SEG, and a PPV special for provocative comedian Andrew Dice Clay "which actually made a small fortune," according to McLaren, the profits of which "really funded the UFC pay per view." But with little-to-no traction in the media, and minimal time to promote the UFC, McLaren devised an outlandish marketing strategy.
He likened the new product to the popular arcade game Mortal Kombat, envisioning a competition where opposing fighters produced stunning visuals through martial arts. And at the suggestion of Dirty Harry director John Milius, McLaren and SEG chose the octagon as their battleground.
"An octagon sounds dangerous... and I wanted to put razor wire on top... I thought it would look really cool," adds McLaren. "I was into it right away... I saw a Sumo fighting a Savate guy, fighting a Kung Fu guy, fighting a boxer, fighting a Jiu Jitsu man. And having all these different genres of martial arts represented by their national fight gear and costume."
After Brazilian Jiu Jitsu ace Royce Gracie claimed the very first UFC title, McLaren and SEG knew they had made their mark on the airwaves, but the next challenge soon came, as they prepared for their second event in March 1994.
And in an attempt to broaden the audience and bolster the appeal of this dangerous display of combat, McLaren disseminated his next message of controversy, parlaying the possibility of imminent fatality into a memorable New York Times headline 'Death Is Cheap: Maybe It's Just $14.95.'
"I think that very extreme marketing... worked in a lot of ways that people took to the UFC. It was big, and it was bold, it was out there, it was in your face," offers McLaren. "It pre-dated a lot of the trends in advertising now, without necessarily saying that someone was going to get hurt. But that in-your-face guerilla marketing stuff is now used by a lot of brands and a lot of advertising agencies... I think I was the originator of that to a certain extent."
With UFC 2 selling roughly 300,000 PPV buys, McLaren and SEG now had to find ways to build on their massive success. But along with their increased sales and exposure came the backlash from Arizona Senator John McCain, and soon cable operators were pressured to withdraw from distribution, forcing the organization to the fringes of American sports and near bankruptcy.
"I knew somebody was gonna come after me, but I sort of hoping it was gonna be someone like Jerry Falwell, someone from the religious right because we could've dragged that out through the press and been great," says McLaren. "To have the head of the armed service congressional committee, POW, war hero, future Presidential candidate; that's not the guy I would've picked, that's not the opponent that I wanted."
McCain's campaign to ban the UFC never fully materialized, but the organization was branded, labeled as "human cockfighting," leading to a massive overhaul and the implementation of rules and regulations. Still, the UFC and MMA were on the cultural map, and charging hard to overtake boxing as America's premiere combat sport.
Boxing, of course, was already an institution on Pay Per View, attracting the largest audiences and buyrates, so it seemed odd that the UFC's The Ultimate Ultimate, its first tournament of champions, would go head to head with Mike Tyson, who was set to face Buster Mathis, Jr. on December 16, 1995.
"On pay per view you stay totally away from Tyson. Tyson not only got all the money, he got all the spots that all the cable systems gave to promote the pay per view," comments McLaren. "Strangely Don King moved the Tyson fight to free TV on FOX. It was the first time since I think the late 60s that a major heavyweight boxing match had been put on free TV... I can't believe it was a coincidence. I think it was a very purposeful move to sink the UFC's pay per view business."
Whether King's move was intentional or not, The Ultimate Ultimate sold over 250,000 Pay Per Views; the UFC would not be ignored.
During this time that McLaren tapped Joe Silva to join the UFC's ranks as a consultant (he is currently the UFC's matchmaker), as well as a young comic named Joe Rogan, who served as a backstage correspondent and color commentator. It was also at this time McLaren added his most significant contribution to the sport of mixed martial arts.
"I added to the DNA of the fight style of the UFC because I started bringing in the Olympic wrestlers, Dan Severn and Mark Schultz," states McLaren. "That's what sort of had set the stage for this UFC style fighting. If other martial arts started to fade away, it's the Olympic wrestlers and the college wrestlers that have come to dominate the UFC, along with Brazilian Jiu Jitsu."
In 20 years since its debut, the UFC has firmly cemented its place in the worldwide cultural milieu. A combat sports juggernaut, the UFC has revolutionized sports and sports entertainment, paving the way for mainstream acceptance of mixed martial arts.
And now, more than two decades after his first encounter with the UFC, and founders Art Davie and Rorion Gracie, McLaren reflects on his impact on the world of combat sports and MMA.
"The UFC started at the Semaphore offices on 57th and Park [in Manhattan]... it started in the limelight... and I think it's a really positive force in society," adds McLaren. "There was no UFC 20 years ago... and now 20 years later it's this huge. It's unique to look back on your life in development with something that's become a cultural phenomenon."
Calling all HuffPost superfans!
Sign up for membership to become a founding member and help shape HuffPost's next chapter