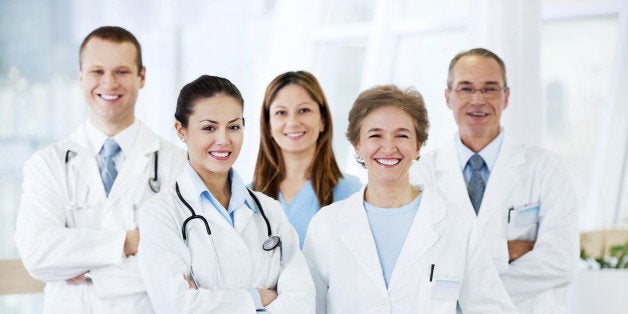 In recent years, the American public has clamored for a more integrative and holistic medical model, in which doctors are equipped not only to write prescriptions and perform procedures, but also to guide patients in a whole-being/whole-life approach to health. We actually need a medical culture that can support doctors, as well as patients, in this regard.
Medicine is one of the most demanding environments in which to work. For starters, the hours can be brutal, especially early on. By way of example, it was only a decade ago that medical residency workload was decreased to 80 hours a week. Addressing this matter in our recent interview, Jeffrey Sloan MD - a researcher and professor at the Mayo Clinic, specializing in quality of life issues for medical patients and practitioners - noted that doctors all have residency stories along the lines of, "I was up for 72 hours, and I'm lucky I didn't kill somebody" or "I did something goofy, but fortunately someone caught me." These are "cute anecdotes," Sloan said, but they underscore a serious issue.
Referring to a series of peer-reviewed studies on physician wellness, which Sloan and his colleagues conducted, Sloan emphasized that it was not surprising to get "hard data that says, yes, burnout leads directly to medical errors."
The matter nonetheless remains controversial, and I can see both sides of the coin. On the one hand, it is true, grueling hours easily can lead to burnout and compromise a doctor's ability to perform. As a result, errors may occur. On the other hand, there are numerous benefits to continuity of care between doctor and patient, particularly during a young doctor's training - the development of a sense of devotion to patients; the understanding of how illness and healing evolve, and in this regard, how various treatments impact patient wellness; and the reduced likelihood of critical information falling through the cracks, as doctors hand off a case.
A 2006 study, "The Impact of the 80-Hour Resident Workweek on Surgical Residents and Attending Surgeons," published in Annals of Surgery, summarized the matter clearly: "Proponents say that the restrictions are necessary for the physical and mental health of residents, and to reduce errors that can result from sleep deprivation...Critics feel that this loss of continuity of care will require more frequent handoffs of care, potentially leading to additional errors."
Further complicating matters is the number of patients that doctors are expected to see each day, given today's profit-driven, managed care system. In our recent interview, Pranay Sinha MD, a medical resident at Yale University, shared the impact of a slammed patient load: "As residents and interns on night float, we can find ourselves admitting patients while also cross-covering 20 or more patients, whom we don't know as intimately as we would like. While multi-tasking is a necessary skill for physicians, we are frequently haunted by the feeling of missing something. It is a terrible feeling, and it lowers our threshold for ordering X-rays, blood cultures, and antibiotics."
Sinha compared the experience to when he has half the patient load: "I have time to digest their medical records, make more deliberate decisions, and connect with them. I can hear about their life stories and get to know them as human beings."
While medical administrators characteristically insist that there is not enough money in the budget for more doctors, and therefore more time for each doctor to do the same amount of work, healthcare costs actually might decrease, if physicians have more time. "It's not a quantitative thing like a factory," Sloan elucidated. Assembly lines "are appropriate productivity approaches for things that are relatively straightforward and deterministic, but medicine is none of those things. It's so dynamic and interactive." By focusing on the quality, Sloan asserted, we improve the quantity.
"I never know precisely how much an MRI or a lab test will cost," Sinha added, "but I imagine residents could save our own salary's worth of unnecessary tests and imaging over a year, if we operated in a system which allowed us to spend more time with the patients and discern their symptoms with nuance."
As the debates about work hours and patient loads continue, there are numerous steps that doctors can take, individually and collectively, to improve our quality of life, our experience of medicine, and our efficacy in patient care. To this end, Claudia Finkelstein MD - Clinical Associate Professor and Director of the University of Washington School of Medicine Faculty Wellness Programs - has launched a number of wellness initiatives, such as the "Improving Physician Resiliency" program, in which doctors are guided in developing a spiritual practice; spending time in nature; blocking out fun time in their calendar; reconnecting with the joy and purpose of their medical practice; and more.
Not only do such initiatives provide critical instruction on connecting the dots of our lives and, in doing so, optimizing our wellness on every level (a tool that doctors can pass on to their patients, serving as role models) but these initiatives also carve out space for simply acknowledging, as well as processing, the distress and insecurity that doctors typically face but are terrified to express - at times with fatal results.
In his New York Times article, "Why Do Doctors Commit Suicide," Sinha explored why physicians commit suicide several times more frequently than the general population. "Doctors, especially fledgling doctors like me," he noted, "feel pressure to project intellectual, emotional, and physical prowess beyond what we truly possess...We masquerade as strong and untroubled professionals, even in our darkest and most self-doubting moments."
It is for this reason that, as an attending physician, Finkelstein made a point of devoting time during rounds to ask how everyone was feeling - especially in the case where a patient just died. "There's a lot of value in that," Finkelstein noted, "but these sorts of 'soft skills' do not get their due. People think it's better if you know the latest recommendations for how many pills you need to take for heart failure, than for how to connect with someone with a longstanding chronic illness, facing their mortality in a meaningful way."
Given this prevailing attitude, Finkelstein continued, doctors lack compassionate training in how to cope with facing disease and death. Empathy is "lost and broken down," she said, early on in a doctor's career, and is not picked up again as a specific interest of medical institutions. "Young physicians are allowed to drift far from there and get a little stony cold...they don't have a lot of support, once they enter the clinical part of their training."
As with life in general, we doctors may not be able to control our external circumstances - how many hours we work, how many patients we see, and to a certain extent, how our patients fare. We do, however, have control over how we interface with and react to those circumstances. When we acknowledge our humanity and express our vulnerability; when those of us in leadership positions create the space for others to do so as well; and when we establish daily practices to cultivate serenity and harmony in our lives, we take care of our own hearts, and in doing so, have the power to restore the heart of medicine - a win-win situation for both doctors and patients.