I had my first taste of coconut water in Bay Islands, Honduras, in 2000. Back then it was an exotic drink you imagined sipping from a straw while vacationing in a tropical paradise. If you wanted to get some in the U.S., you had to hunt it down in enclaves where immigrants shopped for familiar foods from home.
Today, the coconut water industry is a billion dollar business. Though the demand for coconut products has skyrocketed over the past decade, very little of the rewards have trickled down to smallholder farmers in coconut-producing countries. While American consumers pay an average of $1.50 to $2 for a serving of coconut water, farmers receive just 11 cents to 20 cents per nut.
Take, for example, the Philippines, which is one of the world's top coconut-producing countries. Despite the booming popularity of their products, nearly 60 percent of the 2 million coconut smallholder farmers there live in poverty.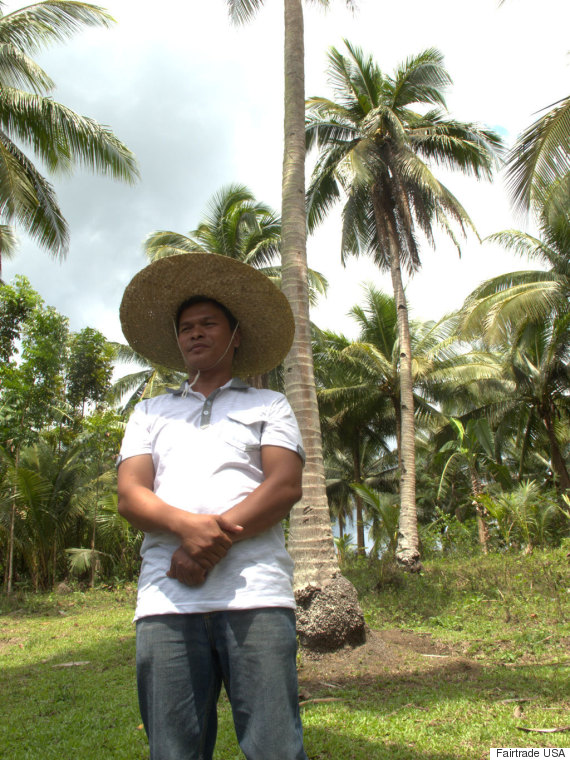 Challenges coconut farmers face
Its proximity to the sea makes The Philippines extremely susceptible to natural hazards. On average, eight or nine tropical storms make landfall each year, posing significant risk to the national economy and to the livelihoods of the most vulnerable populations. In 2013, for example, Typhoon Haiyan decimated 1.1 million tons of crops, including 33 million coconut trees, and wiped out the productive assets of coastal families that depend on agriculture, including coconut farmers.
It comes as no surprise then that smallholder coconut farmers face significant challenges that make them among the least resilient to environmental and economic shocks, including natural disasters, global market volatility and crop failure. They are typically not part of the formal financial sector, which constrains their ability to build assets and mitigate risk. They are also prone to cycles of low productivity and face high levels of indebtedness. And, they have few options to diversify their incomes and to access markets for their crop.
This is compounded by the fact that coconut farmers have little or no access to information or the advisory and financial services they need to maximize their farm returns and reduce their vulnerability.
Grameen Foundation has been working in the Philippines to alleviate poverty for more than a decade. As part of the Global Resilience Challenge, we plan to focus on four key areas to help coconut farmers become more resilient and economically secure.
1. Provide agricultural advice via mobile phones to assist farmers in building assets.
The Philippines has one of the best telecommunications infrastructures in Southeast Asia and almost 50 percent of Filipinos are mobile phone subscribers. This makes it a cost-effective way to deliver agricultural advice to farmers, especially those working in more remote areas. Better farming practices can help coconut farmers increase productivity and earn higher revenue -- and insulate them against market fluctuations, while promoting greater food security. We will use a suite of mobile services to support better adoption of best practices.
2. Diversify risk through access to markets.
Diversifying farmers' sources of income is also important to help improve household resilience. Working with global and local partners, including international superfoods brand Nutiva and Philippine-based cocoa agribusinesses, we will promote access to resources that enable farmers to intercrop cocoa and coconut trees. In addition, we will link farmers to markets where they can earn higher prices and reduce the informal cycle of debt that erodes their assets.
3. Increase access to insurance and financial services.
Coconut farmers need access to appropriate financial services to reduce their risk exposure and invest in their farms. Working with the public and private sector, we will link coconut farmers to tools that insure their farms against natural disaster and crop failure. We will also explore how mobile phones can be used to increase access to services and reduce the cost of delivering services.
4. Use mobile technology and geospatial data to mitigate pest and disease risk.
Combining mobile technology and satellite data from farms offers an unprecedented opportunity to tackle pest and disease outbreaks before they destroy farms and local economies. Mobile phones enable real-time, cost effective two-way data flows that provide more accurate, comprehensive information that can help farmers make better decisions and take immediate action. Establishing this mobile-based alert system will enable officials to detect early outbreaks and will allow farmers to minimize losses by accessing government resources.
Collaborating to help coconut farmers
Left unaddressed, the future of coconut-producing communities will remain vulnerable at the mercy of Mother Nature and variable and volatile market forces. By bringing together public and private sector players, including financial service providers, agricultural agencies and agribusiness, we aim to help farmers chart a different course.
So what can you do as a consumer? You can start by making sure you're buying your coconut products from companies that are committed to improving farmers' lives while protecting the environment.
Calling all HuffPost superfans!
Sign up for membership to become a founding member and help shape HuffPost's next chapter