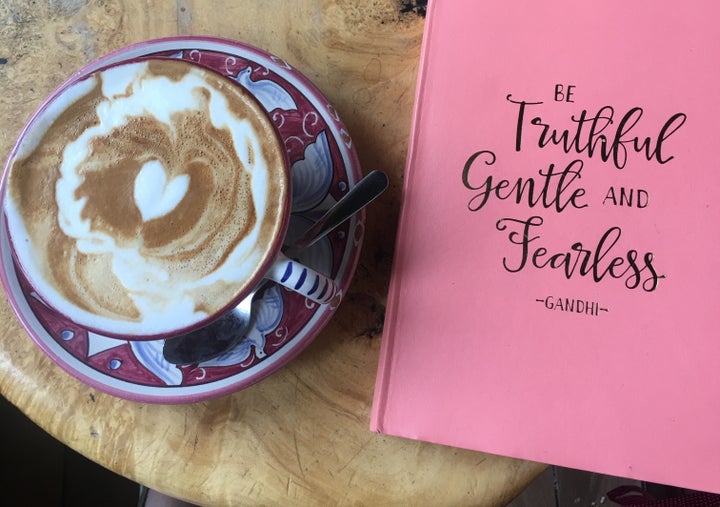 Let me take you back for a moment...
I have really fond memories of writing my first novel in freshman year of high school. I put in hours after school at the keyboard typing up the chapters I wrote longhand during the school day and writing more still. Music (Fall Out Boy or Hanson depending) would play in the background, and I was in heaven, creating. With my eyes burning from exhaustion, I'd print out my pages before falling into bed deliriously happy (and just delirious).
During first period Latin class, I'd do my best to pay attention to the conjugation of verbs on the board, but really, I just HAD TO KNOW what Jenny and Amanda, my first readers, thought. Did they want more? Because I certainly wanted them to want it as much as I wanted to write more.
Those days I knew exactly who I was, the role I was meant to play and how I related to the world. I wrote fiction into which my readers joyfully, greedily devoured. Writing was an escape for me with even more hormonal benefits than reading, which was my original escape.
It took several months to write my first novel, which I called Privileged. (This was before the 2008 TV show Privileged starring JoAnna Garcia.) It was inspired by Cecily von Ziegesar's Gossip Girl series, one of my favorite fictional worlds, but my set of rich teens lived in Philadelphia. I researched my hometown's greatest haunts for the wealthy and had a secondary purpose for reading my favorite fashion magazines (defining each character's style and "shopping" for them).
I also researched the hell out of the publishing process because I was going to be the youngest author Writers House ever signed. I saw myself walking into meetings in the agency's offices on West 26th Street through Washington Square. (Just don't ask me if that's a geographically likely path to their offices.) I imagined a 6-figure book deal.
But really, the joy came from writing, and from those reactions from my readers.
Over the years, my preferred genre of writing has changed. (Now it's primarily #TRUTHLETTING, my refreshingly honest writing about building a Rosier life & business, and between my days writing fiction and the birth of #TRUTHLETTING, I wrote journalism for numerous publications.) I've also grown to enjoy sharing my message on video and audio.
I still love that high I get from creation.
In fact, it's 2 a.m. I've been up since 7:30 a.m., and while my eyes are burning now, I don't want to stop. I DON'T WANNA GO TO BED, MOM!!!!!!! Because...
Writing is my LIFEBLOOD.Creating is better than any drug.I am FUELED when I put myself out there.
Tonight I laid on our bed reading the entries I wrote in a Dear America diary book my mom gave me from the Scholastic book flier in 1999. The entries feature childish print and later, my early, stilted cursive. I often addressed my diary as "you," and wrote to it promising to write more often and then apologizing when month(s) had passed. And I realized that I'm not that girl anymore. It's safe for me to commit to doing my #TRUTHLETTING daily, publishing a blog post to my website & Facebook each day. Because when I don't? I don't sleep as good. I feel cut off from the Universe and other people in it. I blame bullshit around me for my mood.
Really? I just need to SHARE, get it out, and possibly even get a reader reaction (or thousands?!).
I need to create.
I'm happiest when I'm creating, just me alone with my laptop or phone, whether typing or speaking to a camera.
And in the past few days, I've had this question on my mind: How can I create MORE?
Seriously, I want -- no, NEED -- to optimize my life so I spend as much time creating and engaging with readers/viewers/fans as is possible.
Anything less? Is a painful waste of my time.
I mean, sure, self-care and personal growth are really important and I value my time spent on those other priorities. But priority #1 is EXPRESSION.
Today was a good "start."
I've done three #TRUTHLETTING "sessions" today during which I wrote 2 essays and created a 12-minute video.
I look forward to putting out this level of content or better tomorrow. (Or technically later today, after my burning eyes get some rest.)
Rosella LaFevre is an author and philosopher known for #truthletting, her refreshingly honest writing about building a better life and business. As Mindset & Marketing Coach, Rosella provides support to creative women ready to trade the hallmarks of a normal life to build a life & business that is as endlessly rewarding as it can be challenging. She also hosts a Facebook community called Rosella's Greenhouse for Blossoming Leaders.
Related
Popular in the Community