Holiday stress is very real. However, there are ways in which we can prepare ourselves and hopefully deflect some of the increased stress of the holidays, which can lead to physical illness, depression, anxiety, and substance abuse.
It's important to realize that we really do have more control than we think we do. However, it's equally important to realize that even if we put these ideas into practice and continue to feel overwhelmed or depressed, professional help is available.
Conditions such as anxiety and depression can be managed with treatment. If symptoms such as sleeplessness, decreased appetite, depressed mood, decreased interests, and isolation continue for more than a week, please talk to your loved ones or your primary care physician.
Below are five key factors that can lead to holiday stress and the strategies that can help reduce their effects.
Fatigue
We all overdo it. We know the importance of a balanced diet, moderate exercise, and plenty of sleep, but because there are so many distractions and stressors this time of year, we lose sight of some of the basic necessities. We need to take care of ourselves and pay increased attention to ensuring that we fulfill these areas of our lives as we get closer to the holidays.
Unrealistic Expectations
We all have our own personal history with holidays. We dream about the ways the holidays are supposed to be, and that can be a dangerous perspective to have. We get caught up in wanting to do it all. Sometimes setting more realistic expectations and making sure we communicate those expectations to our families and loved ones early in the holiday season—so we know what to expect—can help.
It's also important to prioritize the most important activities. This includes knowing what's important to you and where you want to put your energy. Maybe if your kids' school parties are most important, you can put less time into hosting Thanksgiving or Christmas Eve. It's important to look at quality, not quantity.
Another idea is to schedule some of your get-togethers for after the holidays. This takes some pressure off of you while giving your friends and family something to look forward to when not much is going on.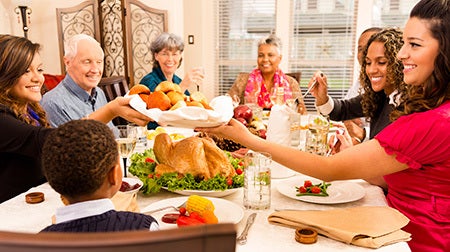 Over-Commercialization
It's easy to get caught up in the commercialization and the marketing of the holidays. Advertisers will take advantage of our susceptibility, but we have the ability to put it in perspective and remind ourselves that we are the ones creating that anxiety, and we are the ones who can reduce it. To counter this, help a neighbor, a friend, a family member, or a stranger. It's the act of giving that is more important than the gift.
Financial Stress
Giving to others is not about spending money, and of course, what goes along with setting realistic expectations is to maintain a budget and be transparent. It's important to not overspend and keep in mind that "less is more." It's an old adage, but sometimes the personal gifts are the best ones—like tickets to a show, or even a poem, short story, or framed photo. It's the act of giving that makes it meaningful.
Isolation
While it's true that many of us have friends and family to visit during the holiday season, there's also the danger of becoming isolated. Be careful not to isolate yourself—especially if you have a predisposition to getting depressed. One idea that works is to remind yourself of the people, places, and things that make you feel happy. Surround yourself with everyone and everything that makes you feel better.
Related
Popular in the Community