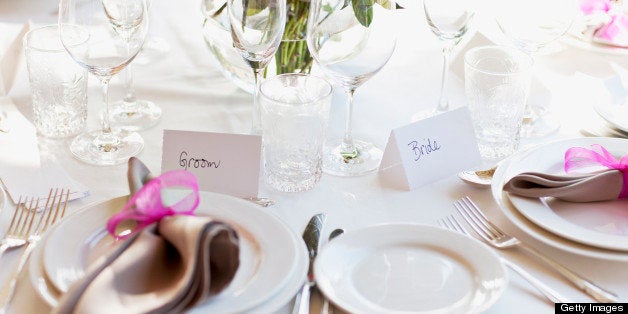 Unless you are getting married at your local VFW or having your wedding reception in your backyard, do not plan on having any leftovers when the party ends.
That means that unless you brought the food and drinks yourselves to your reception, you don't get to keep the leftovers when the event is finished. This might seem like a strange statement -- or an obvious one -- but not everybody gets it. In fact, I have to explain how catering works on a regular basis to both clients and wedding guests who are very clearly confused as to what belongs to them when the party ends.
In my world, caterers almost always bring MORE than they need to bring to satisfy their paper contract because they have to be prepared to satisfy the guests -- and nobody wants to come up short when guests start switching around their dinners preferences after pre-ordering something else. And when the client has chosen to serve a buffet or to offer food stations, caterers come armed with enough food for twice the number of guests because they can't guess who is going to choose to eat what, and it's not okay to run out of something halfway through the dinner.
When dinner service ends, the leftover food goes back with the caterer. That's how it works. There are no "to go" containers (have you ever seen somebody leave a real wedding with a meal in a box?) because guests aren't supposed to ask for their dinners "to go" at a wedding. That's just in poor taste all around. Can you imagine, even in the most suburban wedding hall, the number of Styrofoam containers sitting around after the main meal? Ugh! Would look horrible in the wedding photos. And we don't do it down here either. In fact, in the tropical heat, you have to be twice as careful with food handling and I wouldn't even want to think about the safety concerns with people eating leftover food that has been sitting at island-room-temp for three hours while they danced. No doggie bags at Caribbean wedding receptions. But people ask. Frequently.
The bar works the same way. The bride and groom have paid for a package for a certain period of time, and when the clock runs out, the alcohol leaves. It doesn't belong to the clients; it belongs to the caterer who has brought more than they need so they didn't run out of anything. It's hard to predict whether your guests will be wine or rum punch drinkers at a Caribbean destination wedding, so the bar is prepared for all eventualities (within the realm of the bar the clients have ordered). Just because there are cases of beer left at the end of the event doesn't mean your friends can help themselves to them. Over the years, we've learned to skip "last call" because people bum rush the bar at an alarming rate.
Most of our wedding groups have some sort of beach party as one of their warm-up events -- in lieu of a traditional rehearsal dinner in most cases. We watch to see how the guests behave on the day prior to predict what they'll be like at the actual wedding because it's usually a pretty accurate measure.
There are some groups who see the caterers packing up at the end of the beach party and try to come take everything out of the coolers. Some get aggressive and go as far as to jump into trucks and dive into coolers, clearly not caring what the policy is or whether the stuff belongs to them. It doesn't. Again, caterers come with MORE than is required because they want to make sure they can keep your guests happy. That doesn't mean you get to keep the extra they bring, it just means they'll keep everybody fat and happy for the duration of the contract you paid for. Taking booze from a caterer when the event is over is stealing -- and we see people do it all the time. Interestingly enough, it's often the MoB or some other random who leads the charge. It's never the bride and groom.
We watch what happens at the welcome party and beach party to warn the reception caterer. And sometimes we make it a point to bulk up the staff around the reception bar at shutdown so that there are enough of us to head off whatever comes their way. I'm proud of how smoothly we handle these situations, but it's also kind of sad to realize that it's an issue at more weddings than it is not. Who are these people and where are they from that they think it's okay to raid coolers and intimidate bartenders? When the wedding ends back at home, you never see anybody bullying the service staff, do you? What makes people think it's okay at a destination wedding is a mystery, but it's my job to make sure my vendors get out of there in one piece so they are ready to take care of the next bride and groom and their wedding guests the next weekend.
Until next time, happy wedding planning from Weddings in Vieques and Weddings in Culebra!