Nev Schulman's emoji game is strong. He uses the airplane emoji as shorthand for his hectic travel schedule, the cheese emoji to follow his dad jokes, and the heart eyes when texting his girlfriend.
"And the fire, when she sends me sexy pics," says the star and executive producer of MTV's Catfish: The TV Show. "Oh, and I assigned her the poodle emoji, my sort of emoji representation of her."
Nev is in a long-distance relationship, so he's accustomed to keeping in touch via text with his girlfriend, not to mention his family and friends. Thankfully, Nev says, even his grandparents are tech-savvy so they're constantly texting, Facebooking, and even liking his photos on Instagram.
For many older adults, though, staying connected is harder. About 77% of people over 65 can't figure out a smartphone on their own, which can lead to isolation and health issues. Nev is dedicated to changing that, though; he's the face of Grandparents Gone Wired, a campaign from DoSomething.org and Mentor Up.
This holiday season, Grandparents Gone Wired activates young people to teach their grandparents -- or other older adults -- how to text and how to use emojis. The latter can certainly be a challenge, which you can see in the hilarious Grandparents Gone Wired PSA.
Nev talked to us about the campaign, why even seniors get catfished, and which emoji best represents him.
"I kind of thought it was a monkey. I'm hairy and kind of cute."
Here is an abridged version of our conversation.
Ben Kassoy: Why are you excited to be the face of Grandparents Gone Wired?
Nev Schulman: A big part of my career is helping people who are to some extent being taken advantage of digitally, and what I've learned is that people are desperate to seek friendship and find it online and be connected with people young and old. If you're not well-versed in the language of digital communication, you can very easily get in trouble. I think it's important that older people are more informed about how to both efficiently and safely use their smartphones.
I also think it's just good because it fosters more exchange and communication between different generations, which I think is always good. Because unless you're fortunate enough to live in near proximity to your grandparents, speaking to them everyday on the phone can be tough. So it's nice to be able to stay in contact via other digital means.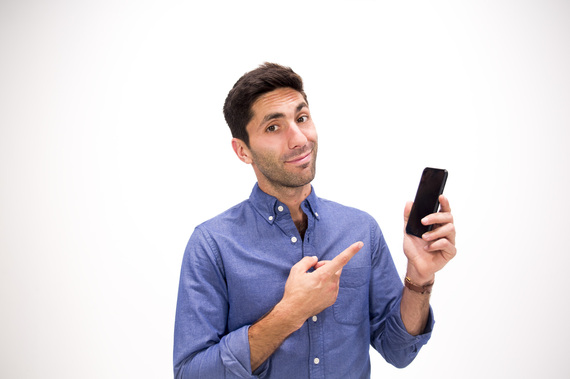 BK: How can technology reduce isolation among older adults?
NS: I think that means a lot when you have an older adult or grandparent who cares about knowing what's going on with their family, to not feel like, "Oh, I won't find out what's going on unless I'm online or unless I'm not part of that group text." So including them in that and teaching them how to engage in that way really makes a big difference.
BK: And they care so much.
NS: That's the thing you don't think about when you're young is how important you are to your grandparents and how much it means to them that you're doing well, and that you're experiencing life and that you're learning things. It means so much to them just to feel included.
BK: Have you heard of older people getting catfished?
NS: I know that it happens a lot from the people who come up to me on the street, the emails that we get. It might even be a bigger problem in the older-age community because a lot of people who are divorced and who are really looking for relationship. All of a sudden this person kind of comes in unfortunately to scam them, using the same exact techniques as we see with younger people who might just be lonely and insecure. These people are malicious and have malintent to really take advantage of someone, so it happens a lot much in the same way.
BK: Anything else you'd like to add?
NS: In terms of a generation who grew up communicating with cell phones, we really take it for granted, and I think we also in some cases overuse it. I don't want to see people replacing spending time with their grandparents or calling their grandparents with texting.
But I think in-addition-to and as a supplement, it's a great way to check in and let your grandparents or your parents know that you're thinking of them. Just to know that you can send around a text or a group text and keep people feeling connected. But it doesn't replace more intimate, genuine, deeper conversation and activities, so I'm excited to support human interaction through the addition of more texting.
Are you seeing your grandparents over Thanksgiving? Teach them the basics of texting and emojis? (Lesson #1: the brown blob with the eyes is not a Hershey Kiss.) Learn more about Grandparents Gone Wired!
Ben Kassoy is the Managing Editor of DoSomething.org,the coauthor of eight books, and former online columnist for Glamour and Details. Whadaya know? He also has a Twitter and a website.