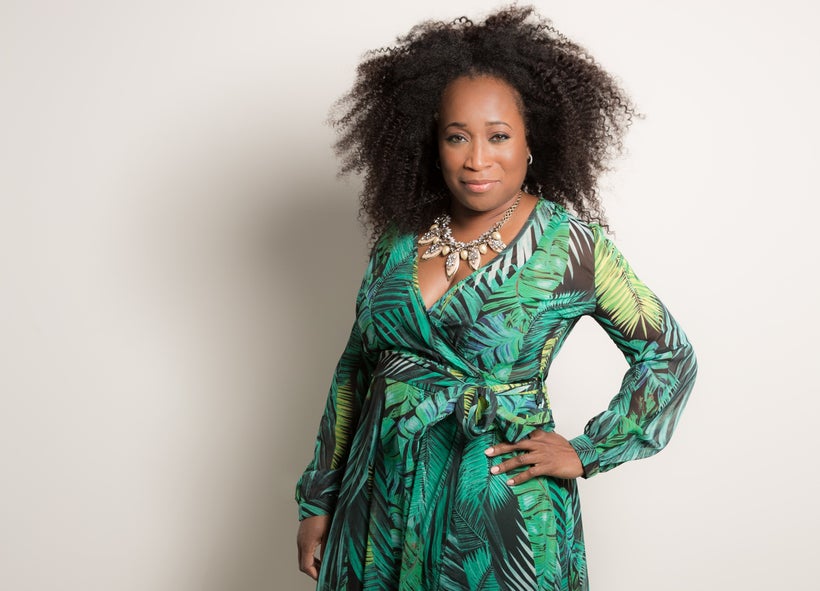 When I saw Nicole White's work, I immediately noticed her passion for interior design. She had a way of putting together rooms that were beautiful to look at but still livable. I quickly started following her posts on Instagram because I liked the way she showed behind the scenes of the projects she was working on. I fell in love every time she did the big reveal of the finished project, it was like watching a show on HGTV and I couldn't look away. Nicole has designed spaces for several of Miami's top lawyers, executives, professional athletes and musicians. The mommy in me couldn't help but notice that Nicole always found a way to include her son Xavier in her projects. After crushing on Nicole's work on Instagram for a while I decided to reach out to her to find out how she managed to juggle it all and how did she end up doing something she's so passionate about.
Why did you become an interior designer?
My interior design journey is a tad unorthodox. My degree is in journalism. I spent over a decade as a reporter in New York and Miami. But design was always in my soul, so I started working on my friends' homes on weekends, and soon their friends started asking for my help and then just like that, a business was born. I went through many changes including two business partnerships that didn't end well. At that point in my career, I was riddled with self-doubt, especially since I hadn't been to design school, so I thought partnerships with others who had other skill sets that I lacked just made sense. When my second partnership imploded, I wasn't sure what the next step would be. Then a friend suggested I trust myself completely and go at it solo. She also suggested I name it after myself and just be the brand. To this day, that was among the best advice I've ever received. Knowing that clients believe in a brand, with my name, has been an amazing feat. And now my son Xavier, is the brand's biggest cheerleader/supporter. He'll walk into a well-designed hotel and blurt out, is this by Nicole White Designs! Priceless.
How has becoming a mother changed the way you do business?
Man, it sure has. Not only is Xavier my biggest supporter - he even admonishes me if I don't answer my phone by saying, "hello, it's Nicole White Designs!" He's been tagging along to job sites since he was just a few months old. Before becoming a mom, I ran my business like the Wild Wild West! I would take calls at all hours of the day and night and just worked way too much. He's helped me to set boundaries I never used to, and that's been a blessing. He's a charmer so clients all fall in love with him and will insist that he's present for meetings and walk throughs. As a mom, and businesswoman, I've encouraged his involvement and knowledge of the business, so he knows that being a boss is attainable and should be his standard in whatever career he chooses.
What are some of your biggest challenges as a mother and female business owner?
I work mostly with men who are often visibly concerned/annoyed that I'm not available for meetings late evenings or on Saturdays anymore because of my son's karate, bowling league, and his swimming lessons. I deal with that by being the boss I guess! This is my reality, and I balance that by getting an early start on my day at 5:30 am so emails and other daily tasks are tackled as much as possible. Physical meetings just have to work around my schedule or we can FaceTime if needed but my son is my number one priority. The truth is it's easier for most of the men I work with to have a more flexible schedule because their wives or significant others, handle the bulk of the activities with their kids so they've had to adjust to working with a woman business owner who has to juggle both sides of the coin.
What is your favorite business or personal development book?
I am currently reading the E-Myth Revisited by Michael E. Gerber. The Bible is my favorite book. I've handled plenty of business and personal challenges by reading a scripture first. It never fails.
What are your top 3 apps for business and life management?
I love the way Google Drive has completely organized my business. We can work on word, excel or PowerPoint and share it directly with our clients at varying levels and be able to track changes. It beats saving and emailing a document a hundred times. I drive a lot so I use MileIQ to help me account for miles I never used to bill for or claim for taxes. The App keeps track of all your driving then with an easy swipe to the left or right you can file if the trip was business or personal and add details like which client. It'll automatically file a trip to the right category once it sees that trip being repeated. My whole team has the Dropbox app on their phones. It allows us to move the million client photos from our cell phones for easy access, especially when it's time for those much loved before and after reveals. We also now scan client receipts and invoices directly to Dropbox which has made life easier for our accountant to keep track of things. I mean ultimately, this is a business, and making sure we are profitable is kind of important. I've got a growing kid who eats a LOT, loves to travel and will likely attend an Ivy League school or two. My hustle is real!
How can we get in contact with you?
REAL LIFE. REAL NEWS. REAL VOICES.
Help us tell more of the stories that matter from voices that too often remain unheard.
This post was published on the now-closed HuffPost Contributor platform. Contributors control their own work and posted freely to our site. If you need to flag this entry as abusive,
send us an email
.