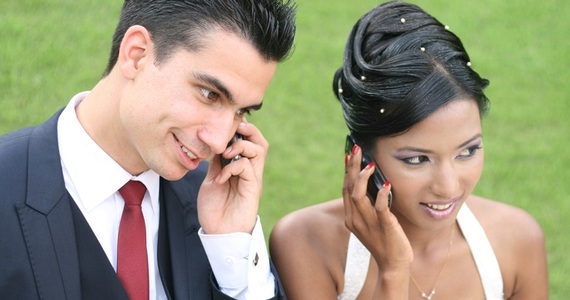 Technology can be a wonderful thing. It can make us more productive, creative, and efficient. They help us get things done. But in certain situations, it's not always great.
In a study published in the journal Computers in Human Behavior, researchers find that your cell phone may be hurting your romantic relationships.
Phoning in The Romance
I would like to think I keep up on the cool slang terms of the day. However, the study used a term I wasn't familiar with. P-phubbing.
Look at that, kids. Science is trying to be hip.
It's shorthand for partner phone snubbing. And in the study it's defined as the act of using or being distracted by your cell phone while in the company of your relationship partner.
James Roberts was one of the authors involved in the study. Here's what he says about the study in a statement:
"What we discovered was that when someone perceived that their partner phubbed them, this created conflict and led to lower levels of reported relationship satisfaction."
That's not the whole story. There are bigger implications than simply not paying attention to a romantic interest. James continues:
"These lower levels of relationship satisfaction, in turn, led to lower levels of life satisfaction and, ultimately, higher levels of depression."
The P-phubbing Study
The team of researchers ran two surveys to look at the phenomenon of phone snubbing in relationships.
The first survey was used to develop a 9 item scale to determine what people saw as a phone snubbing behavior. These activities included things such as:
My partner places his or her cellphone where they can see it when we are together.
My partner keeps his or her cellphone in their hand when he or she is with me.
My partner glances at his/her cellphone when talking to me.
If there is a lull in our conversation, my partner will check his or her cellphone.
If want to take the quiz yourself , James has written a post here at Huffington Post.
The second part of the study measured these behaviors. They also asked about factors like relationship satisfaction, depression, life satisfaction, and cellphone conflict.
The Results
Among the survey results, the researchers saw that about 46% of people reported being phubbed by their partner. Another 22 percent said that phubbing caused conflict in their relationships.
"Specifically, momentary distractions by one's cellphone during time spent with a significant other likely lowers the significant other's satisfaction with their relationship, and could lead to enhanced feelings of depression and lower well-being of that individual."
It does more than just hurt the other person. If you snub your partner, it can impact your life as well. Here's James one last time:
"When you think about the results, they are astounding. Something as common as cellphone use can undermine the bedrock of our happiness - our relationships with our romantic partners."
Technology Mindfulness
I would never say we need to do away with technology. It drives science, can help us collaborate, and helps us discover the world in which we live.
When it comes to social interaction, though, we need to be more mindful. Technology can be great for keeping in touch over long distances or reminding us of important dates. But the study serves as a reminder that technology is supposed to enhance our social connections. Not to replace it.
So when in the presence of others, remember what's important. It's the human to human connections that give meaning to your life.