Chalene Johnson, New York Times bestselling author and the spunky fitness celebrity behind TurboJam and TurboFire, is remarkably calm in real life. At least, she is now.
A few years ago she sat atop a fitness empire that included multiple pre-designed fitness programs, an apparel company and over 60,000 instructors across the globe. Many think Chalene Johnson is just the face of Beachbody's programs, who then built a personal brand for herself. But it was actually her business success with her own programs (and giant cult following) that led to a distribution deal with Beachbody. Under theBeachbody umbrella, TurboJam, TurboFire, ChaLEAN Extreme, and PiYo achieved massive success, together selling over 10 million DVDs and earning Johnson a Guinness Book of World Records title for most fitness videos.
As you can imagine, those days were anything but relaxed.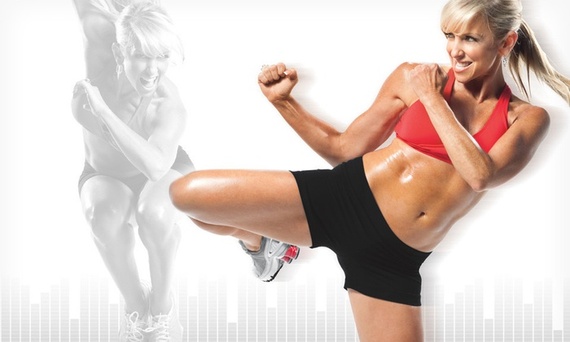 "I suffered from chronic sleep deprivation. I literally would sleep three hours a night," she told me. "We were still running our own company, still doing the apparel line, still holding certifications in every state, and then on top of that I was trying to respond to consumers, and I delegated nothing, and I took nothing off my plate."
She is also a mom, and during those building years, her children were young. Instead of enlisting child care, she wanted to be home. Looking back, she regrets that she was there, but was not present.
"Even though I was playing with them, I was, like, writing emails in my head and playing with train sets and just, not there, you know? I have a lot of guilt about that."
It's not hard to understand why Johnson had trouble slowing down. A true entrepreneur, she started her first business in her teens, and another in college, solving problems she faced firsthand. As a fitness instructor, Johnson faced a lot of hard work for meager pay. She realized instructors could benefit from pre-designed programs, complete with music, choreography and a certification process. So, she created one. Her energy, dedication and work ethic took her to amazing heights, but once she got there, it seemed she couldn't stop.
Everything came to a screeching halt when Brett, her husband and business partner, shared that he was unhappy in their uber-successful yet highly-demanding life. Secretly, she had been unhappy too.
"I always tell people our rock bottom was at the very top." Chalene told me as she recalled the moment.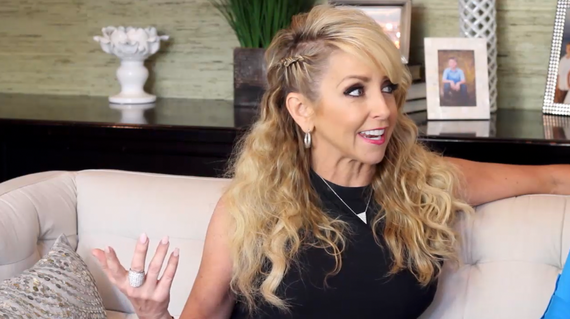 So, the couple turned a 180, and began a five year process to rework their business so she wasn't the face of it. Even though Chalene is no longer the face of Powder Blue Productions - their physical empire, which they sold - she is still very much the face of their digital empire which includes multiple online academies. She's traded thousands of fitness instructors for hundreds of thousands of online students.
The difference is that "Team Johnson" - both now very happy and relaxed - run all of these programs from the comfort of their home in Laguna Beach. Now, Johnson's typical day starts in the wee hours, with, surprise, a workout. She then meditates and prays and gets ready for the day. One of her keys to success for busy women? Narrow down that daily to-do list from 20+ items to 3.
"I say, "What three things if I get them done, will everything be okay?" That way I've given myself permission to relax when my day is done."
Her tasks usually include corresponding with her team members, broadcasting on Periscope, and creating content for her courses and podcasts. The Chalene Show, a self-help podcast, and Build Your Tribe, a marketing and business podcast, have download counts in the millions. On both shows, she shares advice and insights, determined to help people avoid her mistakes.
"Try not to do everything. Do a season of something, but when you have a season you have to give another crop an opportunity to rest. And farmers know this, that when you are growing a crop, there's always a field that's resting. And you can't have all those crops growing at once. If you do, you get a below average produce."
As with most successful people, Johnson reaps today what she sowed for years, days and nights, slaving over her business to the point of exhaustion. Can young entrepreneurs or start ups really enjoy the work-life balance she now promotes? I asked her point blank.
"People will say like, 'Well, but if you listen to most successful people, they killed themselves in the beginning, right?' And I know that was true for me too. However, I've since had the opportunity to work with thousands of entrepreneurs, and I can tell you that the ones who get there faster, and don't destroy relationships in the process, do one very scary thing that gets them there faster. And that is to outsource."
She wants business owners, especially busy women, to re-think outsourcing. Her first example of things to outsource shocked me. Laundry. She explained that you have so much mental breathing room when the house, laundry, dishes, etc, aren't piling up on you.
Her final bit of advice on doing it all?
"I would say my one wish for people who are parents, is that there is no more important season than the season when your children are young. You have the rest of your life to win awards and be known and be famous and to get a bajillion likes and to crush it in business. That season goes by so fast and you won't have a chance to do that again. Make that your most important season."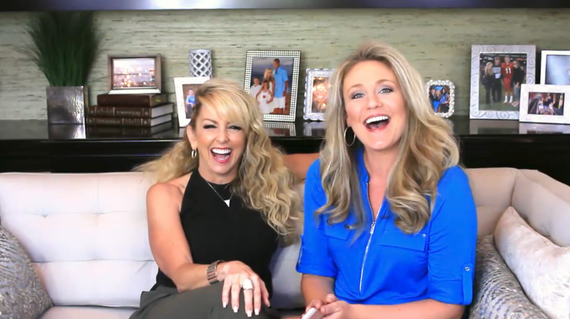 Calling all HuffPost superfans!
Sign up for membership to become a founding member and help shape HuffPost's next chapter