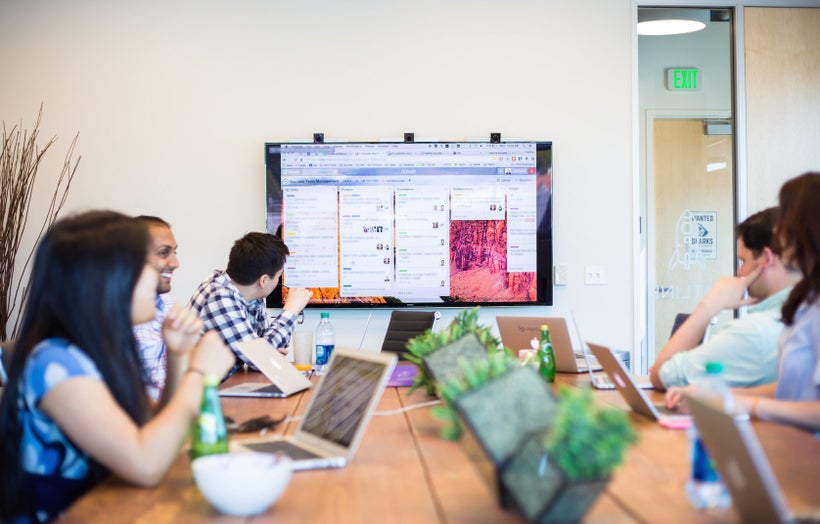 At first glance, Chat applications fulfill a basic messaging need similar to that of old-school tools like AOL Instant Messenger, Gchat, and Skype. I admit that I (and some of the members of my team) were skeptical when my office first implemented the use of Slack, and I was resistant to letting it take over old habits. As it slowly became the contact method of choice, however, our team grew to depend on it. Chat Apps can automatically archive conversations, which make it easy to organize topics into dedicated channels, and it syncs across all our devices. The result was something like a wonderfully casual office email inbox, but available and transparent to everyone, and free-flowing.
It's undoubtedly true that Chat apps are gaining in popularity due to this casual, unintimidating nature. They allow for brief messages between individual coworkers or entire teams, as opposed to formal emails or video conferences, and provide a great range of features and integrations that are ideal for teams in a variety of industries. And have impacted companies' bottom line.
Slack's Communication Revolution
Wildly successful since its launch in 2013, Slack was one of the first successful chat apps in the marketplace. They brought more than just chat to the business table, offering a range of features that teams could benefit from. Currently, Slack has over 5 million users, of which they recently surveyed.
The results showed that on average:
offices were having 25 percent fewer meetings
32 percent more productivity
80 percent increased transparency and team culture.
With the wild success they've seen, it's no wonder that so many business communication companies want a bite of the chat app pie. And while many of them have failed, many have also found great success. You've probably heard of HipChat or Twist, two popular business chat applications, and Slack competitors. Earlier this year Microsoft released Microsoft Teams, their messaging platform that is synonymous with Slack, and boasts seamless integrations with the Microsoft Suite. Stride by Atlassian (their evolution past HipChat) was also announced recently and will be available later this year, as will Jive.me by Jive Communications, and Google Hangouts Chat which was announced in March of this year.
Here's a quick list of some powerful team communication tools, below to help you in your quest for a business chat app:
New and Proven Chat Applications:
Why business chat? There's more than a couple reasons.
Features - Chat applications do more than just chat. They can share files, test and share code snippets, use extensive search tools, and integrate with web services. Integrations with tools such as Google Drive, GitHub, and Dropbox, make it easier than ever to collaborate. In addition, team chat apps generally include video chats, conference calls, and screen-sharing.
Organization - Chat applications allow businesses a way to organize all of your work communications in a single place, and then easily search for keywords, people, shared files, and even that funny GIF that your coworker sent last week. This helps simplify team interactions and keeps everyone informed, up-to-date, and connected to resources and each other.
Convenience - Teams all over the country are finding these apps easier and more convenient than email as they allow conversations to be accessed anywhere, anytime, from your smart devices. And they're time efficient. Employees don't need to spend arduous amounts of time crafting emails, because it's casual communication.
And convenience leads to engagement. Because it's a low pressure setting, remote workers, as well as those in the office, are more likely to stay in touch via chat as opposed to calls or emails. People can quickly and easily share their ideas and opinions without fearing the judgement of their peers and management. More engagement means more efficiency. This also naturally leads to a greater number of personal and social interactions.
Pick the Right Chat Platform for Your Team
So which chat app is right for your team? Assess your needs, initiatives, and goals. Will you need unlimited storage, users, and chat rooms? Is video and voice dialing important to you, and are you sick of phone numbers and pins? Would you like the app to notify colleagues that you're away or busy? Do you absolutely NEED Google and Microsoft integrations? Make a list and then conduct your research to find that best team collaboration software that covers all your needs. After all, there are plenty.
What I love about these applications is that they are straight-forward, and help carry the weight of your team. They've proven successful for millions of people, at countless companies, reducing extraneous meetings, giving teams instant access to any assets and information they need, and allowing for more transparent, collaborative, and simple meetings. Whichever chat app you're using, you're bound to improve your team's business communications while improving efficiency, organization, and engagement.
Calling all HuffPost superfans!
Sign up for membership to become a founding member and help shape HuffPost's next chapter
This post was published on the now-closed HuffPost Contributor platform. Contributors control their own work and posted freely to our site. If you need to flag this entry as abusive,
send us an email
.