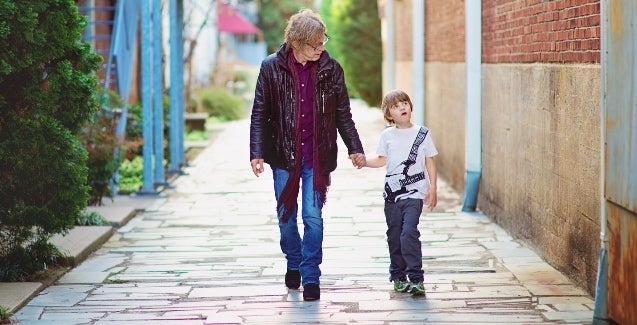 Bassist Tom Petersson has had a very busy time in the last year with his rock band Cheap Trick. During that period, Cheap Trick has released three studio albums, including the recent Christmas Christmas, the legendary group's first-ever holiday record—and that's in addition to their 2016 induction into the Rock and Roll Hall of Fame and of course their rigorous touring schedule.
But there's also another musical project that Petersson has been involved in, one that he and his family are personally invested in called Rock Your Speech. Co-founded by Petersson and his wife Alison, Rock Your Speech uses rock music to help children with autism spectrum disorder. It was born out of the couple's experience with their autistic son Liam who, until the age of five, had difficulty communicating.
"It's turned into something," Petersson says of Rock Your Speech. "We love our son, and we really want to help other parents and to let people know they're not alone, 'here's what we did in this situation.'"
To create awareness and to help people with autism, a benefit concert will be held on December 2 at Los Angeles' Orpheum Theater, featuring Cheap Trick and an all-star line up of guest musical acts, including the Dandy Warhols; the Empty Hearts (featuring members of the Cars, Blondie, the Romantics, and the Chesterfield Kings); Red Kross; and Johnette Napolitano of Concrete Blonde. Petersson's Rock Your Speech band will also be there as well as actors Ed Asner and Billy Bob Thornton. Proceeds from the show will go to both the Autism Society of America and Rock Your Speech, who are partnering together for that evening.
"The Rock Your Speech project is really coming from the point of view of the parent," explains Petersson. "It's scary for people...people have all sorts of different reactions when you get a diagnosis, or you think your child is not up to speed. It's frightening. I know it's comforting for people to know that other people are going through the same thing. It's like, 'I'm not the only one.'"
The story behind Rock Your Speech began when Petersson's wife Alison came across a magazine article about a child with autism whose experiences mirrored that of their son Liam, who was then 18 months old. (Autism, a developmental disorder, of which there is no single cause, occurs in 1 in every 68 births in America, according to the Autism Society of America). At the time, Liam wasn't sitting or speaking, which raised concern for his parents. "We went ahead and got him as much speech therapy," says Petersson, "because the catch-22 is you're too young to be diagnosed. But early intervention is the key. It doesn't harm anything to have speech therapy as a little kid, and he still didn't speak until he was five. So he needed speech therapy for years."
A breakthrough came for Liam when one day he heard the Elton John ballad "Blue Eyes" and responded to it. That moment, and another when Liam was singing to the theme song of the TV show Dancing With the Stars, led his parents to consider music as a way to engage with their son. "Music in general draws most people in," says Petersson. "So we started doing songs for Liam because we realize he didn't sing along normally with other music because it was too complicated—'What if we did some songs that were simple lyric wise but with heavy rock?' He took right to it. He loved it."
The project, which has so far yielded an album Rock Your Speech, Vol. 1 whose songs were produced by Petersson, employs actual rock music – not necessarily the gentle, kiddie-type of sounds that are generally prevalent in children's music. The lyric videos that are on the Rock Your Speech website, such as the catchy "I'm Going Places" and "Blue", not only show the words but also demonstrate to kids how those words are formed and mouthed.
"We just went with songs that had lyric content that wasn't too childlike," explains Petersson. "The songs have varying degrees of simplicity. We want it to keep it simple and be able to sing along, to make it to be for any age."
The first song composed for Rock Your Speech was "What's Your Name?", whose total sum lyrics are just "what's your name?" and "hello, hello." It certainly rubbed off on Liam one day when he and his father were at a grocery store. "He asked the checkout lady what her name was," Petersson recalls. "He had never spoken to anyone really before--a few words here and there--but never anything like this. He would go up to total strangers and ask 'What's your name?' I'm like, 'Okay, I think we're on to something.'"
Liam, who is now 10, is doing great, according to his dad. "He's in school. He loves music and he loves bowling, computers of course and all that sort of stuff. He's definitely on the autism spectrum, but he speaks, he's social. He's the sweetest little guy."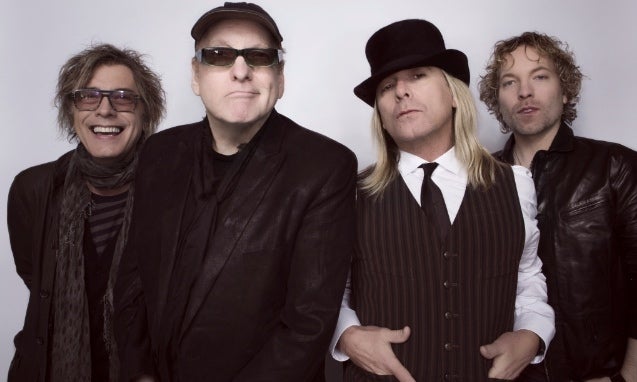 The upcoming Rock Your Speech benefit show in Los Angeles will just come a few months after another feel-good endeavor for Petersson, the release of Cheap Trick's latest record Christmas Christmas. It is a hard-rocking collection of holiday-inspired tunes containing both original compositions (the title track, "Merry Christmas Darlings," "Father of Life") and covers of songs by artists such as Wizzard, Slade, the Ramones, and the Kinks.
"It seems to me that you kind of hear the same songs over and over again," Petersson says about the idea behind Christmas Christmas. "And after a while it drives you crazy. This record is really hard rock. We did it pretty fast, it took a few weeks. It kind of took us by surprise. I think it came out great."
The fact that Christmas Christmas is the third release in over a year for Cheap Trick (the other two being Bang Zoom Crazy...Hello and We're All Alright) hearkens back to the group's very prolific and creative period almost 40 years ago, when they delivered three brilliant albums in a short amount of time: Cheap Trick, In Color, and Heaven Tonight (Petersson adds there's another new Cheap Trick album in the works). Next year will mark the 40th anniversary of the band's legendary performances at Tokyo's Budokan arena, which yielded Cheap Trick's breakthrough live release At Budokan.
"That thing was really a greatest hits for the Japanese audience because," Peterson says of that landmark release. "We did not have hits when that thing was recorded in Japan. It was kind of funny to us--'Wow, we're doing a greatest hits album, and we don't have any hits!' It hit worldwide, we got lucky with that. That worked out for us."
That previous last sentence could also apply to Rock Your Speech when it comes to turning a difficult situation for autistic children and their families into something positive. "As parents, you need all the help you can get," says Petersson. "Once we started to doing these songs, this is something that parents can use. People are drawn to music anyway, because it's easy to join in. A lot of these kids can't join anything else—maybe they're not athletic, they don't fit in necessarily. So anything that [they] can fit it in with and do, they just get the biggest thrill out of it."
As for the benefit concert show on December 2, Petersson says it should be a cool event. "It means a lot to us, and the people that are involved in it are all doing it for the right reasons."
Related
Popular in the Community