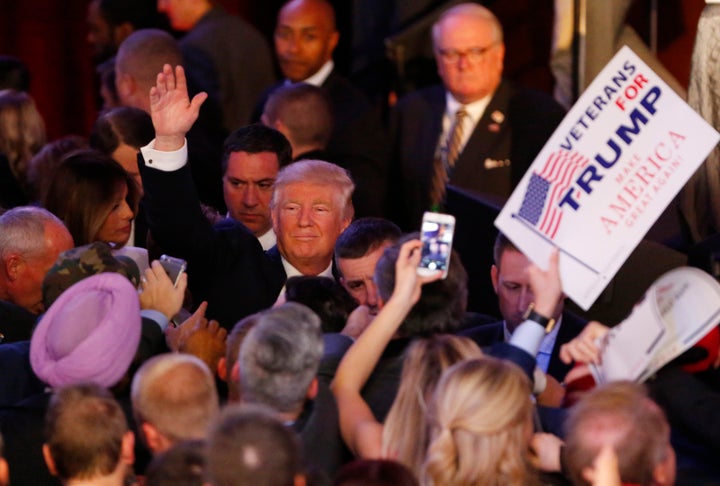 Evangelicals showed up in stunning solidarity to help elect Donald Trump on Tuesday ― and they weren't alone. Standing beside evangelical Christians in their support for Trump were a majority of Catholics, Mormons, other Protestant groups and an assortment of other Christian denominations.
Every other religious and non-religious group of Americans voted in majority for Hillary Clinton.
Christian Americans, including Catholics, made up 75 percent of the voting population, according to exit polls. And a majority of them supported a candidate whose xenophobia, promiscuity and belligerence made him an unlikely pick for Christians who have claimed a ?utm_term=.547a51cacf2b"}}">moral high ground in previous election cycles.
White evangelicals backed Trump by a margin of roughly 81 percent to 16 percent who voted for Clinton, according to FiveThirtyEight. In some states, the percentage favoring the Republican candidate was even greater.
Mormons demonstrated the next largest support for Trump at 61 percent, according to exit polls. Fifty-two percent of Catholics voted for the Republican candidate, though 67 percent of Hispanic Catholics favored Clinton. Among "other Christians," 55 percent went with Trump.
The president-elect also carried the vote of Americans who say they attend religious services monthly or more.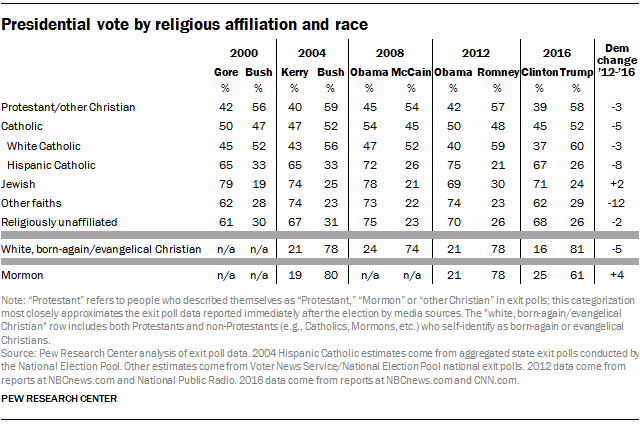 "Most evangelicals have believed this was the most significant election in our generation," Dr. Ronnie Floyd, senior pastor of Cross Church and a member of Trump's evangelical advisory committee, told The Huffington Post in a previous article. "Therefore, evangelicals were driven more this year by the platforms more than by the parties and their politicians."
Those platforms, he said, included the future of the Supreme Court, abortion, religious liberty, same-sex marriage, and a desire for a "nationwide spiritual awakening."
Despite watching a majority of their co-religionists help elect Trump, many American Christians watched the election results emerge in horror.
"I am as yet unable to imagine the future — I can't think about the Supreme Court, the fate of immigrants, race relations, Obamacare, the economy, or any other issue," Catholic scholar and Boston College professor Cathleen Kaveny told the National Catholic Reporter on Wednesday. "I cannot get Donald Trump's Twitter feed and the nuclear codes out of my nightmares."  
Deborah Jian Lee, author of Rescuing Jesus: How People of Color, Women and Queer Christians are Reclaiming Evangelicalism, said in an email to HuffPost: "I've been hearing from evangelicals leaders and lay people who are people of color, women and LGBTQ who fiercely opposed Trump and are now stunned to see just how many of their white fellow believers supported a candidate that proudly demeans their humanity."
"Trump preached xenophobia, racism, sexism, Islamophobia, homophobia, and more," Jian Lee said, "and the white evangelical base said 'Amen.'"
Calling all HuffPost superfans!
Sign up for membership to become a founding member and help shape HuffPost's next chapter
BEFORE YOU GO
PHOTO GALLERY
Muslims Clap Back At Trump's Islamophobia By Voting