Before Colorado Gov. John Hickenlooper was a politician, he was a businessman.
As the founder of Wynkoop Brewing Co. and related companies that helped revitalize downtown Denver's LoDo area, Hickenlooper understands what it takes to run a company and create jobs. After four years as Colorado's governor -- and, before that, eight years as Denver's mayor -- he also understands the importance of smart policies to drive economic growth.
That's why in 2013, Hickenlooper signed a bill doubling renewable energy generation for rural electric co-ops in Colorado. It's why he pushed to start Colorado's innovative Advanced Industry Accelerator Grant program to help fund new companies working in areas including developing new "smart" windows that improve energy efficiency, and software to improve agriculture practices.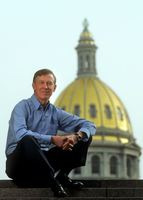 And it's why last month Gov. Hickenlooper made it clear he supports the federal Clean Power Plan, which proposes to cut carbon emissions by 35 percent in Colorado- a target achievable in Colorado with modest increases in renewable energy and energy efficiency. The state is familiar with the jobs and economic growth that comes with expansion in those sectors.
On May 14, after Senate Majority Leader Mitch McConnell urged governors across the country to ignore the federal Clean Power Plan, Hickenlooper wrote McConnell a terse letter criticizing McConnell's suggestion, saying it would be "irresponsible to ignore federal law." Especially since Hickenlooper is chair of the National Governors Association, the letter sent a strong message.
"You should have seen the original draft," Hickenlooper told me and others at an E2 Rocky Mountains Chapter event in Denver on June 2. As Hickenlooper and others have put it, McConnell was essentially trying to bully states into doing something that would be unconstitutional.
And he for one is not having it.
Other smart clean energy policies like Colorado's percent renewable energy portfolio standard and the now-expired federal production tax credit for wind have created tens of thousands of jobs, attracted billions in new investment and generated serious economic growth in the state.
By realizing its economy and the environment are symbiotic - not at odds - Colorado has reaped the benefits. It has cleaned up its air and its water, while Colorado businesses have cleaned up in industries such as wind and solar and tourism.
"In Colorado, we have a long-standing history of investing in our natural environment, with the engagement of local business and civic leaders," Hickenlooper wrote in his letter to McConnell.
At E2's 15th anniversary event in Denver, Hickenlooper rattled off the economic benefits in the wind industry alone, citing E2's just-released "Winds of Change" report (you can read it for yourself here) and industry data. As Hickenlooper pointed out, the wind industry in Colorado has already created:
22 wind industry manufacturing plants;
29 operating wind farms;
And a huge investment in the state by the wind industry.
"We're not quite to $5 billion yet (in investment in the state) but we almost are," said Hickenlooper, who also once was an oil industry geologist.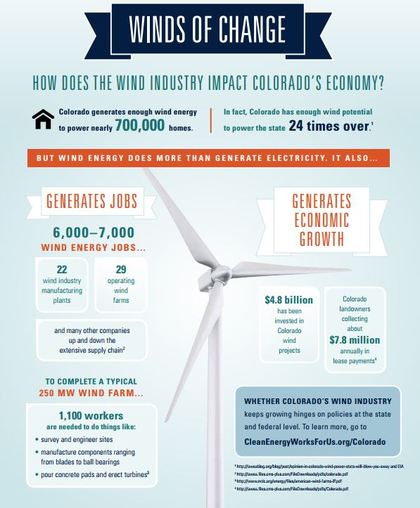 With the right policies, Colorado -- and other states -- could be just getting started in clean energy.
Longtime wind industry executive and Colorado resident Susan Reilly pointed that bumping wind energy up to 35 percent of our country's electricity by 2050 will create 230,000 more new wind industry jobs nationally; generate $1.8 billion in new local taxes to communities and $650 million in wind turbine lease payments to landowners across America, according to Department of Energy estimates. Some industry watchers say those numbers are conservative.
"We can help our environment and our businesses," Reilly, the outgoing chair of the American Wind Energy Association (AWEA) and the former president of wind energy giant RES Americas said at our E2 event.
Coloradans have learned first-hand that clean energy and smart policies like the Clean Power Plan and renewable energy standards can be good for their state.
Other states should embrace the lessons learned.
This page contains materials from The Huffington Post and/or other third party writers. PricewaterhouseCoopers LLP ("PwC") has not selected or reviewed such third party content and it does not necessarily reflect the views of PwC. PwC does not endorse and is not affiliated with any such third party. The materials are provided for general information purposes only, should not be used as a substitute for consultation with professional advisors, and PwC shall have no liability or responsibility in connection therewith.
Calling all HuffPost superfans!
Sign up for membership to become a founding member and help shape HuffPost's next chapter