Most of us know Ben & Jerry's for their delicious and unique ice-cream flavors. While enjoying these tasty treats it's easy to overlook the technology powering this socially good enterprise. I sat down with Jim Keyt, Senior Manager of Global Technology Strategy over at Ben and Jerry's to find out just how technology fuels the processes behind your favorite flavors.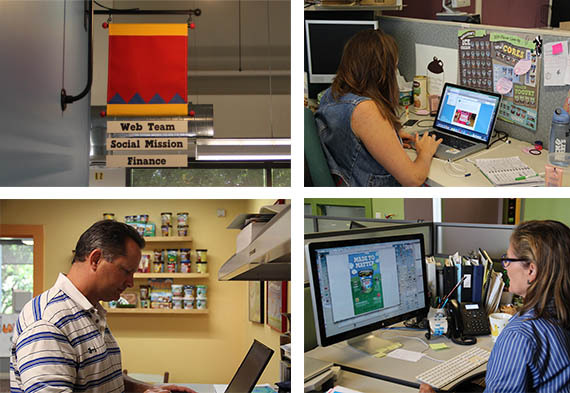 Credit: Ben & Jerry's - Members of The Ben & Jerry's Web Team
Do you see Ben & Jerry's as a technology company that sells ice cream?
I don't see it as a technology company. We are a socially lead company so our purpose is broader than making ice cream or making money. Its advancing social, economic and environmental justice. That is the key that Ben and Jerry's uses for all our work including product development, economic profit goals, along with our social mission.
What's it like working on the web team at Ben and Jerry's?
From the outside Ben and Jerry's is a cool company, laid back, tie dye and flip flops, bring your dogs to work but there is a lot of serious business that goes on here. It's some what entrepreneurial internally. We have historically not done things with governance, enterprise systems and PMOs (Project Management Offices).
The way I would describe it in more detail is its not that top down organization, its not an eddic, "you will do this and here is the only way". It's a organization that in sources partners not out-sources projects.
It becomes a lot more collaborative in terms of the way we work centrally at our headquarters in Vermont to the way we work with our local market teams; its extremely matrixed with in Ben and Jerry's and across the Unilever organization.
How is software currently used to power Ben and Jerry's online presence?
We're on a LAMP stack with an open source CMS called Jahia. Its Java based so there's certainly a lot of Java technologies and scripting that's supported.
We're in 24 countries right now currently so we have a global CMS(content management system) that we've rolled out in and put in the hands of the local markets so our global communications can be pushed out centrally.
How do you scale and adapt to the latest technologies for an organization the size of Ben and Jerry's?
Its a very interconnected web of software, data and process that lets the technology be kind of managed in a way that brings a little sanity to the chaos.
We have a digital leadership team thats a cross functional team that pulls in business demand from marketing, our retail presence, social mission, finance, design, and market research. We pull in the demand from leaders of their functions and assess if they're global requirements for services or if there's a locally managed solution that works best. Then we approach that in a prioritized fashion for resource management and business impact.
What impact did the mobile web have on your brand presence and how are you utilizing it now?
The Mobile Web killed flash and was huge for us. It impacted the content our traditional designers were comfortable in. It required us to be more focused on our mobile site visitors so we're in the final stages of rolling out our responsive website.
We upgraded our CMS, implemented a responsive design and changed our content strategy to focus a lot more on photography and some illustration. We're getting close to 45% mobile traffic in most countries. In Japan and Singapore we're getting closer to 60-65% mobile visitors online.
Hartford, we'll be giving out free scoops & supporting #GMOrighttoknow at the @davematthewsbnd concert tonight pic.twitter.com/XjrPYqrGS3

— Ben & Jerry's (@benandjerrys) July 12, 2014
What role does technology have in the socially conscious aspects of Ben and Jerry's?
In regards to our social mission there's quite a few things that go on. There are campaigns and a content strategy which is 20% social, 20% fun, 30% fans, 30% product. We talk in our own media about these content pillars and we promote social at that highest level of priority along with all our other marketing campaigns.
We ask ourselves "Does this fit our brands values and business philosophy?". Then we use technology to talk about it usually in the areas of climate justice, social and economic inequality.
We've supported causes through social media and our website. An example is Save The Reef campaign in Australia that had to do with saving the great barrier reef and the environment earlier this year. That was a big success. Other causes we support are climate reality, GMO Labeling, same sex marriage, etc.
Where do you see this socially good trend going?
There's a trend for companies to greenwash their efforts. The reality of it is traditionally companies have been driven by their profit and loss statements and fundamentally that's not our approach. Its one thing to incorporate some environmental concerns in your marketing budget but its another to have a team of advocates and staff.
We have a social mission department that is looking at dairy farms, legal policy, transportation, the best use of manure and composite. There's a dedicated staff here where that is their day job. I don't believe there's a lot of companies that have such a commitment at a senior level including a global director position for our social mission.
How do you see Ben and Jerry's incorporating technology as it continues to grow?
We're expanding in new markets. There are focused in key cities within countries. We will probably expand into and another market or two every year that we can find success through our brand building efforts in retail. We lead with digital so we will continue to build awareness and develop the product through the social mission and localization of the brand voice and brand experience with retail.
You'll see us having a significant impact in a lowering of carbon offsets in dairy production and best practices for dairy farming globally. You will also see a conversion to a 100% fair trade ingredients mainly from smaller farmers around the globe with a focus on key ingredients and product innovation to help us improve the good that the business is able to do.
Where do you see Ben and Jerry's 5 years from now?
Certainly we will be more focused on mobile and technology in the retail landscape. You will see a continued focus on building business on premise like catering and sampling. You will see direct orders and direct payments through mobile. I expect to see more awareness of consumer engagement across all of our properties while being as transparent as always with our goals and objectives.
Join the discussion by leaving a comment and sharing the article with your friends.
REAL LIFE. REAL NEWS. REAL VOICES.
Help us tell more of the stories that matter from voices that too often remain unheard.