Co-authored by Samantha Buschle, an English major in the College of Mount St. Joseph UN Millennium Development Goals course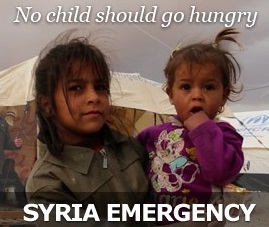 The war in Syria may seem very far away to us. We can't hear the daily shelling of cities and towns. We can't see with our own eyes the terror a mother faces each day trying to find food for her children.
We know chemical weapons were used and killed more than 1,400 Syrians, including children. An agreement has been reached to remove and destroy the chemical weapons. However, Syrians are still dying from conventional weapons and from hunger and malnutrition. Hunger is the evil companion of war.
Most societies, even in a quiet year, face hardships when trying to feed their people. This year, Syria faces an even graver challenge since the war has destroyed crops, farmlands, and bakeries. In addition, transportation systems to convey food have been ruined.
While we take food for granted, people in Syria are starving. The lack of food is hardest on the small children. Without the right nutrition in the first 1,000 days, children will suffer lasting physical and mental damage, or worse.
In 2000, the United Nations created eight global development goals that they hope to reach by 2015. Perhaps the most important goal that the UN has established is to eradicate extreme poverty and hunger. While reaching this goal may be difficult in Syria, the United Nations World Food Programme (WFP) is trying their best to feed 4 million people this month.
While the WFP is trying to feed Syrians, its staff faces a dangerous and complex mission of providing life-saving food in the middle of a war zone. The WFP is also feeding millions of Syrian refugees who have fled to Iraq, Lebanon, Turkey, Jordan and Egypt.
The WFP even provides food at schools inside the refugee camps in Jordan and Iraq to help children catch up on their education. Muhannad Hadi, WFP's Emergency Coordinator says, "We use school feeding across the world to provide vital nutrition to children and encourage them to stay in school. We don't want to see a lost generation of Syrian children who fail to reach their potential." Achieving universal primary education is another UN goal that Syrians are struggling with due to war.
Roberta Russo of the UN Refugee agency says that there is huge crisis in Lebanon with regard to educating Syrian refugee children. Russo says, "We noticed that while at the beginning of the crisis parents were really keen on having their children enrolled in schools, now they are forced to ask their children to work in order to be able to meet the needs of the family. "
Russo adds, "We have a real problem with education funding and current capacity of public schools."
Even though most of us live many miles away from Syria, there are still ways in which to help. Students or community members can contribute simply by walking, running, or biking.
There is a free app called Charity Miles (www.charitymiles.org) that students can download onto their smartphone.
The app allows students to raise money for different charities, including the World Food Programme. Simply select World Food Programme and click whether you want to run, walk or bike. Then click start and begin your workout. When done, click finish and you can post your results to Facebook or Twitter. Every mile means a donation of meals to WFP, paid for by a corporate sponsorship pool -- it's free for the walker, runner or biker.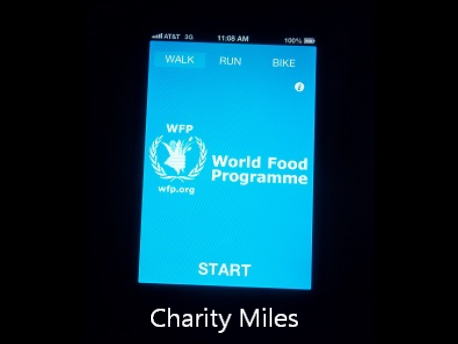 This UN food agency relies entirely on voluntary funding. Laure Chadraoui, a WFP rep working on Syrian relief, says, "We need every penny indeed."
That is where you come in. Your own school could donate thousands of meals to WFP simply by using the Charity Miles app.
For impact, let's make the rest of this fall a time to support WFP and help feed Syria's war victims using Charity Miles. It's food for peace.
Right now you have a whole generation of children growing up in the Middle East with little food, health care or education. Your community, even if far away from this crisis, can make a difference.
Calling all HuffPost superfans!
Sign up for membership to become a founding member and help shape HuffPost's next chapter