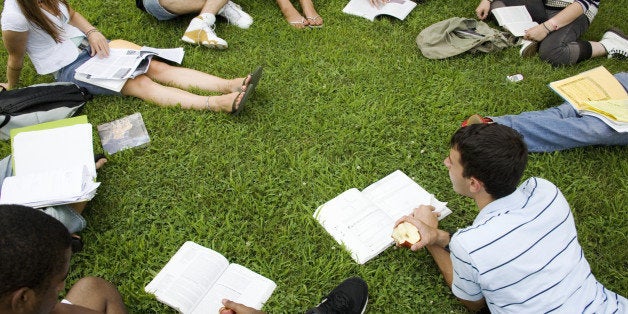 Students at our nation's colleges and universities are engaged in a number of important issues these days, ranging from allegations of institutional bias and racism to their schools' curricular choices. This was demonstrated capably by the protests seen last fall, most notably at the University of Missouri but taking place at numerous other institutions across the country. It's terrific to see this level of activism, rather than apathy, from students.
However, one critical element seems to be missing too often in these discussions: the paramount value of the First Amendment and of respecting others' free speech rights. In 2016, I hope that college students will embrace the principles of free expression more consistently so that everyone can participate in the dialogue and debates that are needed.
At the Foundation for Individual Rights in Education (FIRE, where I work), we are sadly accustomed to seeing university administrations infringe upon the freedom of expression of students and faculty members. However, we are dismayed that students themselves are now calling for censorship of fellow students and others who happen to disagree with them on a particular issue. This bodes ill for the free exchange of viewpoints that is supposed to be taking place in the quintessential "marketplace of ideas," the college campus.
This need not be the case at all. Students should recognize the primacy of the First Amendment in any discussion, and they must afford their ideological opponents the same freedom to speak that they would like for themselves.
As a new semester gets underway, the good news is that there are a number of ways for students to improve the climate for free speech at their colleges and universities. My colleagues at FIRE and I are always happy to work with students and student organizations toward getting their schools to revise unconstitutional and restrictive "speech codes" -- policies and regulations that prohibit speech protected by the First Amendment. Speech codes are far too pervasive on college campuses; not only do they violate students' core free speech rights, they abandon the mission and purpose of institutions dedicated to free expression and teach students the wrong lessons about living in a free society.
Here are some ways in which students can fight back against speech codes at their institutions:
Look up your university's policies on speech and expressive activity. Many students are simply unaware of the policies and regulations maintained by their institution, so this is a crucial first step. Your university may well be in FIRE's Spotlight database for campus speech codes. If it isn't, be sure to look through its student handbook, code of student conduct, and similar policy materials. If you're not sure how well the policies you find fare in terms of protecting free speech, just ask us, and we'll let you know!
Use strength in numbers. Being part of a student group dedicated to campus expression issues and networking with other students and groups can be a powerful tool. It allows you to amplify your voice and convey to university administrators and policymakers that these are serious issues that many students on campus care about. In addition, your student group or coalition may be able to put together some ideas for campus events to raise student awareness about speech codes.
Make good use of the student press. If you are part of a student newspaper on campus, you should consider writing about First Amendment issues and the need to protect students' rights, both in policy and in practice. Even if you're not a regular contributor, a well-written op-ed can go a long way toward convincing administrators (and fellow students) that your university's speech codes must be revised.
Cultivate and develop administrative contacts. If you have a previous relationship with a member of the university administration (for example, someone you worked with as part of a student group), that person can be a good starting point for policy discussion. Even if he or she does not ultimately have authority over the specific policies, he or she may be able to put you in touch with the necessary officials or departments. When contacting or meeting with administrators, be polite but firm, and make clear that you and other students care deeply about protecting First Amendment rights on campus.
Join FIRE's Student Network. Our Student Network is a great tool for students, allowing them to get in touch with free speech-minded students across the nation. In addition, Student Network members can take advantage of FIRE's numerous free resources and publications. These resources will help to inform you and fellow students about your rights and the best ways to protect them.
In 2015, FIRE made great strides reforming speech codes across the country. We were able to help six colleges and universities improve to our highest speech code rating, a "green light." That's a significant achievement considering that only 23 total schools currently enjoy this rating. Moreover, our annual speech code report found that, for the first time ever, the percentage of colleges and universities earning our worst, "red light" rating fell below 50 percent.
There is much work left to be done, of course, and we hope to celebrate more successes in 2016. In order to do that, we need the help of dedicated students. I hope more students will utilize the steps outlined above and pursue speech code reform on their campuses this year!
Related
Popular in the Community