Non-profit organizations across the country work every day to improve their communities in inspiring and innovative ways, but large scale progress does not happen in a vacuum. It requires communication and collaboration among networks of partners, pooling resources and innovating together. It requires establishing clear and aligned objectives and creating programs that complement one another to create significant change.
Food access and education groups in the greater Los Angeles area provide leading examples of how partners can collaborate to strengthen youth development and the communities they serve. Many of these organizations are committed to empowering children to be agents of change by promoting healthy eating habits that fuel them to succeed inside and outside of the classroom. School food plays an important role in both children's health and their learning of lifelong wellness habits. With the goal of making sustainable changes that go beyond their in-school presence, many districts in the LA area have made it a priority to ensure students have access to healthy food and to arm them with a lifetime of healthy eating knowledge and skills. Together, education institutions are working closely with nonprofit organizations to not only improve food offerings, but also weave wellness into the entire school culture.
Over the past decade, LA school districts have made significant strides in improving food access and increasing health outcomes. Common Threads has been a valued partner for many schools in providing education in proper nutrition and basic cooking techniques in underserved neighborhoods in Los Angeles for the past nine years and has helped reach more than 25,000 individuals over the past year alone. Common Threads has also been committed to bringing schools and community partners together to facilitate systematic change. As part of these efforts, Common Threads recently convened leaders across Los Angeles to discuss key elements for successful partnerships and collaboration, as well as challenges and solutions, to create healthier school environments.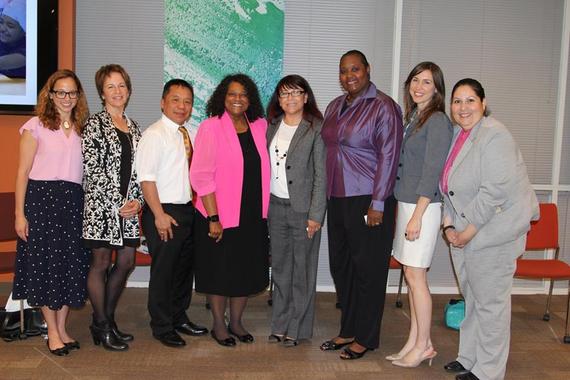 The panel poses for a photo after its discussion on the power of partnerships.

Building the Foundation: The Child-Parent Partnership
"We often talk about a lack of access to healthy food, but the flip side is equally important, and that is the ubiquity of foods that are high-calorie, high-fat, high-sugar, high-salt, highly palatable and non-nutritive," said Susan Bowerman, Director of Nutrition Training at Herbalife, a global nutrition company that promotes several sustainability initiatives in Los Angeles.
Bowerman emphasizes how the foundation of a healthy community starts inside the home, and when children see parents not getting enough exercise or eating well, those bad habits tend to trickle down. But as Bowerman points out, changing habits can be difficult in a culture that emphasizes eating for taste, convenience and cost, with nutrition at a distant fourth.
"As parents we have a responsibility to guide our children toward healthy choices by positive modeling and taking care of ourselves," Bowerman said. "I think the relationship between kids and parents is critical, as those partnerships build and work their way into the schools and community."
To reinforce these messages, other organizations are looking beyond the lunchroom and dinner table and finding ways to connect with kids via a variety of innovative community health and nutrition programs. LA Conservation Corps, which operates in underserved communities, is a positive example of how organizations can help kids benefit from hands-on nutrition education. Through its conservation-based community service programs, kids and volunteers have planted more than 900,000 trees and gardens throughout the city, which are used by its after-school programs and nutrition classes supported by Common Threads.
"I believe getting to young people early in life is the best way to make life changes," said Misbran Moradel, Program Coordinator for LA Conservation Corps. "Getting to work with partners like Common Threads is amazing because students not only have fun, but you're teaching them life skills that will not only help them personally, but also opens their eyes to future life goals."
Partners Unite to Make School Lunches Healthier
Policy initiatives and strategic, committed alliances among non-profit partners are critical to promoting positive health behaviors and life outcomes in underserved communities.
"It's important not only to change the food, but also the mindset of students," said Dr. Jaqueline Sanderlin, then the leader of Educational Partnerships for the Compton Unified School District. "Teachers and parents can't be responsible for change alone. Partners who are experts are needed to reiterate how important a healthy lifestyle is in the community."
Compton Unified School District has over 125 partners, and Sanderlin says that's because the district has a strong, clear vision of its goals that is easy for partners to align with. For example, Super Sprowtz, a New York-based organization focused on media-based nutrition education, has partnered with CUSD to put salad bars in all of the district's elementary schools to supplement the existing school lunches free of charge.
A nutrition education curriculum can't be effective, however, if kids don't have consistent access to healthy food. While generous partners like Super Sprowtz fill that role on the local level, some of the largest school districts in the country are joining together to make it easier for partners to maximize the scale of their contribution. The Urban School Food Alliance is a coalition of six of the largest school districts in the country, including LAUSD, that provide healthy, high-quality and affordable food to more than 2.8 million students in 4,500 schools daily.
The Urban School Food Alliance is looking to change perceptions of school meal programs so schools can take pride in what they are serving children. Among the USFA's top initiatives is increasing its purchasing power so it can improve the quality of the foods kids eat. The group has adopted an antibiotic-free chicken standard, and this summer, many Los Angeles schools added antibiotic- and hormone-free chicken to its school menus.
Laura Benavidez, the Interim Co-Director of LAUSD Food Services says, "We feel that eating well is not a privilege, it's a right."
Through its latest partnership with the LA Food Policy Council, LAUSD became the first school district in the country to implement a Good Food Purchasing Policy. The five-point plan emphasizes working with vendors who support local economies, environmental sustainability, a valued workforce, animal welfare and nutritional quality.
According to Clare Fox, Executive Director of LAFPC, "the Good Food Purchasing Policy is truly a game-changing procurement policy. We talk about this idea of voting with your fork, and through our food purchases and what we put in our bodies, well, LAUSD has a multi-million dollar fork."
Uniting LAUSD's non-profit partners behind this policy gives the district leverage when working with food suppliers and also the power to create change in their procedures.
"That changes the game for a lot of people who want to do business with LAUSD," Benavidez said. "They have to know we're serious about what we serve to our students. We promise that whatever we serve to our children, they will know where it's coming from."
The Keys to Successful Partnership
Before partnerships can really take off and create significant legislation like the Good Food Purchasing Policy, local organizations need to establish an open dialogue and feed off one another's knowledge and resources.
"Many local organizations do great work and have great programs, but they're not always aligned with the school district and they operate in silos," said Dixon Slingerland, Executive Director of the Youth Policy Institute (YPI).
In Central Los Angeles, the YPI operates one of the country's first five "promise zones," a designation created by President Obama in 2013. The goal of the promise zone initiative is to encourage economic growth, reduce poverty and improve public education. With so many moving parts, Slingerland says partnerships with school districts and other public sector entities are critical for creating sustainable change.
One problem that arose for the YPI and its partners was the lack of a common data system, making it difficult for local organizations to monitor the success of their programs and effectively communicate with one another.
"It took us three years to negotiate access to data from the school district due to privacy and confidentiality," Slingerland said.
Now with access to school data, the Youth Policy Institute and its partners will be able to follow the kids they taught as they progress through the school system and track the effectiveness of their programs. This will ensure that they continue to have a significant impact on students' nutrition education, as long as they continue to have adequate resources.
Collaboration, Not Competition, is Key to Funding Resources
Government grants, along with gifts and donor contributions, account for a significant amount of funding for non-profits, nearly one quarter of all revenue for public charities in 2013, according to the National Center for Charitable Statistics. But often, like-minded organizations are reluctant to share information with other non-profits about their grants for fear of competing over the same funds.
"It's critical that nutrition education in Los Angeles is funded from a variety of grants that we have at Los Angeles Unified," said Dr. Conrad Ulpindo, Director of Nutrition Education Obesity Prevention for LAUSD.
"The state spends billions of dollars in treating different types of diseases, but when you look at funding for obesity and disease prevention, it's minuscule. It's crucial that organizations like us continue to articulate our mission and vision in education and work to obtain grants."
Collaboration can only be successful when partners establish clear lines of communication and develop a thorough understanding of how they can best help each other achieve their goals.
"It's important to let grantees know there are other players in the food space," said Marsha Bonner, Director of Programs, Community Grantmaking and Special Initiatives at the Annenberg Foundation, which disbursed $71.7 million in grants in 2014. "People shouldn't be afraid of competition because donors, for the most part, are able and willing to help multiple organizations in the same space."
Nonprofit leaders are beginning to recognize that collaboration is not an option but a necessity. Leveraging resources and sharing strengths lead to increased efficiencies and most importantly, greater community impact. The importance of strategic alliances should not be underestimated, especially when it comes to tackling complex social issues like childhood nutrition and obesity in a major city like Los Angeles.
"When [our partners] achieve their scope of work, we also achieve ours," Dr. Ulpindo said. "It is true that no man is an island because we could never achieve nutrition education for every kid in Los Angeles Unified without the support of our partners."
Related
Popular in the Community