Globally, over 30 million children living in conflict areas globally are out of school. That accounts for 42 percent of the total primary-school-aged, out-of-school children worldwide.
Imagine the impact if there were a way to bring education to these children. Education, which has the potential to transforms lives and provide children and their families with hope for the future. The crucial role that education plays in helping children, their families and countries recover after conflict is why education is one of the main focus areas of War Child Holland, an NGO active in 10 conflict-affected countries around the world. Last year, over 300,000 children participated in War Child's programs, which work to supporting children to cope with and recover from the consequences of war and armed conflict.
Sudan is a country with a history of drawn-out conflict. Children in particular suffer from a lack of opportunity as a result. In many communities there are no schools at all. Over 2 million primary school-aged children in Sudan have no access to education. At present, it is not realistic to believe that this will be solved through traditional means. Despite the will, neither the infrastructure nor the budget is in place to make these developments happen.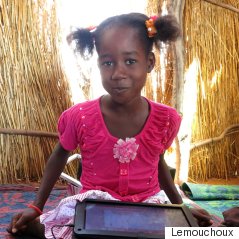 War Child and its partners, Ahfad University for Women in Khartoum, research institute TNO and software developer Flavour are working together with the Ministry of Education in Sudan to take on the challenge of finding effective and innovative ways to reach these children.
e-Learning Sudan was devised as a response to the many challenges facing children in Sudan. It aims to prove that a viable alternative to traditional education methods exists through the means of an applied software game, solar power and community facilitators -- a method that looks to drastically increase the number of children who can access education. Local facilitators are trained in child-friendly approaches and the technical aspects of the game and hardware. They supervise the children while playing the games and solve small technical problems.
The communities where e-Learning Sudan takes place have all enthusiastically embraced the project. The first pilot, in 2013, proved very successfully that children learn mathematics by playing these computer games. Children, like Mohamed, age 7, from one small village, are embracing the approach and making their parents both proud and hopeful for the future. In the words of Mohamed's father: "This project should be everywhere in Sudan, for every village big or small, so that this generation can move forwards not backwards. We have really high hopes for Mohammed."
The current large-scale trial, running until March 2015 and involving 600 children in nineteen villages, aims to generate a body of research that will help clarify the impact of the project. This will pave the way for scaling-up. "The programme has started with one subject, mathematics, covering the first three years of the out-of-school curriculum. Eventually it aims to cover other subjects, grades and move to other settings. Designed for scale, the long-term aim of the project is to enable children to develop the necessary skills and knowledge to acquire a Certificate of Primary Education. Education provides children with the opportunity to shape their own future. Communities affected by conflict prioritize education. This promising project responds to this, providing quality education opportunities directly where they are needed", explains Bernard Uyttendaele, director of War Child Holland.
The huge potential of the project to transform the way that education in emergencies is delivered has been recognized by UNICEF, which has chosen eLearning Sudan as one of only five showcase education innovation projects globally. e-Learning Sudan partners are now working together to develop pathways to realise the promise that such initiatives have to provide children affected what they so desperately seek: the future hope that education offers.