Although there were some rumors that Connie Britton, who plays Rayna on the show, was considering leaving to pursue other projects, no one thought CMT would actually let go of their leading lady ― and that's thanks to Britton's stealthiness.  
"It was tough," Britton told The Huffington Post of keeping her departure a secret during a Build Series interview on Tuesday. Right before shooting began on Season 5, the actress spoke with showrunner Marshall Herskovitz about whether they could possibly tease Rayna's death, but they ultimately decided to keep fans out of the loop.
"There were rumors floating around and people asking about it and I just had to be a little improvisational about it. It was not easy, let's put it that way," she said. "As sad as that episode was, I think it was really important for the fans to have that experience in real-time. To me, leaving the show was only something that I could consider doing if I felt like the show was in a really great place, which it is now on CMT and we have these wonderful showrunners. But also, really doing justice and honoring these characters, first and foremost, Rayna Jaymes, but also all the other characters on the show, like Deacon, Daphne and Maddie ― this wonderful family and community of characters. That was priority No. 1. That's how we had to do it."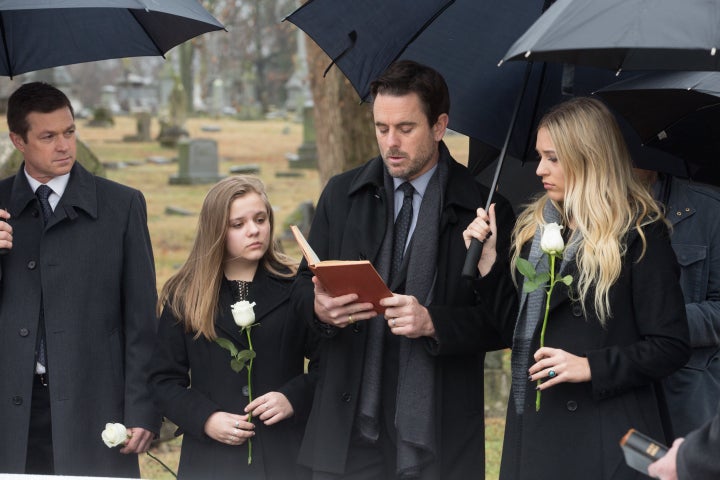 Britton told Entertainment Weekly that both personal and creative factors played a role in her decision to exit "Nashville." But no matter her choice, she wanted to make sure Rayna's end would make sense for the character and the series as a whole.
"Trust me, I did not want to die. I said, 'Is there any way we could do this without actually dying? That's so extreme!' But think about it, Rayna would never leave her family. She would never leave Deacon, she would never leave her daughters, so there really wasn't any other alternative," Britton told HuffPost of trying to find another way to wrap up Rayna's story arc.  
During Episode 9 of Season 5, Rayna ― after surviving a stalker attack and car crash ― dies from complications following surgery as her daughters, Maddie and Daphne (Lennon and Maisy Stella), and husband, Deacon (Charles Esten), are by her side. Although there's no chance that Rayna will come back to life ― this isn't "American Horror Story" ― she will appear in future scenes.
"I am in some episodes coming up in flashbacks, things like that that you haven't seen. Again, the key here is Rayna is such an important part of the world that we created in 'Nashville,' but that will continue to be so as we move on," Britton said. "And these characters are all so beloved now ― it's because of the fans that the show has continued on. I think the show will just continue to get better and better and the spirit of Rayna is always going to be there."
"Nashville" airs Thursdays at 9 p.m. ET on CMT. Watch the full Build Series interview with Connie Britton below. 
REAL LIFE. REAL NEWS. REAL VOICES.
Help us tell more of the stories that matter from voices that too often remain unheard.
BEFORE YOU GO
PHOTO GALLERY
Connie Brittons Style Evolution